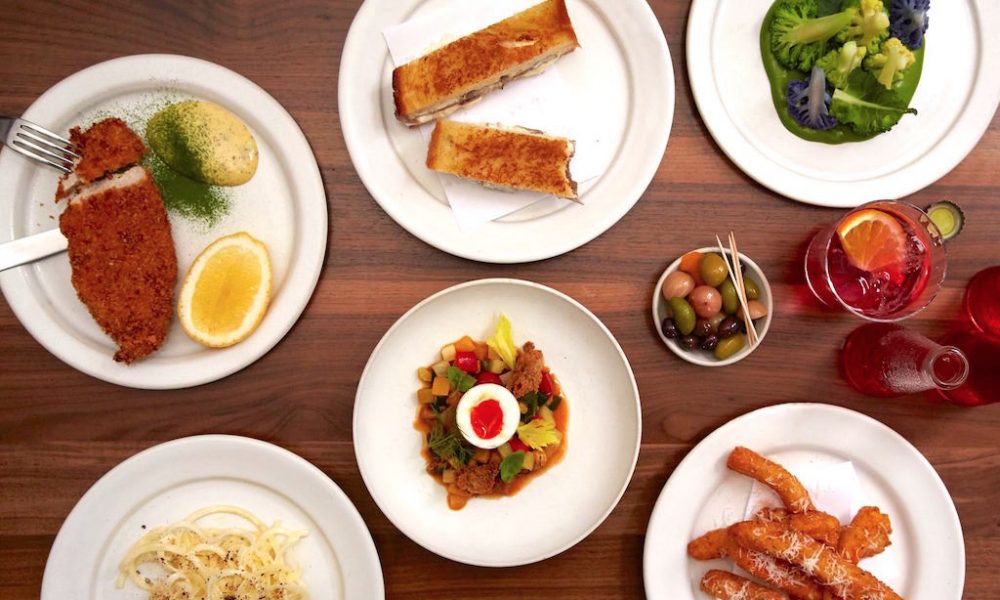 Welcome to our openings and pop-ups page, here are the new openings and pop-ups our chief food critic Daniel Masters has selected for you.
June 2017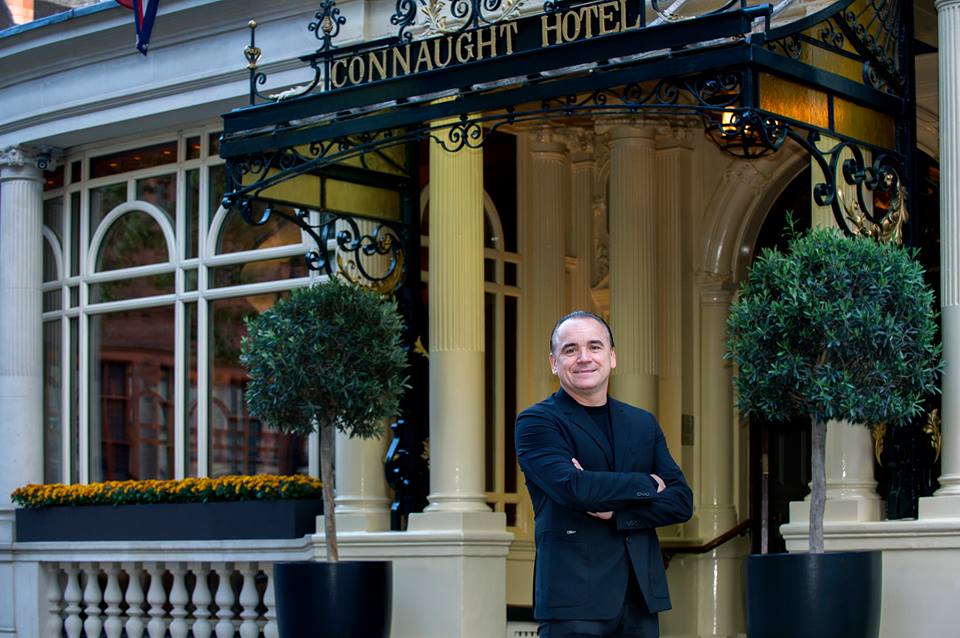 Jasmine Terrace at Dominique Ansel Bakery
With the summer months finally looking to have arrived (the sun is apparently more than a myth) this is your chance to get outside and enjoy the seasonal weather while it lasts. And where better than legendary patissiere Dominique Ansel's summer terrace. Eat sweet, perfumed pastries whilst you bask in the scent of sweet, perfumed flowers. It's easy to see why this one is earmarked as a future Instagram hotspot.
Jasmine Terrace at Dominique Ansel Bakery, 17-21 Elizabeth Street Belgravia London SW1W 9RP, is open throughout June 2017, for further information or to book call 020 7324 7705 or visit here.
London Food Month 
Where do we even start with this one? So expansive (and dare we say it, a little overwhelming?) that we've put together a special guide to all the events, the inaugural LFM is promising to be an absolute gem of an event. With special dinners from incredible restaurants, a seemingly endless stream of pop-ups, a night market in Hyde Park and no less a chef than Massimo Bottura headlining, this is going to be one to remember.
London Food Month is on from 1st until 30th June 2017, for further information or to book visit here.

London Wine Week
Seven days of exquisite wine pairings, flights and special vintages, London Wine Week is a date that should be in every Londoner's calendar. The highlight for us has to be Drinkup: The Wine Edit, a three-day pop-up that will highlight some of the most interesting bottles from all over the continent.
London Wine Week is on from 5th until 11th June, for further information or to book visit here.
Made of Dough
It seems that these days, every second successful restaurant is emerging from the pop-up scene. It makes sense: some of the best and brightest emerging talents of the city are thrown together, forced to compete in a rather brutal set of gladiatorial cook-offs and those that emerge proud and successful a year or so later get to make the jump to a permanent site. That's exactly what happens here, as the sourdough and gelato-shake favourite finally establishes itself in Peckham. Expect all the same dishes you've grown to love, as well as a few fun extras.
Made of Dough, 182 Bellenden Rd London SE15 4BW, is open from 9th June 2017, for further information or to book visit here.
Popup Japan pop-up
This one seems to have snuck under the radar for most people, but it's still open for another couple of weeks, so get in whilst you can. You might be rolling your eyes at the name, expecting yet another well intentioned but overly expensive set of temporary restaurants, equally happy to tantalise your taste buds and gouge your wallet. What the event actually is, though, is Tonkotsu taking over Proud East's stunning open plan kitchen. The creamy ramen has to be eaten to be believed!
Pop-up Japan is at Proud East, 2-10 Hertford Road London N1 5ET, until 18th June 2017, for further information or to book visit here.
Jean George Vongerichten at The Connaught
A renowned chef with an absolutely gorgeous space. It's a classic combination for a reason, and one of the reasons why London continues to be one of the premier restaurant cities in the world. Its ability to attract that sort of talent cannot be overstated. Expect Vongerichten to bring his signature farm to table style with plenty of elegance, serving up dishes that combine exquisite French technique with some of the best produce available.
Jean George Vongerichten is at The Connaught, Carlos Place Mayfair London W1K 2AL , is open from June 2017, for further information or to book visit here.
Petersham Nurseries Covent Garden
If you weren't especially familiar with the London food scene, it might seem a little baffling as to why a nursery would be so well regarded as a culinary destination. Places that sell flowers tend to do food that can, at best, be described as safe. If you're feeling really wild, you might get some loose leaf Earl Grey. But Petersham Nurseries' stylish, elegant food wowed diners when it opened more than a decade ago, and these days as many people visit for its sensational dishes as they do its botanical offerings. Now they're opening a central London location, complete with a delicatessen, two restaurants (one flagship, one more casual) a florist and a wine bar. Bear in mind though, it's a two-stage launch, so you won't be getting into either restaurant until phase two in September.
Petersham Nurseries Covent Garden, Floral Court WC2E 9FB, opens in June 2017, for further information visit here.
May 2017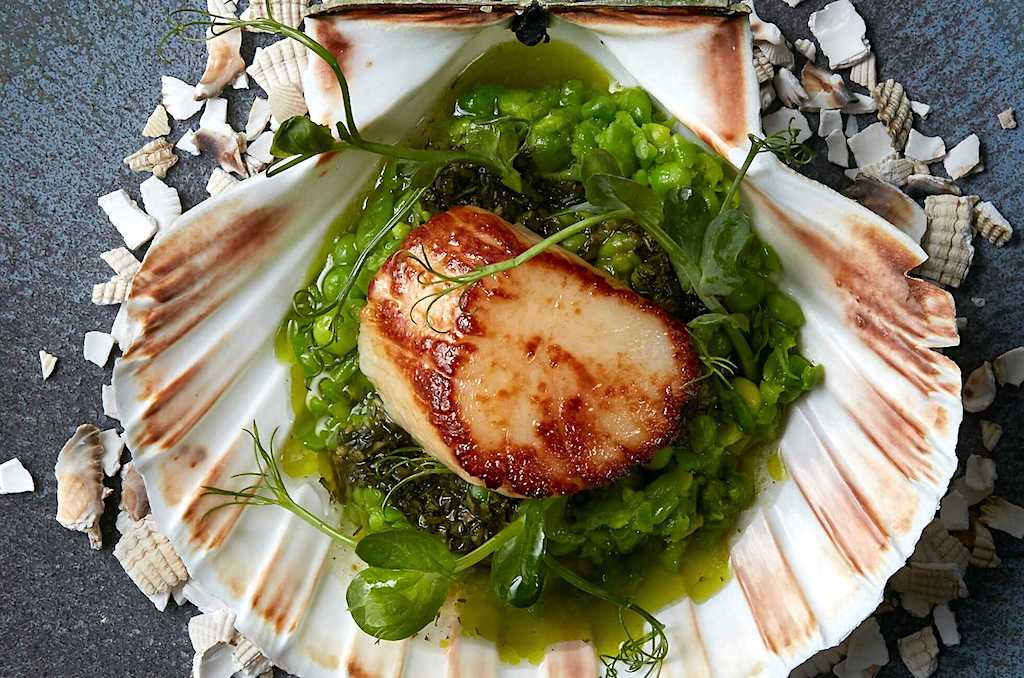 The Ned
The Soho House group causes something of a split amongst media professionals. To some, it's the instagram generation made flesh, members clubs where the entire point is to be seen or to be more accurate, be seen being seen. For others, it's a safe haven for creatives, writers and sharp minds that want to escape the tyranny of coffee shop hotdesking and mingle with like-minded people. Whatever you might think, the scale of their latest entry, The Ned, proves that the group have no plans to slow down anytime soon. Its nine restaurants (no, really) are sure to get tongues wagging but the real gem lies in the bank vault bar, an atmospheric, awe inspiring space that practically demands you order an Old Fashioned.
What to expect: Being spoilt for choice
The Ned, 27 Poultry London EC2R 8AJ, is open from 2nd May 2017, for further information or to book call 020 3828 2000 or visit here.
Yolk
If you tried anything from the original pop-up, it's likely that you won't need to read anything more about Yolk. The unapologetically rich dishes on offer are masterpieces of butter and herbs, the classic French sauces piled onto golden egg yolks and crusty baguettes. A steak bernaise sandwich has hump day treat written all over it, whilst you could make a great case for Yolk's Eggs Benedict being the best in town.
Yolk, Unit 4 Broadgate Finsbury Avenue Square London EC2M 3WA, is open from 3rd May 2017, for further information or to book visit here.
The Clifton

The brothers behind Boopshi's in Fitzrovia, Ben and Ed Robson, bring a new look and a refreshed attitude to the classic drinking and dining pub in St John's Wood. With swathes of fascinating history, The Clifton had stood empty since 2013, but the duo were determined to reinstate it as as a comfortable hideaway, lively social eating house and relaxed drinking spot. With head-chef Karl Calvert (Providores & Caravan) on board, the forward-looking menu is fresh, light and offers an evolved definition of pub food.
The Clifton, 96 Clifton Hill, London NW8 0JT, is open from 15th May 2017, for further information visit here.
Piebury Corner
It might not exactly be fine dining but pie and mash is one of the capital's oldest traditions, and one of those quintessential British dishes that has previously suffered from the bland hand of mediocrity. Shops like Piebury Corner, a regular for any Arsenal fan with tastebuds, have been looking to change that, bringing back all the trappings of the classic with a healthy dose of flavour. Craft beer, roast spuds and some of the best pies in town will all be on the menu.
What to expect: The best pies in the city
Piebury Corner, 3 Caledonian Road London N1 9DX, is open from 23rd May 2017, for further information or to book visit here.
Henrietta
Ollie Dabbous caused quite a stir when he announced that his eponymous restaurant will be closing at the end of June, to make way for a new venture in a new site. The details on that particular project remain hazy but given Dabbous's excellent reputation, hopes are high. Enter Henrietta, his collaboration with the Experimental Group's first London hotel, which is sure to drive intrigue for the innovative chef's cooking to new levels. Expect something seasonal and with ingredients taking centre stage.
Henrietta, 14-15 Henrietta Street London WC2E 8QH, opens in May 2017, for further information or to book visit here.
Neo Bistro
Alex Harper, former head chef of The Harwood Arms, is returning to the kitchen guided by his former colleague and chef-patron of Anglo, Mark Jarvis. Neo Bistro takes inspiration from the new-style bistros of Paris, where classically trained chefs are moving away from the constraints of fine dining in favour of a more relaxed approach. Alex's ever changing menu of simple, modestly priced dishes will be informed by his belief that "the best food comes from sourcing the best ingredients and using simple flavours that work well together". Similar to the philosophy already in place at Anglo, Mark will work with Alex to oversee a menu dictated by the market's best ingredients, and season's finest produce.
Neo Bistro, 11 Woodstock Street London W1C 2AE, opens in May 2017, for further information or to book visit here.
Red Rooster London
The Legendary New York restaurant comes to the chic Curtain Hotel, in a mashup that's got our mouths watering. Supposedly offering some of the best fried chicken anywhere in the States (no mean feat!) it's going to offer a fusion style, round the world approach to food that drops in a little spice here, a little pickled turnip there. If it lives up to the hype, this Harlem favourite could become yet another Shoreditch staple.
Red Rooster London, 45 Curtain Road London EC2A 4PJ, opens in May 2017, for further information or to book visit here.
April 2017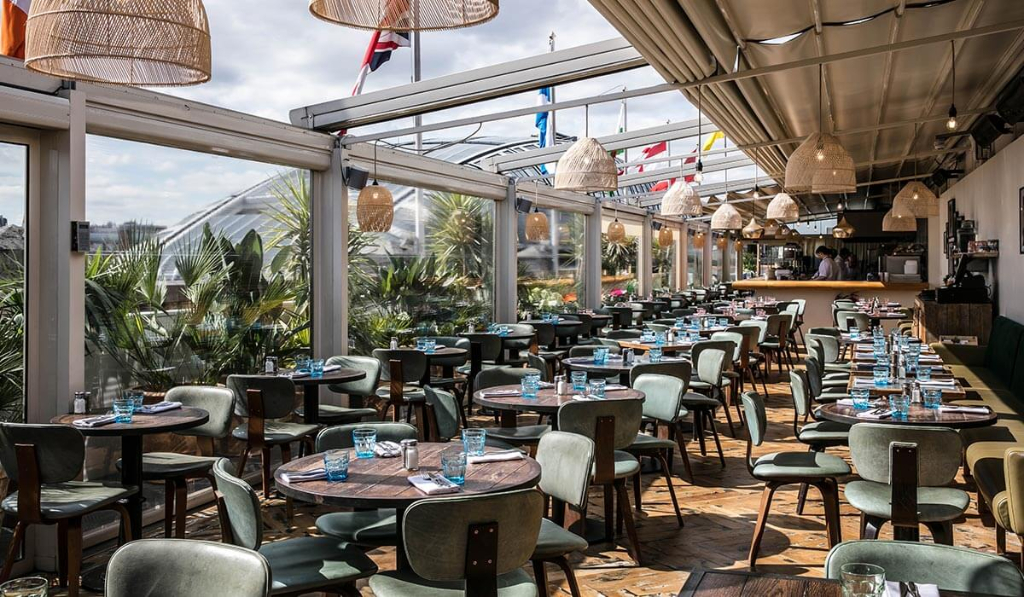 Tamarind Soho
They say the second album is often the trickiest, and so it might prove here. Expectations are incredibly high for Tamarind of Mayfair's new sister restaurant, which is going to take the restaurant's core concepts and pare them down into a more home-styled sort of deal. It has difficulty written all over it, as the jump between the two parallel markets has proven too tricky for plenty of restaurants in the past. Expect dishes to retain the original's delicate hand with the spicing though, bringing so much finesse out of big hitters like cardamon and cloves.
Tamarind Soho, 167-169 Wardour St Soho London W1F 8WR, is open from 4th April 2017, for further information or to book call 020 7287 4243 or visit here.
Roof Deck Restaurant and Bar pop-up

WastED is a tough act for any restaurant to follow, but Selfridges have made the smart decision to do a complete 180. Gone are the fish skeletons and educational exhibits, and in their place comes simple but incredibly hearty dishes. Think smokey meats, grilled to perfection in the summer sun, served with deep bowls of chili-studded guacamole. No frills, no fuss, just flavour.
What to expect: Californian-style al fresco dining
Roof Deck Restaurant and Bar, Selfridges 400 Oxford Street London W1A 1AB, is open from 11th April 2017, for further information or to book call 020 7318 3287 or visit here.
Trawler Trash 
A sizeable portion of the fish that we bring in every day is considered largely incidental, and given an ignominious end as bait or in some cases even just discarded. There's also an enormous amount of a fish's carcass that currently goes to waste or is simply thrown in for making stock. As anyone who's gone to the effort of getting fish cheeks will tell you, though, that's madness: there's so much flavour in so many of these cuts. Honouring the bycatch that otherwise goes to waste, Trawler Trash is looking to highlight these issues with simple but delicious dishes.
Trawler Trash, 205 Upper Street London N1 1RQ, is open from 29th April 2017, for further information or to book call 020 3637 7619 or visit here.
March
Gymkhana x Noble Rot
A match made in heaven, as the incredible modern cuisine pairs up with one of the city's best wine bars to give us a tasting menu that's not going to be forgotten any time soon. Each delicious course will paired with a wine perfectly suited to complementing its flavours, with the odd curveball thrown in as well.
What to expect: World-class wines
Gymkhana x Noble Rot, 42 Albemarle Street London W1S 4JH, is open throughout March 2017, for further information or to book call 020 3011 5900 or visit here.
Smith & Sinclair Flavour Rooms pop-up
Another two-floored offering. Downstairs there's a pairing with Tanqueray gin that looks solid, if nothing especially unusual, but it's upstairs that the real fun will be happening. Alcoholic bubbles and cocktail pastilles both sound like something from a booze-soaked reboot of Willy Wonka, and by the time we had got to the possibility of alcoholic dib-dabs, well we were sold. Smith and Sinclair tread that line between the absurd and the enjoyable so well, this is surely going to a pop-up that's as excellent as it is whimsical.
Smith and Sinclair Flavour Rooms, The Flavour Rooms, Carnaby Ganton Street London W1F 7QP, is open from 3rd March until 2nd April 2017, for further information or to book visit here.
Mere
Interest is already building in this joint opening between Monica Galetti and her sommelier husband, David. The Masterchef judge is known for her exacting eye, and the public are eager to get a taste of just what she can offer. The menu will be simple, but stylishly executed and the couple are hoping to create a restaurant that pairs quality with a more relaxed, at ease atmosphere.
What to expect: Elegant dining
Mere, 74 Charlotte Street London W1T 4QH, is open from 6th March 2017, for further information or to book call 020 7268 6565 or visit here.
The Game Bird at The Stafford
The Stafford is getting a new lick of paint and a new idea, courtesy of James Durrant. Durrant has an impressive CV, with almost a decade of work for Gordon Ramsay executive chef positions at Jason Atherton's Maze and Maze Grill, and a dish that made it all the way to the Banquet in 2014's Great British Menu. It's going to be a decidedly British affair, so don't expect anything too outlandish, as Durrant will instead be prioritising great cooking and beautiful produce.
What to expect: Modern British comfort cooking
The Game Bird, The Stafford The Stafford 16-18 St James's Place London SW1A 1NJ, is open from 17th March 2017, for further information or to book call 020 7518 1234 or visit here.
Blacklock
The unbridled glee with which Blacklock treat their carnivorous menu earned it top marks when we reviewed back in 2015, and this expansion looks to be more of the same. Expect incredible chops, bone marrow, roast dinners and a smattering of great sides, all washed down with an excellent cocktail menu.
What to expect: A carnivorous feast
Blacklock, 24 Great Windmill St Soho London W1D 7LG, is open from 20th March 2017, for further information or to book call 020 3441 6996 or visit here.
Claude Bosi at Bibendum (review)

Unashamedly fine dining, with a healthy dash of accessibility (not a tasting menu in sight), it's hard to imagine Bosi's run here being anything other than a success. Taking over both the lower floor fish bar and the upper floor restaurant, Bosi is looking to bring his stunning flavours and nuanced cooking to the public at a price they can afford, with a healthy set of reasonable set menus.
Claude Bosi at Bibendum, Michelin House 81 Fulham Road Chelsea London SW3 6RD, is open from 29th March 2017, for further information or to book call 020 7581 5817 or visit here.
February 2017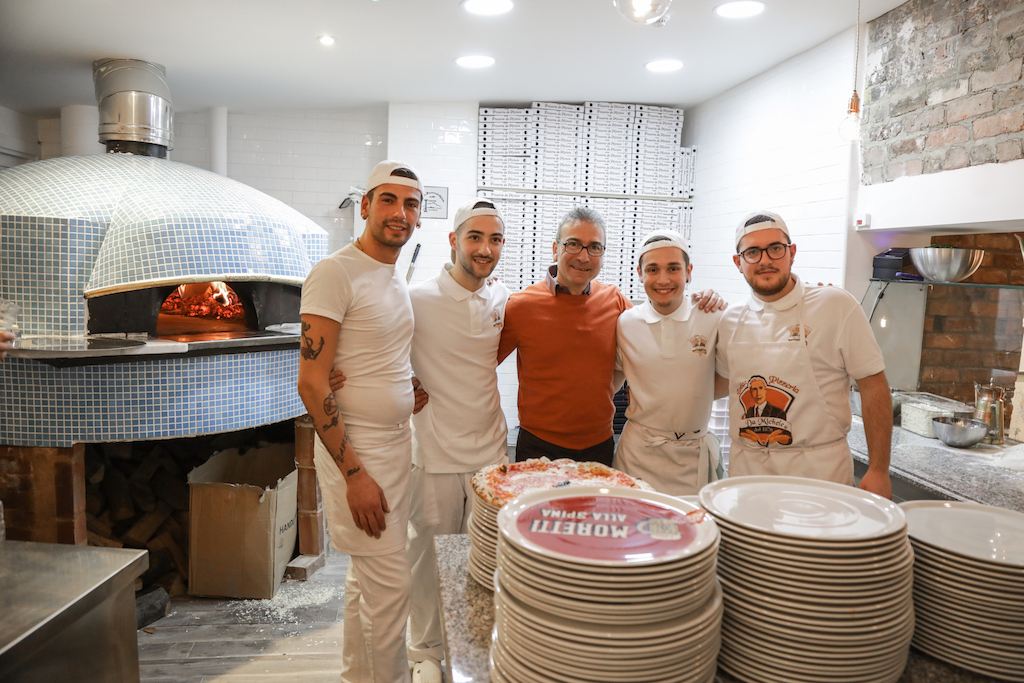 L'Antica Pizzeria Da Michele (review)

Regarded as an exceptional pizzeria in a city that's renowned for the art of crafting a perfect pizza, this Naples-based outfit have the city in rapt anticipation as they open a store in London. Expect near perfection if the original is anything to go by, and although Stoke Newington isn't the most central location, if this place lives up to its potential then we might be seeing a shift in how people use the term pizza pilgrims.
What to expect: Real Neapolitan pizzas
L'Antica Pizzeria Da Michele, 125 Stoke Newington Church St London N16 0UH, is open from 3rd February 2017. Read our review here.

Untitled
Tony Conigliaro needs little introduction, towering above the UK drinks scene as one of the country's finest mixologist. His third London opening, Untitled, is a little more laid back than the others, focussing around a central communal table and a simple but surely delicious menu of 12 bespoke drinks.
What to expect: Top drinks
Untitled, 538 Kingsland Rd London E8 4AH, is open from 7th February 2017.
Hai Cenato
Jason and Irha Atherton's latest opening, with a bit of a twist. Atherton's existing collection of Social restaurants have proved exceptionally popular with both critics and the public precisely because of their clean but powerful flavours. So an Italian restaurant seems like a natural step, especially with the heavy New York influences Hai Cenato promises. Complete with a deli and 70 seat cocktail bar, it's aiming to pair fantastic food with a casual, buzzy atmosphere and with Atherton's glowing record, expect excellence.
What to expect: Casual but classy dining
Hai Cenato, 2 Sir Simon Milton Square Victoria London SW1E 5DJ,  is open from 7th February 2017, for further information or to book call 020 3816 9320 or visit here.
Hawksmoor Borough

The capital's favourite steak chain opens another branch, this time venturing south of the river into the rapidly rising star of Borough. Expect the usual great atmosphere, mouthwatering sides, and perfectly seared steaks. The soft launch runs until the end of the month but is highly anticipated, so you'll need to sign up ASAP for a chance at getting one of those coveted seats.
What to expect: Meat, meat and more meat
Hawksmoor Borough Soft, 16 Winchester Walk London SE1 9AQ, launches on 20th February, for further information or to book visit here.
Taberna do Mercado at Clipstone pop-up

For one day only, head chef Antonio Galapito will be bringing his menu to Clipstone for a special brunch. Expect favourites olive oil and egg yolk sponge alongside fresh sea urchin and pigs' brains. Tickets are available for £30 and are expected to go fast.
What to expect: Mediterranean brunch
Taberna do Mercado is at Clipstone, 5 Clipstone St, Fitzrovia, London W1W 6BB, on 12th February 2017, for further information or to book visit here.
Gin Festival
Unlike many other drinks who have seen their time in the sun in recent times, gin simply refuses to go back to the shade. Going from triumph to triumph, the juniper laced liquor has become one of the capital's favourite drinks once more, with new craft batches appearing at a record rate. You'll be able to sample plenty of them at the Gin Festival at Tobacco Dock this month, where the botanicals will be in full flow.
What to expect: Gin lovers' wonderland
Gin Festival is at Tobacco Dock, Tobacco Quay London E1W 2DA, from 17th until 19th February 2017, for further information or to book visit here.
Borough Plates pop-up

Borough Plates is suspiciously perfect. Situated in a beautiful space slap bang in the middle of Borough Market, offering a variety of beautiful small plates and catered by the team at Cuisson, it sounds far too good to be true. Their last venture here, though, PopDown, lived up to the hype with aplomb so this may very well end up being one of those rare treats that's every bit as good as it sounds.
What to expect: Small dishes, big flavours
Borough Plates is at Borough Market, 1 Cathedral Street London SE1 9AL, until the end of March 2017, for further information or to book visit here.
Creatista Studio pop-up 
A pop-up with a twist, this Nespresso-fuelled coffee bar is all about the latte art. They'll be offering classes that range from introductory tryouts, to full on one-to-one masterclass sessions with latte artists that promise to take your own milk styling skills to another level. The cafe itself is riding the Hygge trend to create a cosy, intimate space that's ideally suited to chasing away the winter blues.
What to expect: Coffee lovers' paradise
Creatista Studio,235 Westbourne Grove London W11 2RW, is open from 22nd February until 5th March 2017.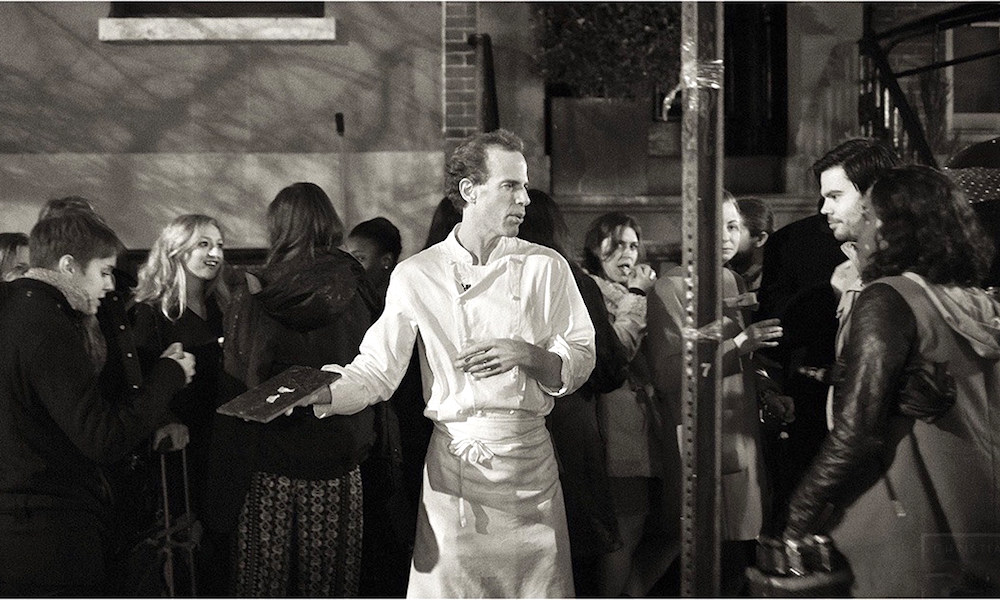 wastED pop-up (review)

Food waste is one of the most understated, underestimated concerns of our time. The world's population is booming and every year a simply disgusting amount of food is discarded for being unsightly or unnecessary, despite the hunger of the developing world or the environmental impact such carelessness has. For a limited time, Selfridges will be bringing the wildly thought provoking and successful wastED pop-up from New York to London, in an attempt to highlight that very issue. Utilising ingredients and produce that would otherwise be discarded, Dan Barber's potent piece is half fine dining, half ethical wake up call.
What to expect: Innovative cooking and thought-provoking dishes
WastED is at Selfridges, 400 Oxford St London W1A 1AB, from 24th February until 2nd April 2017, for further information or to book visit here.
January 2017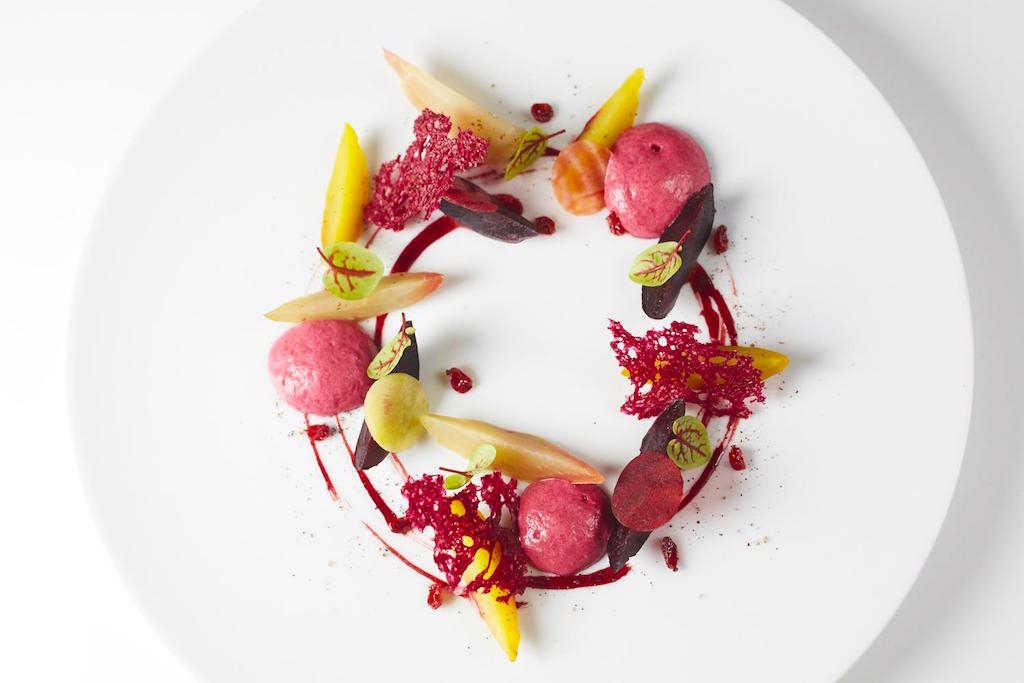 Le Dame de Pic (review)

Don't let the hotel restaurant stereotypes put you off: Le Dame de Pic is packing some serious talent. Head Chef Anne-Sophie Pic is renowned for winning Maison Pic its third Michelin star in 2007, and has since opened two more restaurants, both of which earned at least a star. Refined, precise with sparks of creativity are Pic's speciality, and we can expect to see more of the same here.
What to expect: French fine dining
Le Dame de Pic is at Four Seasons Hotel at Ten Trinity Square, 10 Trinity Square London EC3N 4AJ, is open from 26th January 2017, for further information or to book visit here.
Burns Baby Burns
London hosts a number of excellent Burns Night celebrations every year. Think great single malt, haggis, fun and frolics until the early hours, and you'll get the general picture. What sets Burns Baby Burns aside is the incredible atmosphere. Set inside St John's Church in Hackney, it's a roaring but amicable affair with oodles of authenticity, which is more than can be said for the tongue-in-cheek Irn Bru ice cream!
What to expect: Proper Scotch fun
Burns Baby Burns is at St John's Church in Hackney, Lower Clapton Rd London E5 0PD, from 26th until 28th January 2017, for further information or to book visit here.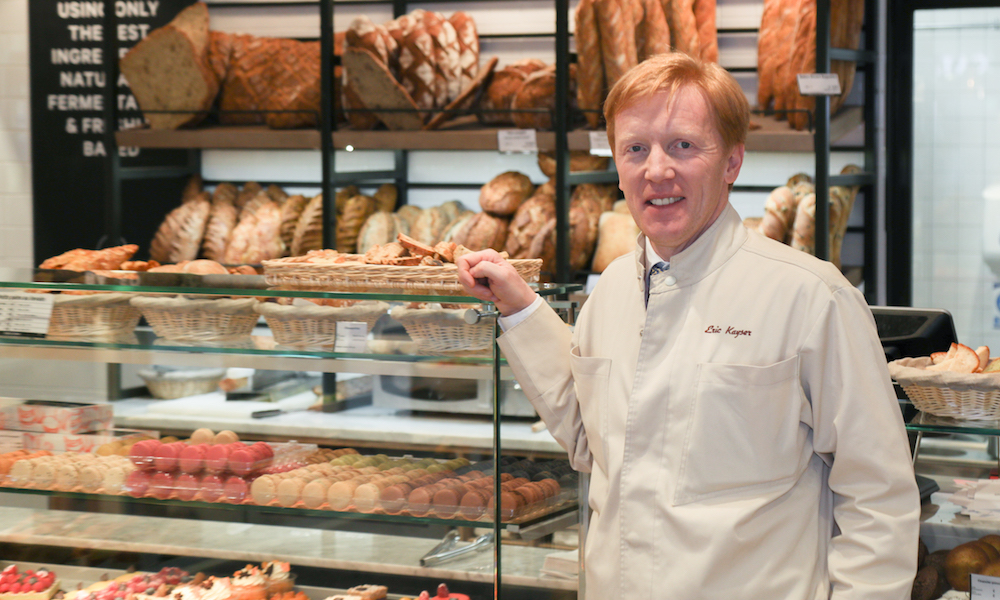 Maison Kayser (interview)

The master French boulanger finally comes to London. Éric Kayser has earned praise throughout the world for his remarkable baking, delighting everyone from critics in Asia to European dignitaries. Expect traditional French produce, made with artisanal methods and ingredients. And of course, that famous sourdough.
What to expect: Artisan bread
Maison Kayser, 8 Baker Street London W1U 3BS, is open from 13th January 2017, for further information visit here. Read our piece and interview with boulanger Éric Kayser here.

Saints and Sinners
Two menus, two themes, two chefs: it's a classic exercise and one that still continues to delight. What makes this particular event intriguing though, is that the Saints menu genuinely looks appealing for once, and not like someone has made a last minute dash through Wholefoods. At least that way you can pretend that you're going to be upholding those New Year's resolutions before you tuck into plates of lobster, truffle, foie gras and tart tatin.
Saints and Sinners is at the Gherkin, 30 St Mary Axe London EC3A 8EP, from 16th January until 13th February 2017, for further information or to book visit here.
Ferdi
The stunningly popular Parisian brasserie is hoping to bring all of its charm and character to London. A popular haunt for celebrities, it's one of those exclusive little places that never seem to have an opening. We suspect this new opening will be much the same, hosting a modest 28 tables in an intimate setting. Your best bet (short of any well connected friends) will be to go to the lunch service, which will be walk in only.
Ferdi, 30 Shepherd Market London W1J 7QN, is open from 21st January 2017.
Underground Supperclub
Perhaps because doing so normally is so likely to earn you quiet scorn from your fellow passengers, but there's an oddly guilty pleasure about eating in a tube carriage. It's hardly the venue that springs to mind when someone says supper club, but oddly enough these squat little carriages have a charm to them that's hard to shake.
Underground Supperclub is at the Basement Gallery, 10 S Access Rd London E17 8AX, throughout January, for further information visit here.
December 2016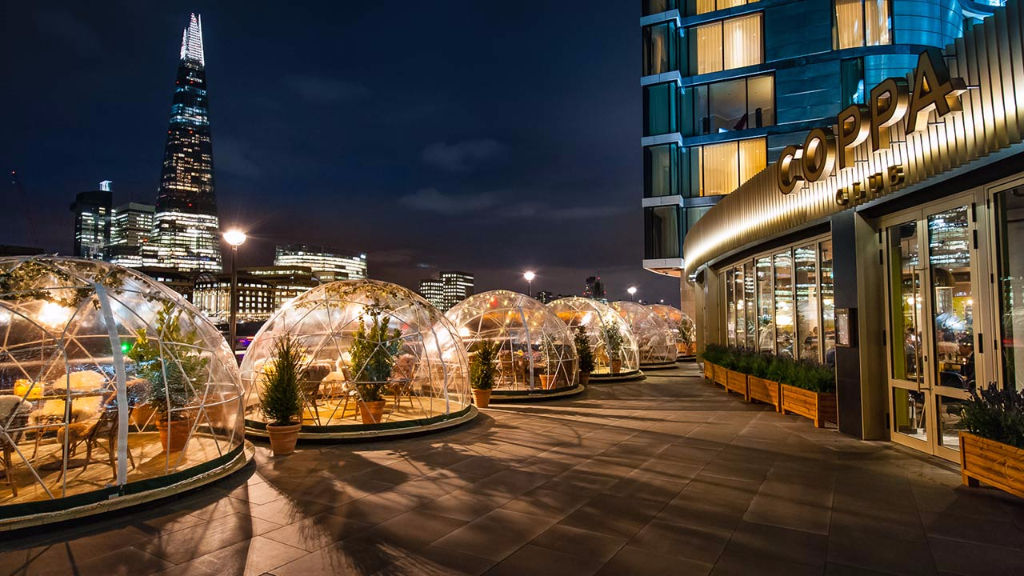 Coppa Club
Coppa Club's already excellent bar is enjoying a festive and unusual addition this year. The terrace will be complete with no less than eight igloos for visitors to sit in whilst they sip their beverages. Nothing better to get you in a wintery mood than sipping spiced cocktails in what is essentially a giant ice cube. Food and drinks will be available as usual, as will a range of special Christmas themed beverages.
Coppa Club, 3 Three Quays Walk, Lower Thames Street, London, EC3R 6AH, is open until January 2017, for further information call 020 7993 3827 or visit here.
Pitch Black Bar
The role that the senses play in our perception of food is one that has fascinated everyone from the futurist academics of Italy to the likes of Ferran Adria and Heston Blumenthal to many researchers working in cognitive labs throughout the world. How a coffee might taste when you play music as you drink it, how the texture of a thin slice of veal changes your perception of its flavour. So the concept of this bar, which is helpfully in the title, intrigues us. Drinking entirely in the dark, diners will be forced to be deprived of the visual aspects of every drink, which sounds like an intriguing prospect. Definitely one to note down for those sick of Instagram.
Pitch Black Bar, 104-122 City Road, London, EC1V 2NR, is open until 23rd December 2016, for further information visit here.
Beyond the Waterfall
Bompas and Parr have a record for the extreme. Whether it's their 24 hour continuous meal, their alcohol-infused air bar or the myriad of jellies that brought a bit of the old British charm back to several parties, they have as much of a flair for the theatrical as they do for the culinary,. This latest offering, a bar complete with its own waterfall and mermen mixologists (we know, we know…) is certainly not bucking that trend.  
Beyond the Waterfall, Westfield London, Ariel Way, Shepherds Bush, W12 7GF, is open from 9th until 23rd December 2016, for further information visit here.
The Distillery
From the makers of Portobello Road Gin comes this hotel celebration of everything juniper. With no less than three bars, a museum, a distillery and basically everything you could imagine to do with the making, serving and consumption of Britain's reigning favourite drink, this is the perfect venue for any lovers of the spirit who want to try something a bit different. The menu is a perfect mix of inventive new cocktails, old favourites and some traditional drinks given just a little twist to keep them fresh; a dangerous combination.
The Distillery, 186 Portobello Road, Notting Hill, W11 1LA, is open from 16th December 2016, for further information call 020 3034 2233 or visit here.
November 2016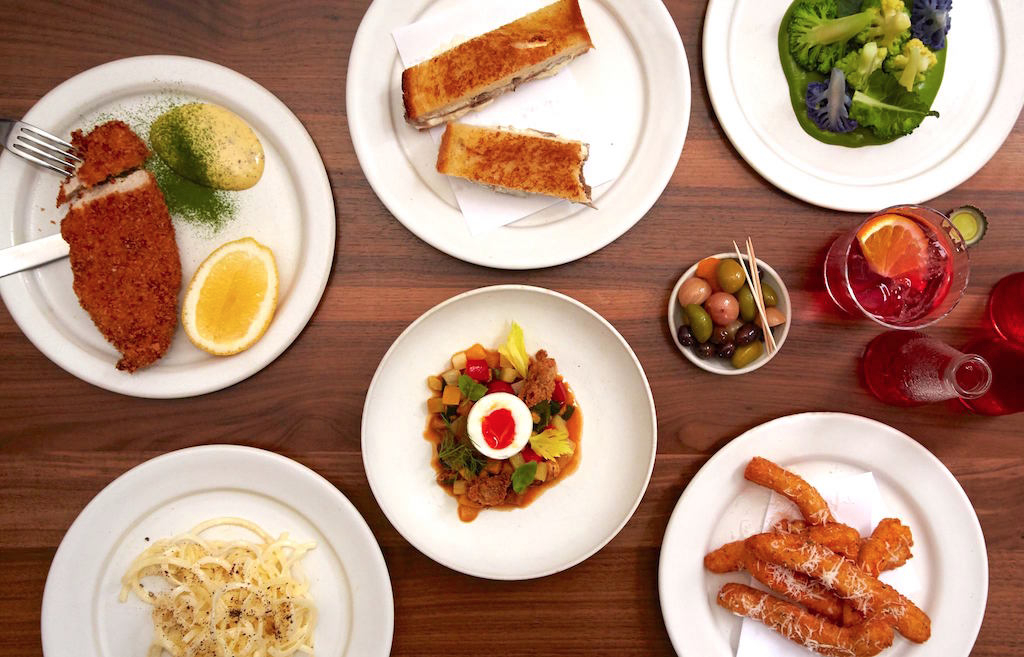 Luca
With their their shared focus on brilliant produce, big flavours and relaxed dining experiences, Italian cuisine and the Clove Club seem like a match made in heaven. So when chef Isaac McHale announced that he would be opening a new Italian venture called Luca, there was considerable excitement. This "concept of British seasonal ingredients through an Italian lens" promises delights like Pheasant milanese and green peppercorn mayo, Spaghettini with morcambe bay shrimp and mace butter and Lamb chops, rosemary breadcrumbs and crushed vegetables. They're all dishes laced with the effortless elegance McHale and his Shoreditch outfit has become
renowned for, and if they taste as good as they sound then expect this to quickly become one of the hotter tickets in town.
Luca, 88 St.John Street, EC1M 4EH, is open from 28th November, for further information call 020 7253 6950 or visit here.
Aquavit
The seasonal and picturesque dishes offered at the original Aquavit in New York were enough to earn it a pair of Michelin stars and critical acclaim, with many considering it one of the better Nordic outfits outside of Northern Europe. Now they're hoping to bring that same excellence to London, and there's a palpable buzz. The menu is laden with a stunning array of berries, fish and game that should translate beautifully into its new English surroundings, with a dish of venison tartare, blueberries, lingonberries and juniper sounding especially appetising.
Aquavit, is open from 28th November, for further information call 020 7024 9848 or visit here.
The Gate
A favourite of vegetarians throughout the City, The Gate is opening its third outing in Marylebone. Consistent excellence over the course of several decades has seen the original credited as something of an institution, one of those key restaurants that showed a life without meat didn't need to be boring. Expect more of the same here, with a menu that takes a rather global approach to things, dipping into everything from the Middle East to South East Asia to France in its search for exciting flavours and dishes.
The Gate, 22-24 Seymour Place, London, Marylebone W1H 7NL, is open from 1st December, for further information call 020 7724 6656 or visit here.
Parabola at the Design Museum

The eagerly awaited opening of the new Design Museum in Kensington has culture aficionados in an absolute daze, but there's good news for those of us more fond of the culinary arts. Its in-house restaurant will be combining the leadership of industry veterans Prescott and Conran, with an exciting chef whose previous experience at Tramshed, Pharmacy 2 and Petrus should stand him in good stead. From what we've seen of the food so far, it's going to be an aesthetic treat fit for its surroundings, and the view of Holland Park promises to be breathtaking too. As if that isn't enough, Rowley Leigh will also begin a guest spot there, lasting from the 28th November to the 28th January 2017.
Parabola, 224 Kensington High St, Kensington, W8 6SG, UK is open from 28th November.
Hyper Japan
Twee seems inadequate to describe this Japanophile's dream, which will be exploding onto Tobacco Dock once more. An explosion of colour and enthusiasm, it's so surreal that it loops back round from being utterly ridiculous and ends up being an irreverent but utterly enjoyable celebration of the eponymous country's modern pop culture. Where else are you going to see a fully grown man with pigtails, wearing a maid's dress and screaming death metal?
Hyper Japan is at the Tobacco Dock, Wapping Ln, E1W 2DA, from 25th until 27th November, for further information visit here.
Pharmacy 2 Lates

From the hyperbolic to the downright absurd, Pharmacy 2 is Damien Hirst's second attempt at a restaurant, after the iconic first effort ran into a spot of bother with the law. Opening to generally positive reviews and infused with the artist's own eclectic charm, it's still one of the cooler places in the capital. It's monthly late night run will end on the 26th, and it's promising to be one hell of a finishing party.
Pharmacy 2 Lates, Newport St, Lambeth, London SE11 6AJ, is on 26th November, for further information visit here.

Perilla
It's hard not to think that Perilla could be the start of something truly special. At just 24 years of age, Chef Ben Marks has a seriously impressive CV, with experience at both Noma and the Square under his belt. His fledgling talent has caught the eye of backers like Phil Howard, and his exciting Perilla pop-up is now becoming permanent, offering modern European dining in a relaxed setting. Fine dining with the formality and frills, in essence.
Perilla, 1-3 Green Lanes, Newington Green N16 9BS, is open from 15th November, for further information or to book visit here.
Sakagura
Sake lovers, this one is for you. With a dedicated sake bar and a team full of experts behind the scenes, Sakagura looks to be offering one of London's best selections of the Japanese delicacy. Not that the food will be any less promising; working around the premise of Washoku (which features rice, miso and fish in every meal), Sakagura is all set to bring South Japanese cuisine to the vaunted halls of Mayfair.
Sakagura, 8 Heddon St, Mayfair, W1B 4BU, is open from 15th November, for further information visit here.
Taste of London Festive Edition
The second half of Taste's biannual calendar, the festive edition is always packed full of character and charm. The atmospheric confines of Tobacco Dock will be lit with the glow of roasting chestnuts, and not a little mulled wine. If it's a little early for you to be getting too into the Christmas spirit, don't worry. The event's usual selection of top chefs and restaurants will be there as normal, offering masterclass presentations and bringing their award-winning food to you in smaller plates.
Taste of London Festival Edition is at Tobacco Dock, Wapping Lane, E1W 2DA, from 17th until 20th November, for further information visit here.
Eis Haus
You'll want to dress warmly for this one.There's a good reason why this entire venue by the Tower of London ice rink will be plunged to temperatures of -5 though. The experience in the Eis Haus Lounge is the epitome of cool, combining great cocktails and shots with glasses made from ice. Yes, literal ice. As well as great selection of drinks and snacks, a variety of stunning ice sculptures are being specially created for this popup, as Eis Haus go all out to create an Alpine experience like no other.
Eis Haus is at the Tower of London Ice Rink from 16th until 23rd November, for further information visit here.
Mac & Wild
Acclaimed Scottish restaurant Mac & Wild are bringing their taste of the Highlands to John Lewis this season, taking up residence on top of the Oxford Street store. Expect the same sweeping views as ever from the rooftop garden venue, all of which look especially pretty adorned with the twinkle of Christmas lights. If the game served up there is anywhere as good as in the main restaurant, hungry shoppers are in for a hell of a treat.
Mac & Wild is at John Lewis Rooftop Garden, 300 Oxford Street, W1A 1EX, from 7th November until 31st December, for further information or to book visit here.
The Lodge
Without wanting to sound like a Game of Thrones advert, winter is coming. The trees might not even be bare, but chefs across the city are already rolling out their reindeer, cranberry sauce and pine needles. Thankfully, it's not all Christmas-themed fare, as popups like The Lodge look to warm your bones with Neal's Yard fondue and baked alaska rum. This Alpine-styled retreat is the perfect place to celebrate the changing season without getting too overtly festive.
The Lodge, 409 Clapham Road London SW9 9BT, is open from 21st October, for further information or to book visit here.
The Grand Gelinaz! Shuffle (review)

Hoping to make a triumphant return for its second iteration, the Grand Gelinaz! Shuffle will once again take a selection of the world's finest chefs and place them in each other's kitchens for one night only. Featuring world renowned talents like Gaggan, Redzepi, Bottura and Martinez, it sounds like a fine dining enthusiast's wildest dream come true but there's a catch. Guests may have already bought their tickets but no one knows where the chefs will be, with the identity of each revealed only on the night. Those unable to attend will be able to follow along with proceedings with the "digital wall", a collection of multimedia content updated live as the events unfurl.
The Grand Gelinaz! Shuffle is at the Black Axe Mangal, 156 Canonbury Road N1 2UP, or Hedone, 301-303 Chiswick High Road W4 4HH, on 10th November further information or to book visit here.

October 2016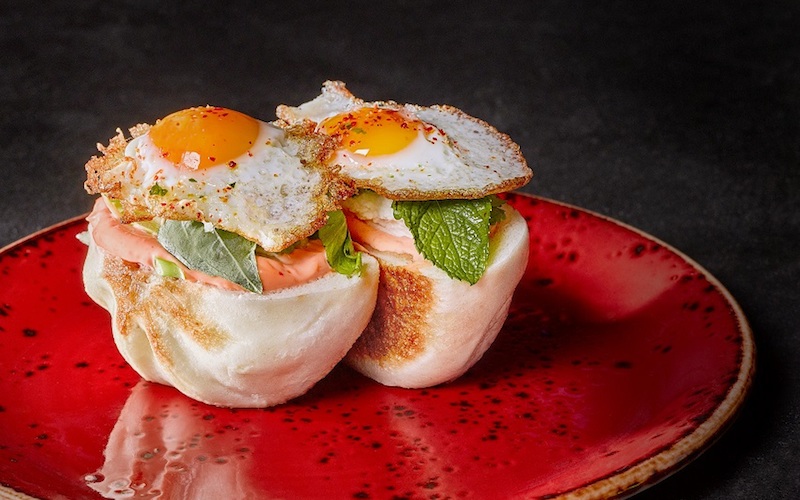 Street XO
The days of the chef as a glamorous, rebellious rock star pretty much ended when their inspiration decided to tie his name to a brand of stock cubes – David Muñoz didn't get the memo. Rocking a mohawk and enough black and white photos of himself looking moody to fill a gallery, the brilliant young chef is full of bravado and it shows in his food. Challenging, shocking and utterly delicious, it's earned him three Michelin stars for his Diver XO restaurant in Spain, and now he's bringing his talents to London. Expect something truly sensational.
Reservations for Street XO, 5 Old Burlington Street, Mayfair W1S 2JL, open from 31st October 2016, for further information or to book visit here.
Caravan Bankside
One of London's best known roasters and coffee shops, Caravan has established a reputation for excellence. Great snacks, a stunning range of beans and knowledgeable staff have all played a key part in their meteoric rise. Just as with their Granary Square store, they're again looking to get in on the ground floor of an area's revitalisation, choosing the up and coming Bankside as their location. Their latest Daily Blend, updated for the autumn, is well worth trying: a jammy number full of plums and dark fruits, finishing with strong cocoa notes.
Caravan Bankside, 30 Great Guildford Street SE1 0HS, is open from 31st October, for further information or to book visit here.
Wahaca's Day of the Dead Festival
A three-day party full of fun, frolics and plenty of tequila, all in honour of Mexico's iconic Day of the Dead Festival. The Vaults in Waterloo will be filled with incredible modern Mexican food, including guest spots from the likes of Patty and Bun. It's not all food though: a great rotation of DJs and live Mexican wrestling are sure to keep partygoers enthralled as they tuck into their tasty treats.
Wahaca's Day of the Dead Festival is at The Vaults from 3rd until 5th November 2016, for further information visit here.
Lobos
Opening to critical acclaim in 2015, Lobos has become a firm favourite with the capital's carnivores. A heavy focus on meat shouldn't be surprising from a restaurant whose name translates to "wolf", but the borderline worship of meat at Lobos has won it plenty of fans. Expect more incredible cuts of Ibérico pork, stunning milk fed lamb, and a healthy dose of offal to feature in their new Soho venture.
Lobos, 48 Frith St Soho W1D 4SF, is open from 7th November 2016, for further information visit here.