Feature of the week
How to be like an action hero
Okay. Not everyone can make a big career in Hollywood, but you don't have to be a big-name star to be like one. The girls will be falling over themselves to be near you if you can make them think that you're the next James Bond. You may not have Q to help you out here but you don't really need him, anyway.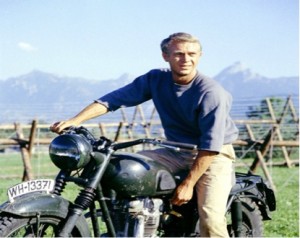 It's all in the walk. Well, maybe it's not ALL in the walk but the walk is a good place to start. Remember to keep your back straight at all times, ladies don't like a slouch. Slightly tougher to master is the look of confidence; looking as if you don't know what you're doing is not good.
Of course, there is more to being an action hero than walking straight; dressing the part is the next step. Pick your favourite action hero, and take a look at what they're wearing. The Indiana Jones look is always a good choice, but unless you're going to a costume party, I'd do what Indy never did, and leave the hat behind. Jeans and a plain Tee shirt are also good options. The emphasis here is on plain; when have you ever seen a major action hero wear a shirt with a band's logo on it? Also to be avoided is when a style of clothing is obviously from a specific movie or movie star. Dressing like Wolverine is a no-no, unless of course, you actually are Hugh Jackman.
The car helps with the image as well. Sorry, the old Ford Ka your parents bought you when you turned 17 won't quite do the trick. Back to the quintessential action hero, take a look at anything James Bond has driven. If you can afford the price tag, Aston Martin has plenty of options to choose from, and they all say "Look at me, I'm the good guy in this film!" Just remember to go with a lighter colour. Dark colours are usually for the bad guy. Of course, this cliché is not always true; if the good guy is such a tough guy (think Arnold Schwarzenegger) then dark colours, even black, can be used effectively.
§
If you can afford the price tag, and you know how to ride, an even better option is a motorbike fully insured if you're planning stunt shows as part of your super hero get up. Remember the bike chase in Tomorrow Never Dies? That is the true mark of an action hero. The ability to weave through congested city streets at top speed while avoiding the bad guys. Or think back to Steve McQueen in The Great Escape. Finding someplace where you can legally race around at top speed (while at least pretending you're being chased by the bad guys) is the ultimate thrill.
Of course, if you want to feel like an action hero, it'd be nice to do some of the things they do. If you jump on a search engine, you can find places near you wherever you happen to be that offer activities such as skydiving, bungee jumping, parachuting, rapelling, and action movie style advanced driving techniques. These places are usually fairly inexpensive, and courses are offered by experienced professionals. If you find one of these places, be sure to research it beforehand, finding out how long they've been in business, what kind of reviews they've received, and what price range they offer.
For a more complete experience, the Australian Stunt Academy on Australia's Gold Coast offers a full movie stunt package. They will film you performing fight scenes, shootouts, and other action scenes with professional stunt actors. You choose the style of action you want, and they make it happen. Say you're interested in playing Neo from The Matrix. They will provide the black leather duster, and the cool shades and the wire-work needed to make you fly around the room, and dodge bullets. So there really are no limits to being like a real life action hero! Pretty cool huh?
The editorial unit