Fashion & Lifestyle
Tips & How-tos
<!— One of actual post titles —> Five ways to stay fit this spring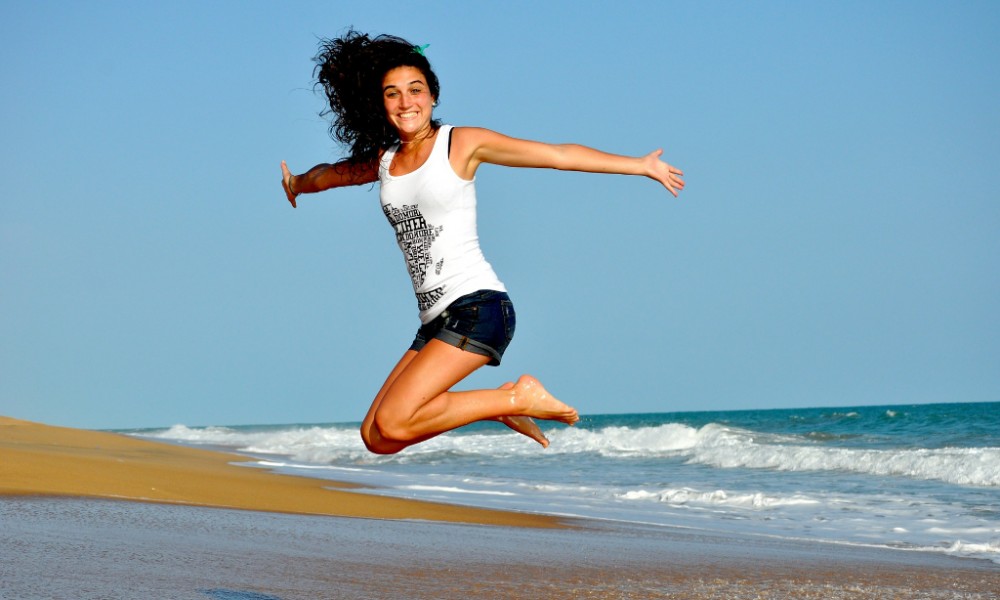 Spring is upon us! Despite overwhelming anticipation for increasingly longer days and holidays pre-booked in the sun, for many, this sentiment is accompanied by a niggling anxiety about swimsuit season. But never fear! Taking on a few of the basic tips listed in our guide will facilitate a noticeable difference in your fitness levels within several weeks. And this is, after all, the best time of year to begin incorporating healthier habits into your daily routine – with the extra few hours of light every day, you should start noticing a new spring in your step. And don't worry, as soon as autumn rolls around, we'll all fall back into our old couch-potato habits.
Jogging
Tried-and-true, we all know that jogging works. It's just getting past that gruelling first week that makes the whole process so difficult. To make the whole process more painless, it makes sense to take jogging in BABY STEPS. Really small ones. In fact, if you're totally out of shape, the easiest way to start jogging is to set yourself a fool-proof plan. If you expect to only become comfortable with running after a month, you'll keep at it.
 
Set yourself a half hour aside. On the first day of your allocated exercise month, tell yourself that you only have to jog for one, single minute. You'll find that, even if you've never exercised a day in your life, you can just about manage one minute. Walk it off (briskly) for the next half hour! Every day, increase your running time by one minute; the trick here is to keep your body moving after your short burst of jogging, to keep your heart rate up. If you're a complete beginner, the first week might be easier said than done, but after that, you'll hardly notice the increase.
 
Work out
 
Maybe you've done your knee in, maybe you only own six-inch platform heels, maybe you just don't like jogging… Don't give up on exercise altogether! Jogging isn't for everybody. There are still plenty of exercises you can do. In the comfort of your own home, you can set aside that half hour to do exercises in bed. Sit-ups, pull-ups, planking and yoga are all perfectly viable ways to tone your physique.
If you're lucky enough to have a great gym nearby, swimming is actually the best thing you could do for your body! This low-impact calorie-burner is super-efficient at building muscle and melting fat away. Just remember to get all the chlorine off your body afterwards!
If you don't have time for any of this, bouncing up and down in your seat, or jiggling your leg – as disruptive as these behaviours can be – can help burn hundreds of calories more per day than you would were you to be entirely sedentary. Tensing your abdominal muscles while seated can also help you tone those muscles; anything's better than nothing!
Replace carbs with protein
Fad meal plans like the Dukan Diet and the Atkins Diet dictate that cutting out carbs entirely is the only way forward. While following everybody off this cliff is dangerous – our bodies need carbohydrates to produce endorphins – there is a grain of truth here. Replacing salty carb snacks with protein can have an unbelievably rapid effect on fat-burning. If you cut out any processed carbs and replace them with meat, nuts, or even tofu, you really will notice a difference.
Similarly, replacing your afternoon biscuit binges with sweetened whey protein shakes can curb your hunger until dinner! But the very best protein shakes are DIY – simply throwing a cup of soy or almond milk in the blender with a tablespoon of raw cocoa, peanut butter and chia seeds can make for a delicious high-protein snack. Step it up a notch and throw some coconut flesh, banana, dates or avocado in the mix, and you've got yourself the ideal afternoon pick-me-up.
Cut down on the booze!
We're not suggesting you have a dry summer – that's completely unrealistic! – but cutting out a few units of alcohol weekly will really shave off some excess calories over the course of the summer. Assuming you consume the equivalent of two and a half bottles of wine weekly, cutting out a quarter of that will save you an average of 380 calories weekly – the equivalent of a full-blown workout session! If you don't drink at all, however, we suggest that you get back off the wagon, albeit in moderation. Consuming a small glass of red wine can actually help you burn fat!
Outdoor activities
Finally, if you can't bring yourself to undertake a regular workout schedule, just make sure to get out of your swivel chair, have a stretch, and take advantage of this fantastic weather while you can! Meandering slowly around outside the office during your lunchbreak is enough to get the juices flowing.
You get bonus points if you cycle around the park, or take the dog out with a Frisbee. Just remember to get moving, even if the time you've allotted for it is minimal!
Above all, don't be too hard on yourself. You'll lose steam if you overthink these things. Try out lots of different routines to find out what works for you. Exercise is supposed to be fun; if you don't like what you're doing, you won't stick to it.
 
Happy spring!
The editorial unit