Feature of the week
<!— One of actual post titles —> Chocolate kebab recipe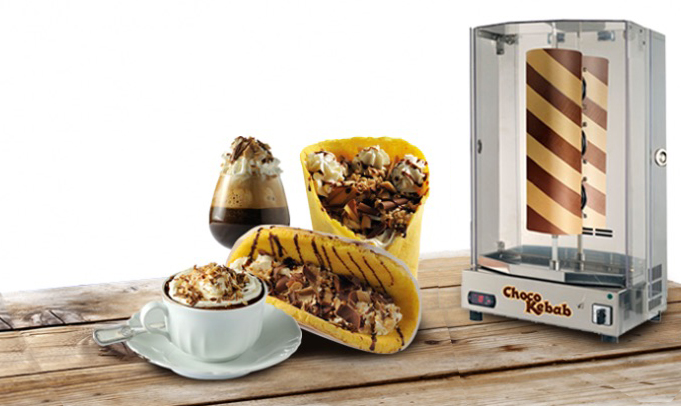 Fans of the great British social scene will have most likely crossed paths with the kebab. Already a humble variant on its Greek, Turkish or Indian counterparts, the UK kebab is synonymous with pitta bread, filled with doner meat (lamb), garnished with salad — or chips — and topped off with lashings of sauce.
But with our knowledge of the existence of the JM Posner Choco Kebab machine, available from Nisbets catering equipment suppliers, we thought we'd raise the concept of the UK kebab and tell you how to assemble the perfect chocolate kebab.
The outer casing
Standard kebabs start with a flatbread or pita bread, which is soft but sturdy, in order to hold the contents. For your chocolate kebab, the same principle applies. You need something that can handle a filling and will bring its own flavour to the dish. Your best choice of things to fill are crepes and churros, or you can top a waffle with the fillings and garnishes.
The meaty inside
Next in the traditional kebab goes meat, usually chunks of chicken or lamb – but your chocolate kebab can be filled with even more delicious things.
You can keep it simple, just with melted milk, dark or white chocolate, or step it up by filling it up with your favourite chocolate bars. For warmer days, why not try fruit – strawberries, pineapple and kiwis work well or go all-out and get your favourite ice cream in there. With this one though, just take note that you'll have to work quickly to avoid any melting!
The extras
In your usual kebab this would be a salad garnish, or chips if you're extra-hungry. With a chocolate kebab, you can have even more fun. The trick with the extras is to add another dimension in both texture and flavour. Chopped nuts, cookie crumbs or a small layer of peanut butter will complement many of the fillings above, not to mention adding a delicious crunch. Chocolate sweets and sprinkles will also add another level to your filling.
The sauce
The crowning glory of any post-night out kebab is the sauce. Diners opt for chilli, garlic, ketchup and mayonnaise – but with your chocolate kebab, you have even more options! You can choose from traditional dessert sauces, like butterscotch, caramel, chocolate or strawberry, or pick the crowd-pleasing whipped cream, which works with everything. Feeling extra-bold? You don't get a more popular dessert sauce than custard!
The editorial unit