Fashion & Lifestyle
Accessories
<!— One of actual post titles —> Pearl jewellery with a twist: all you need to know about silver pearls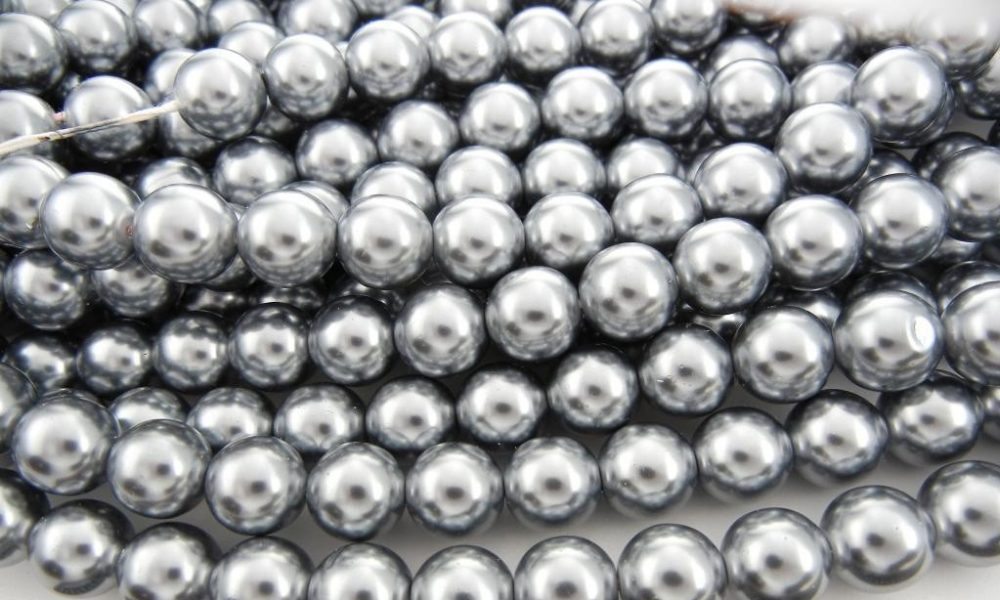 It shouldn't be news to anyone that in the past two years pearls have made an outstanding comeback, reclaiming their rightful place in the high-end fashion world and present on almost all important runways. If Chanel brought back Coco's dearest gem in new, bold and gorgeous montages, other designers sprinkled pearls on sumptuous dresses that fashion lovers are still talking about today.
Taking a look at the big picture, it's obvious that pearls are no longer a staple of old-school femininity or a bridal accessory. Pearls are bold, beautiful, sophisticated, chic and classy, working with any type of outfit (as Alexander McQueen proved) and complementing the wearer, no matter her age. But amongst all pearls, black, white and coloured, the silver pearl stands out as the champion of ultimate elegance. Today we will discuss one of the rarest, most beautiful and most desired pearl jewellery pieces: the silver pearl necklace.
Why don't you see silver pearl necklaces everywhere?
If you see a real pearl jewellery piece featuring a shimmering silver pearl, you should know that this particular gem is a South Sea pearl. Oftentimes, South Sea pearls are mistaken for black pearls, but in fact, Tahitian gems (what we commonly call black pearls) are just one of the South Sea varieties. South Sea pearls are rare and incredibly precious, both from a fashion and an investment point of view. They are large in size and sport unique colours: white, black, golden, and silver.
The silver pearls in this category represent the epitome of beauty, rarity, and value: they come with thicker nacre than many other pearl types, a lustre that adds to their uniqueness, and amazing blue and pink overtones. An elegant real pearl necklace in silver is a statement of refinement and taste – it could be your only jewellery piece with an outfit, and it would be enough to stand out in any crowd.
What should you look for when buying a silver pearl necklace?
Such an investment requires skill and knowledge. Silver pearls are more durable and they never lose their eerie shimmer and subtle beauty, or their long-term value. Here's what you need to know before choosing your perfect silver pearl necklace.
Size: silver pearls are rather large in size, ranging from 10 mm to 15 mm – this is why you should opt for a silver pearl choke. The size of the pearls is beautifully compensated by the shortness of the strand, making the jewellery piece gorgeous without looking too flashy.
Shape: silver pearls are rarely round in shape – spherical ones can be found, but their price is overwhelming. However, silver pearls can be found in drop shapes or baroque shapes, which adds to their value and uniqueness factor.
Lustre: a pearl's lustre is what it gives it its value – the shinier and smoother the surface is, the more precious the example is. You should be able to look at a pearl and see your reflection as if you were looking in a mirror.
Metal: silver pearl necklaces are usually designed in combinations with precious metals, like sterling silver or white gold. The value of such jewellery pieces resides in the fact that you need to assess the pearls' and the metal quality only – since they can be worn with any type of outfit, styling and wearing is the least of your concerns.
One buying tip you need to remember
Even if the pearls in the same necklace don't feature the exact same size and shape (and they rarely do), the value of a necklace is found in its harmonious look. In other words, you need to examine the necklace from an average distance and evaluate whether the pearls composing it seem similar in shape and size. Make sure the jeweller didn't squeeze in a larger pearl between two smaller ones, and the necklace doesn't feature a long section of drop-shaped pearls followed by a long section of button or oblong-shaped pearls. Experts say that besides the gems' professional grading, the value of a pearl necklace depends on the uniformity of the strand.
Wearing the silver pearl necklace
While rarer and more valuable than a white pearl necklace, the silver pearl counterpart is just as versatile, adding a touch of refinement and studied sophistication to any type of outfit.
Everyday wear: if you want to wear your silver pearl necklace with a casual, everyday outfit, you can easily pair it with jeans, tanks, summer dresses or casual shirts. For a chic and street-smart, urban look, pair the necklace with a few stacked silver chains – this combination works well during the day and on hot or cool nights out.
Business wear: the business environment is one of the perfect contexts to make your silver pearl necklace truly shine, and it will speak volumes about your personality. If you picked a silver pearl choker necklace, you should know it would be perfect with crew necks and discreet silk shirts with V-necks. When combined with power suits, midi skirts, flared or cropped trousers, jackets, blouses or formal office dresses, the silver pearl necklace pulls together the outfit, making you look feminine, yet powerful and extremely professional.
Special occasions: Come nighttime, and you get to turn into an iconic symbol of fashion and elegance. The silver pearl necklace makes the perfect partner for a strapless or off-shoulder dress, a deep plunging V-neck evening gown or whatever you like. The power of such a necklace is that it doesn't overwhelm the outfit and doesn't clash against a gown's colour or adornments. It can jazz up a simple, timeless little black dress (for a cocktail party), and it can tone down a flashier evening outfit (for a glamorous high-end event).
A silver pearl necklace makes an outstanding investment, especially for sophisticated ladies who want something else and more than a classic white pearl jewellery piece. Such an accessory is independent from a woman's age or skin tone, but it can be her perfect statement piece for ages to come.
The editorial unit