THU 20 OCTOBER – 3 PM BFI SOUTHBANK NFT1
SAT 22 OCTOBER – 4.30 PM RITZY
Included in this year's New British Cinema section, Lotus Eaters follows a hedonistic group of 20-year-olds in west London living the bohemian dream.
In Greek mythology the lotus-eaters are a race of people living on an island dominated by lotus plants somewhere in North Africa. Lotuses are the primary food a narcotic effect, bringing impassivity and lack of sense.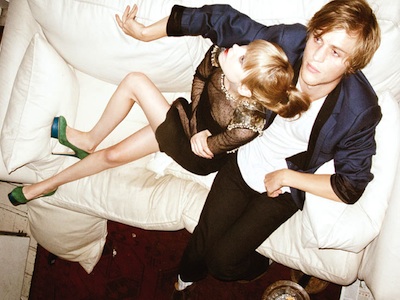 The narrative focuses on Alice (Lead Balloon's Antonia Campbell-Hughes) who, after following a path of all-night parties, recreational drugs and tea al fresco, winds up in a love triangle torn between posh druggie Charlie (Johnnie Flynn) and love-prone sweet boy Felix (Benn Northover) whose relationship with girlfriend Suzi (Amber Anderson) is causing frictions in the group. After the arrival of old friend Orna (Cynthia Fortune Ryan) and a tragedy close to Alice's heart, Alice tries hard to maintain the status quo.
Filmed in black and white, Lotus Eaters immediately gains a very dark tone with its characters and their motivations. Reminiscent of French art house, each scene has a very realistic undertone to it illustrated by their casual dialogue and disjointed conversations.
Charlie is addicted to heroin but plays the guitar beautifully in one of the best scenes of the film. As his habit grows we see a portrayal of a forgotten genius which is captured perfectly by first-time director Alexandra McGuiness in a song played by Charlie for Alice. With a quicker pace and more depth to the rest of the cast, Lotus Eaters could have been a much more interesting film. Feeling a bit pretentious at times, Lotus Eaters is guilty of over-sexing certain aspects of Chelsea Life with one scene showing the group pouring seemingly endless bottles of vodka into a bath at a party.
Overall the acting was safe and the plot memorable so as a first effort, McGuiness is not one to forget any time soon.
Richard Taverner
Read more reviews from the 55th London Film Festival here