Dancing into S/S 13: D.inc. Wear press launch
London creative agency International Collection (INC) have launched D.inc. Wear, a collection for SS13 consisting of pieces that are a carefully weighted combination of commercial dancewear and urban fashion. 
The Upcoming was lucky enough to have been invited to attend the press launch at INC Space, Covent Garden, on Thursday 31st January. When D.inc. Wear opened up their showroom doors situated in an incredibly cool, tranquil building (complete with blue lighting and candles), it was obvious that this collection would not feature pointed shoes and tutus.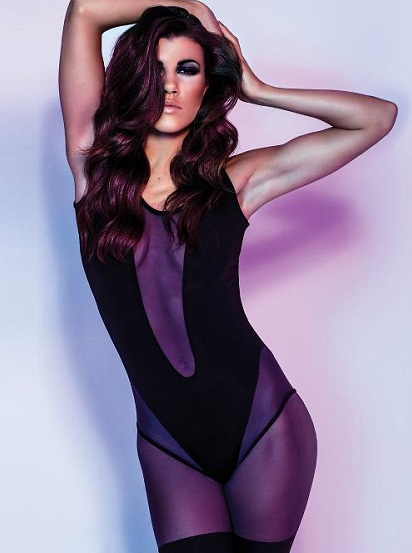 D.inc. Wear's artistic director, Christopher Manoe, is responsible for designing the D.inc. Wear collection. His goal was to create fashion forward, versatile dancewear. This season, to help achieve this, he has collaborated with designer and celebrity stylist Mrs Jones to create a new collection alongside the mainline. With an impressive list of clients such as Duran Duran, Scissor Sisters and most notably Kylie, it is clear that Mrs Jones's inspiration is key in the SS13 designs. A common feature that runs throughout the collection is a snood-like hood on everything from dresses to jumpsuits. This is something that Mrs Jones has taken from the iconic white hooded dress that she designed for Kylie's Can't get you out of my head music video. With Christopher Manoe's dance background and Mrs Jones's fashion flair, the pair has created double-lined mesh bodies and hot pants that can cross over as swimwear or evening wear, and men's trousers that pack into their own pockets. 
The morning started with a viewing of the collection in the showroom but, of course, these clothes were made to be danced in. To complement the diverse and functional designs, D.inc. Wear's campaign features five models/dancers that will be the faces of the brand. The group is made up of Aaron Renfree, BB Kaye, Danielle Peazer, Erin Dusek and Dominque Tipper. Between them all, they have danced for the likes of The Pussycat Dolls, Take That and Cheryl Cole. The campaign models do everything from dancing in events as a group to doing photo shoots for the brand. Therefore, the second part of the morning consisted of a dance lesson led by the models, so that everyone could really get what D.inc. Wear are all about. 
The answer is really quite something: D.inc. Wear have managed to create a completely versatile, fashionable dancewear collection. After wearing the clothes for little more than two hours, we think it's safe to say that we were more than ready to snatch up the super-slimming, mesh leotard/body/swimsuit with our only dance experience being the previous hour. 
Shannon Lawlor
For more information regarding the D.inc. Wear collection, click here.