Culture
Theatre
<!— One of actual post titles —> The Cocktail Party at Print Room at the Coronet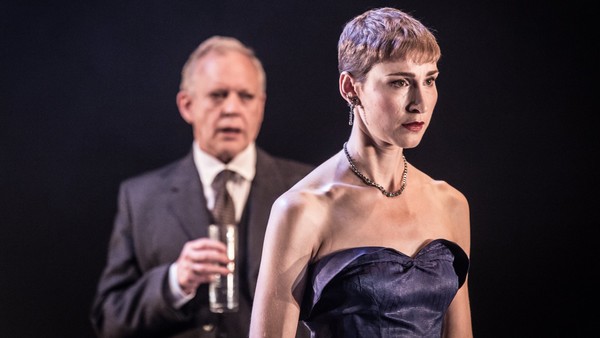 The Cocktail Party at Print Room at the Coronet is a fast-paced revival of TS Eliot's popular play which transforms the old-fashioned exploration of an upper-class marriage in pieces into a raw and darkly comedic portrayal of the conflict within human nature and one's deep desire not to be alone.
Directed by Abbey Wright, the play follows the Chamberlaynes' reconciliation of a failing marriage under the supervision of their polite yet prying guests. They are guided by an unidentified guest who psychoanalytically dissects the desires and flaws of those involved in this turbulent relationship (acted by Hilton McRae, Helen Bradbury and Richard Dempsey respectively). Marcia Warren's performance as Julia Shuttleworth, the meddling, omnipotent and omnipresent guest, provides a staple comedic relief to the more poignant and sobering questions the play confronts – she masterfully controls the pace of her scenes through her perfect comedic timing and manoeuvres with ease between the characters to maintain the flippant atmosphere of high society.
As the play progresses, the characters' true natures are revealed to the audience by their philosophical confessions and chosen methods of absolution: Lavinia and Edward choosing to continue a partnership to disguise their inability to achieve love, and Celia choosing a path of martyrdom that allows the guests to continue their lives of grandeur.
This subverted drawing room production strips human relationships down to the bone, heightened through the bare stage and minimal props. Abbey Wright's use of dramatic instrumentals to provide fluid transitions between scenes gives space for the characters and the audience to explore some of the darker emotions motivating these relationships. There is the beautiful silent scene between Lavinia and Celia where, as Lavinia sets the stage for her next party, the chair rearrangements pose as both the barriers to Lavinia reconciling with Celia, and the motivation for Celia to continue on her road to salvation.
Abbey Wright manages to explore these elements of TS Eliot's play whilst staying true to the comedic nature he desired. Engaging, thought-provoking and unexpectedly funny, this production of The Cocktail Party plays with absurdist elements and farcical humour to give a modern look into the big questions one asks of life.
Melissa Hoban
Photos: Marc Brenner

The Cocktail Party is on at Print Room at the Coronet from 14th September until 10th October 2015, for further information or to book visit here.
Watch the trailer for The Cocktail Party here: