Culture
Theatre
<!— One of actual post titles —> Anita and Me at Theatre Royal Stratford East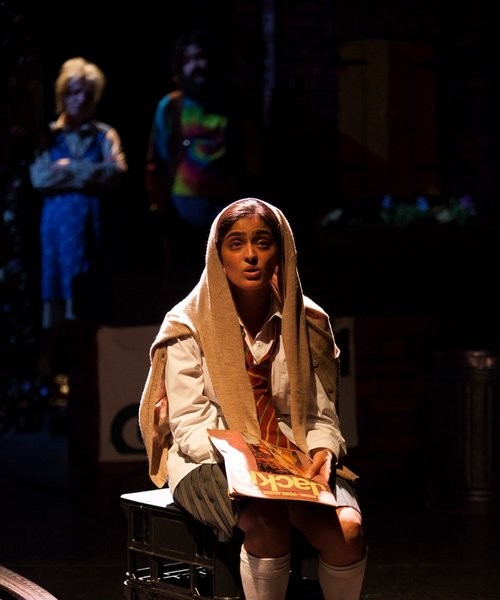 After its opening run in Birmingham, the brilliant adaptation of Meera Syal's novel Anita and Me has arrived in London's East End. This beautiful, coming-of-age play explores the struggles faced by one Punjabi girl growing up in a small, working-class, ex-mining village in the 70s.
The universal relevance of the production, despite its specific subject matter, is wonderfully refreshing. Meena, played by the outstanding Mandeep Dhillon, is disenchanted with her heritage and feels like an outsider in her own community. This specific scenario may be alien to most of the audience but the general dissatisfaction experienced in her daily life is not. Even the caricaturesque supporting cast is all too familiar and the comic backdrop of her teenage struggles with her parents echos with understanding throughout the theatre.
The colour and music of the novel is brought to life by Tanika Gupta. Songs permeate the play, revealing inner thoughts, reflecting the mood and linking the two cultures together. The Bollywood numbers should contrast starkly with the scratchy Status Quo that rattles out, yet Meena's rendition of Come On Feel The Noise harmonises beautifully with the Indian backing provided by her family.
Anita and Me focuses on Meena's idolatry and eventual emancipation from the pretty, confident Anita (Jalleh Alizadeh). Her portrayal is excellent and the angry confidence with which she stalks across the stage perfectly echoes her character. It is clear she hides her own abandonment with overcompensation. Meena's emanation is characterised by her attempts to create blonde hair with a cardigan draped over her head, although to us it looks more like a head-scarf. It is not until after Anita's excitement at trying on Indian clothing that we realise the significance: despite Meena's attempts to break free of her culture she will always be tied to her family. Anita's neglect tells us she has never been tied to anyone.
Racial slurs are used wantonly throughout the production, as they would have been in the 70s. It's clear from the audience's reaction to their use that these terms are no longer acceptable and yet what we're watching has not become fiction. We may think the ignorance displayed has receded in the last 40 years, but Europe's reaction to the current migrant crisis is proof that it hasn't. The music may have changed, but the events we see here have not.
Amelia Hopkins
Anita and Me is on at Theatre Royal Stratford East from Thursday 29th October until Saturday 21st of November 2015, for further information or to book visit here
Listen to the novel's author, Meera Syal, discussing the play here: