Culture
Music
<!— One of actual post titles —> The Classic Rock Awards 2015 with Jimmy Page, Brian May, Alice Cooper, Motorhead, Steve Wilson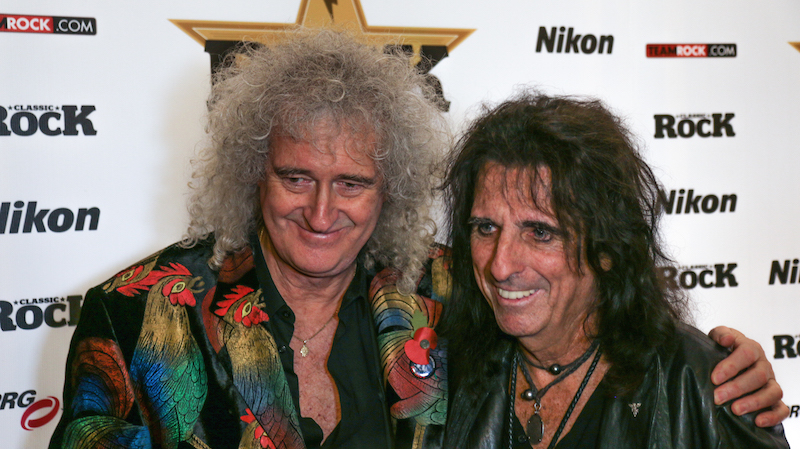 The Classic Rock Roll of Honour Awards 2015 red carpet saw both classic rock music icons as well as new artists and bands; legends and upcoming stars patiently answered questions and posed for photos prior to the ceremony.
We were starstruck when Led Zeppelin's iconic Jimmy Page walked towards us, greeting us with a warm smile, saying how he was thrilled to be there. He emphasised the importance of accepting all kinds of music and discussed his views on the future of the rock music industry. Page shared his plans for the upcoming year, as we were all keen to hear what the superstar's next steps were. We were beyond excited when he mentioned plans of putting out a solo album, because as fans would agree, "it's time to do another one".
Brian May made a dramatic entrance, sporting a poppy pinned to his multicoloured bird-patterned suit jacket. He answered everyone's burning questions about working with Adam Lambert, who has joined Queen for a joint tour over the past two years. May greatly praised Lambert, adding that even Freddie would be impressed by his voice and passion on stage. He enthusiastically chatted to us about new artists he admires, admitting that he would love to work with British pop star, Sam Smith.
Alice Cooper looked more rock than ever in his all-black attire and layered necklaces. He talked to us about his time collaborating with actor Johnny Depp, Aerosmith's Joe Perry and others in the supergroup Hollywood Vampires. Cooper admitted he'd love to star alongside Depp on the next Pirates of the Caribbean because, like he said, he is a pirate. After sharing his unknown talents (hint: it involves knives), Cooper was joined by his wife with whom he is celebrating a 40th wedding anniversary.
May and Cooper both looked spectacularly stylish and to everyone's delight, the dynamic duo posed for photos together.
Despite recovering from health issues, Motörhead's Lemmy Kilmister dazzled in his trademark cowboy hat. Kilmister mentioned that the event was a great way for people to come together and appreciate all kinds of music, and shared a little bit about the type of music he listens to himself.
Prog rock golden boy Steven Wilson joined us for a captivating chat, talking about his views on the future of his genre. Despite the declining possibility of rock music becoming a real focal point in the music industry again, Wilson says he remains optimistic as music continues to develop. He explained the inspirations behind his own work, and his overall motive of creating "musical journeys" for his listeners.
Top guitar virtuoso Joe Satriani, American southern country band Blackberry Smoke and Japanese heavy metal band X Japan's Yoshiki were among the many others interviewed.
Check back with us – there will soon be more videos to watch.
Naomi Schanen
Photos and videos: Filippo L'Astorina
The evening's full list of winners are as follows:
Best New Band: We Are Harlot
Film (or DVD) of the Year: Foo Fighters' Sonic Highways
Reissue of the Year: Led Zeppelin
Album of the Year: Iron Maiden's The Book of Souls
Band of the Year: AC/DC
The Comeback: Europe
Classic Album: Alice Cooper's Welcome to My Nightmare
The Showman: Noddy Holder
The Maestro: Joe Satriani
Tommy Vance Inspiration Award: Jimi Hendrix
The VIP: Rod MacSween
Outstanding Contribution: Nils Lofgren
Living Legends: Queen