Culture
Cinema
Movie reviews
<!— One of actual post titles —> The Big Short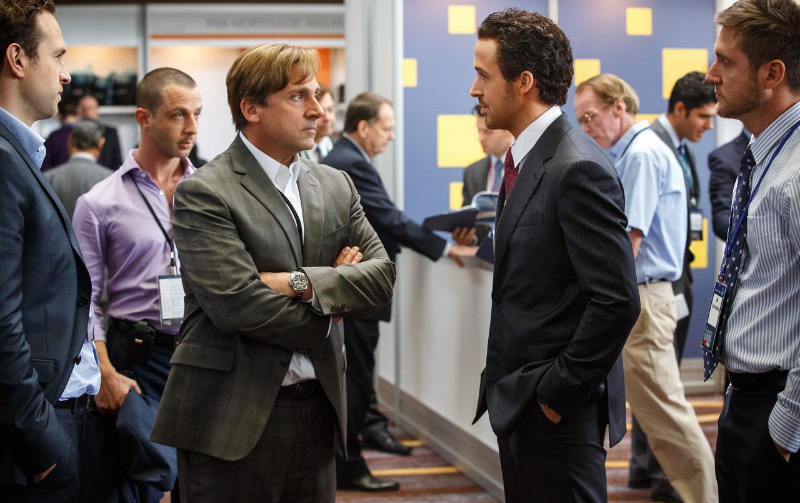 The Big Short is like a "cookie filled with arsenic" – to quote Burt Lancaster in The Sweet Smell of Success – a crowd-pleasing comedy from the director of Anchorman with more serious dramatic credentials indicated by the source material and an A-List cast containing serious, depressing observations about the cause of the global recession. The film takes sledgehammer blows at its subject whilst clicking its fingers at the audience to stop them from forgetting that despite the gags this really happened.
As recounted in sleazy fashion by cunning trader Jared Vennett (Ryan Gosling akin to a Scorsese crime film), the narrative switches between the various "misfits" who accurately predicted the coming subprime mortgage crisis and swam against the tide of popular opinion. These include two very different hedge fund managers: Michael Burry (Christian Bale), an eccentric savant who "reads the numbers" better than anyone else, and Mark Baum (Steve Carell), an abrasive neurotic with a chip on his soldier towards the banking sector after a family tragedy. Rounding out the main cast are two inexperienced investors (Finn Wittrock and John Magaro) who are reluctantly mentored by paranoid ex-banker Ben Rickert (Brad Pitt) after they stumble onto the truth.
Not content with telling these three storylines in a drily, conventional manner, the filmmakers throw in montages of YouTube clips, music videos, commercials, news footage and even appearances by glamourous celebrities to explain complex jargon. Indeed the thrill of The Big Short is how directly it tackles the tricky economic details; it's easy to imagine a lesser film tying itself in knots trying to minimise the "boring" bits in order to deliver the laughs.
And yet despite the detail, the film is only really about one central theme which recurs throughout the story for all the key characters: surface vs substance. There's Burry's very accurate economic predictions being dismissed due to his painfully awkward manner, his casual dress code and his glass eye; Vennett pretending his mathematics expert is a Chinese prodigy who can't speak English to intimidate guests and finally Baum receiving a dance from a stripper for the sole purpose of finding out details about the housing bubble. The film does lose its edge towards the end when the main characters and Baum in particular spell out their emotional journeys and conclusions. Nonetheless what the movie lacks in emotional intelligence, it compensates for with its astute showcasing of the collusion between financial deception and the shallow image-is-everything state of the commercial media.
The Big Short is a refreshing, superior work: a wolf in sheep's clothing, the brain of a polemical documentary possessing the body and voice of a frat-boy comedy.
Edward Till
The Big Short is released nationwide on 22nd January 2015.
Watch the trailer for The Big Short here: