Tribeca Film Festival 2016
<!— One of actual post titles —> Tiger Raid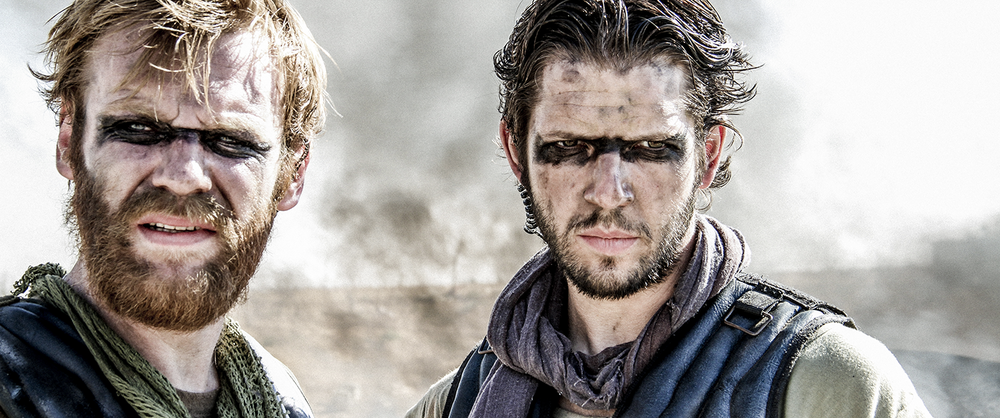 Based on Mick Donnellan's stage play, Radio Luxembourg, which tells the story of two hapless criminals and a kidnapping gone awry in rural Ireland, Tiger Raid marks Simon Dixon's directorial debut. Dixon has teamed up with Donnellan and Gareth Coulam Evans to adapt Radio Luxembourg to the screen, with a level of success that is debatable, at best. 
The film adjusts the original story's setting, replacing the Irish countryside with a bleak, war-torn Middle East backdrop, where bearded, bedeviled mercenaries Joe (Brian Gleeson) and Paddy (Damien Molony) find themselves embroiled in a hostage job that tests their loyalty to "Dave."
Who's Dave? That's where it gets odd. Dave is in charge of their every move, but he only exists on Paddy's radio, in a Charlie Brown "Wa-wa-wa" kind of way, which feels comical and almost distracting. For a movie that includes no physical manifestation of Dave, it sure has a lot of Dave in it. The constant talk about him and anticipation of his arrival has an interesting Waiting for Godot quality. Though the possible nod to Beckett is interesting, the Dave-ness of the whole Dave vibe is overwhelmingly, well, Dave-y. 
Despite narrative drawbacks, the film's combination of impressive cinematography (Si Bell), crisp sound design and the awe-inspiring Jordanian landscapes make Tiger Raid a fairly engaging visual and sonic experience. Perhaps it is because of Dixon's creative branding background, but one scene shows a close-up of Joe lighting and smoking a cigarette, and the cigarette looks and sounds completely mouth-watering.
Tiger Raid deals with powerful, heavy themes, but it seems to tackle too much, too hard, and comes off like a strange desert yell-piece. Gleeson and Molony put on respectable performances alongside Sofia Boutella, who plays their captive, Shadha; regardless, the film struggles to do Donnellan's play justice. A sweeping undercurrent of high school melodrama hampers potential for emotional impact, the persistent wrestling and loud arguments make it difficult to escape an unremitting stage-feel, and Dave, in his almighty Dave-itude, is ubiquitous in a way that may not elicit the intended reaction.
Will Garré
Tiger Raid does not have a UK release date yet.
Read more of our reviews and interviews from the festival here.
For further information about Tribeca Film Festival 2016 visit here.
Watch a clip from Tiger Raid here: