London Film Festival 2016
<!— One of actual post titles —> A United Kingdom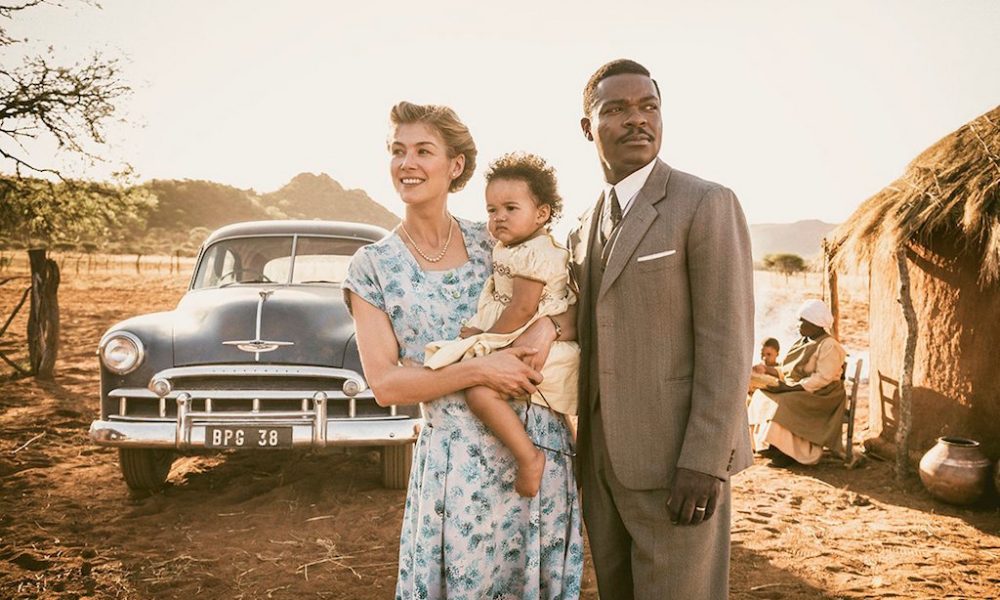 Public screenings
5
th
October 2016 7.00pm at Odeon Leicester Square
6
th
October 2016 11.30am at Odeon Leicester Square
11
th
October 2016 9.00pm at Curzon Mayfair
A United Kingdom may not be the best film, but it's the one that's needed right now. Opening the London Film Festival in a year focused on diversity, it has the good fortune to be directed by a woman of colour, and focuses on an important moment in African history that sheds serious light on the historically informed British psyche – in all accounts, a rarity.
That the film is old-fashioned and predictable is almost secondary. It tells the story of Seretse Khama (David Oyelowo) who was, in 1948, the upcoming King of Bechuanaland – nowadays called Botswana. While studying law in London, he meets Ruth (Rosamund Pike) at a dance; there is the spark of attraction, which leads to love, which leads to hasty marriage. On every side the two are beset by opposition, at first from their family and friends; then from the British and South African governments, the latter operating under apartheid. Seretse rebels and takes Ruth to Africa anyway – he wins the support of his people, but faces unpleasant consequences from the British, embodied by Jack Davenport's colonialist official.
It's no spoiler to say that they overcome adversity. This is a classic prestige picture, a romance designed to inspire feelings of patriotic pride and maybe win a few Oscars. And it's true that many will be turned off by the emotional calculations of the screenplay; like Amma Asante's previous feature, Belle, it overdoes its "racism is bad" angle, with familiar scenes of virginal protagonists being berated by a series of almost pantomime-like racist villains. (Surprise! Tom Felton plays a snivelling aristocrat.)
But perhaps its safe and sanitised approach help make a few interesting elements stand out. Pike and Oyelowo have good, humorous chemistry as the central couple; it's rare to see a modern romance this free from cynicism. As a history lesson, too, there are plenty of revealing factoids with contemporary relevance; for instance, it emerges that Winston Churchill – a long-standing symbol of British pride – played a wholly negative role in proceedings, helping enforce Seretse's exile from his home country.
A United Kingdom delivers exactly what's expected from its premise, which isn't necessarily a bad thing. It looks nice – blue, muted London is contrasted with hot, yellow Botswana – and it has a confident sense of time and place. It's a hymn to diversity and it will please the crowds that matter, and will hopefully pave the way to a brighter, more diverse future.
Sam Gray

A United Kingdom is released nationwide on 25th November 2016.
For further information about the 60th London Film Festival visit here.
Read more reviews from the festival here.
Watch the LFF press conference for A United Kingdom here:
Watch the trailer for A United Kingdom here: