Culture
Theatre
<!— One of actual post titles —> The Pearl Fishers at the London Coliseum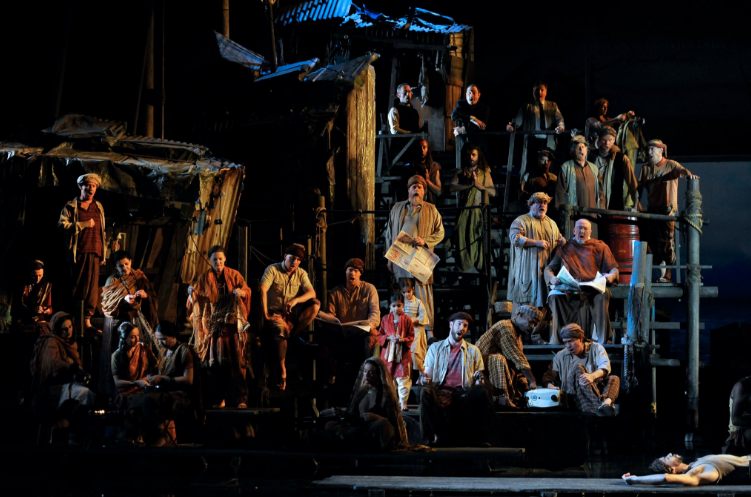 Penny Woolcock's 2010 production of Bizet's The Pearl Fishers returns to the English National Opera for a second revival this autumn, bringing her visually stunning and critically acclaimed version of a forgotten work from New York to the London stage once again.
Originally set in a loosely Far Eastern context, the story centres around two friends, Zurga and Nadir, who fall in love with the same woman, the Hindu priestess Leïla, and vow not to pursue their love for the sake of their friendship. But when the priestess re-enters their lives as the woman charged with remaining pure and praying to ward off the "demons of the deep", Nadir's desire is reignited and he seeks Leïla out. With jealous Zurga as lawmaker, the lovers' lives are in his hands, and so ensues a bitter tale of lust and rejection, loss and longing, religious strictures and forbidden sex.
The opera was first staged in 1863, and Woolcock seeks to challenge and upturn the exoticism of Bizet's Orientalist setting and treatment of characters, instead drawing out the contemporary concerns of climate change and the poverty-stricken reality of the inhabitants of a Sri Lankan fishing village. Working with Dick Bird and 59 productions, the director makes ground-breaking use of stage production to recreate a ramshackle shanty town, dramatic water and fire-engulfed scenes, and weaves in video footage that recalls the devastation of southeast Asia's tsunami. The perpetual presence of the sea, both the community's life-blood and greatest threat, is introduced from the opening moments, with a mesmerising recreation of underwater pearl divers by aerialists.
Claudia Boyle is outstanding as the seemingly unattainable Leïla – her exceptional vocals and performance invoke both the demure, virginal princess, objectified within a repressive society, and the strong, impassioned female willing to confront an enraged Zurga and defend her lover Nadir. South African baritone Jacques Imbrailo and tenor Robert McPherson are compelling as the jealous friends, performing the work's most famous duet with gusto, and American bass James Creswell is booming as the High Priest, Nourabad. The beautiful arias, duets, choral and orchestral music of the score are all powerfully handled by conductor Roland Böer.
Woolcock's The Pearl Fishers is a prime example of how opera can remain relevant and accessible to a modern-day audience. Though the tale itself and the colonial lens through which Bizet envisaged it may sit uncomfortably, Woolcock skillfully draws out its very contemporary concerns and breathes new life into the opera through some world-class staging and musical storytelling.
Sarah Bradbury
The Pearl Fishers is at the London Coliseum from 19th October until 2nd December 2016. Book your tickets here.
Watch the trailer for The Pearl Fishers here: