Culture
Music
Live music
<!— One of actual post titles —> Sunset Sons at Shepherd's Bush Empire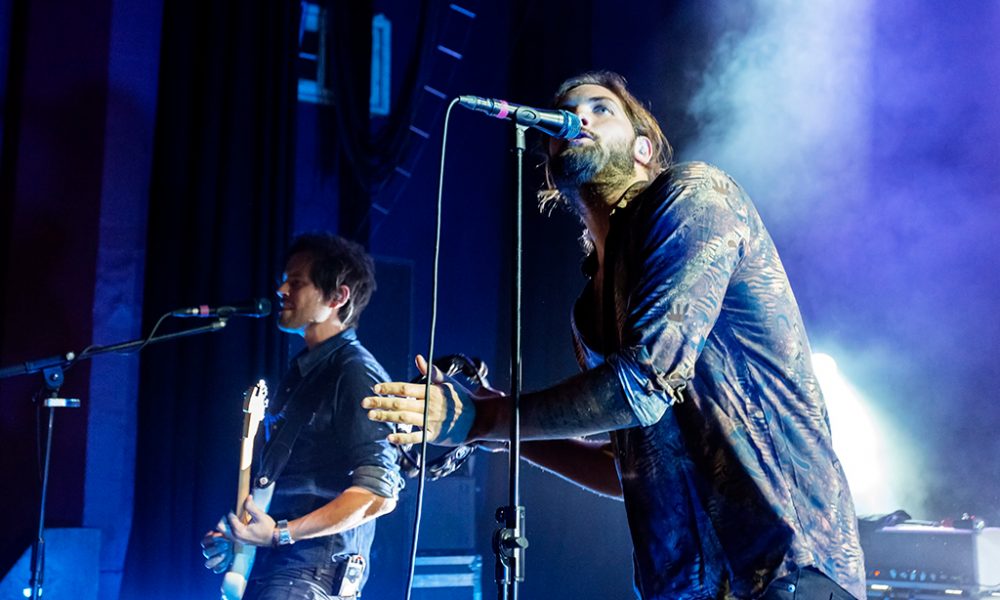 Based in South-West France, Sunset Sons have come far in just a short amount of time. From touring with Imagine Dragons to releasing their debut album in April, the British-Aussie band were pumped to be bringing back their uplifting tunes to chilly London.
Opening up the night with Medicine off their album Very Rarely Say Die, it was clear that the indie group was the perfect prescription for a Thursday night. With every flash of light, every heart-stopping drum beat and every melodic guitar riff, those gathered came closer together, bouncing up and down in synchronised waves of elation. Going through the album, one hit song after another, there were nothing but good vibes rushing through Shepherd's Bush Empire. From their surfer tune Tick Tock to groovy dance track Gold to bubbly number Know My Name, the night was a test to the crowd's stamina and ability to lose control.
The four-piece were no bore to the eye, either. Making use of every corner of the stage, the band were up and down, head banging and engaging the captivated audience with every song. Depicting the perfect melange between Dave Grohl's grunge, Bruce Springsteen's rocker-slash-biker and Def Leppard's 80s looks, there was no doubt that Sunset Sons were all about having fun. Hand clapping, moshing and shoulder riding were not options.
Both September Song and Remember were fan favourites, as harmonious singing resonated from every part of the venue. Overwhelmed by the volume and enthusiasm of the concertgoers, frontman Rory Williams faced the mic at the audience, an enormous smile breaking across his face. VROL, the group's newest single and a taster for their next album, was highly anticipated and the crowd's belting out of every word proved that it was well received. The mutual respect and adoration between the four-piece and their followers was heart-warming; a true indication of what music can do. Taking every opportunity to do so, Sunset Sons expressed their sweeping gratitude and gave their London show their all.
High spirits amassed in the room as Bring the Bright Lights and Williams's personal favourite, Somewhere Maybe, were played. Fans of all ages filled the venue, but there were two things they all had in common – their love for the band and not wanting the night to end. As the indie group left the stage, the place erupted with chanting and whistling.
Returning to the stage was just Rory Williams himself, starting off the encores with sombre and poignant track I Can't Wait. His angelic, slightly raspy voice, accompanied by his keyboard playing and a room full of swaying lights, made for a memorable moment. After dedicating Lost Company to their friends and family at the gig, Sunset Sons finished off the night amidst raining confetti with renowned track On the Road. Throwing himself onto a sea of star-struck fans, Williams crowd-surfed his way into everybody's hearts. They ended with a bang, leaving Shepherd's Bush Empire full of bliss, exhaustion and a whole new level of adoration for the band.
Naomi Schanen
Photos: Guidre de Peray
For further information about Sunset Sons and future events visit here.
Watch an exclusive acoustic performance of VROL here:
Watch the video for VROL here: