Culture
Theatre
<!— One of actual post titles —> Nice Fish at the Harold Pinter Theatre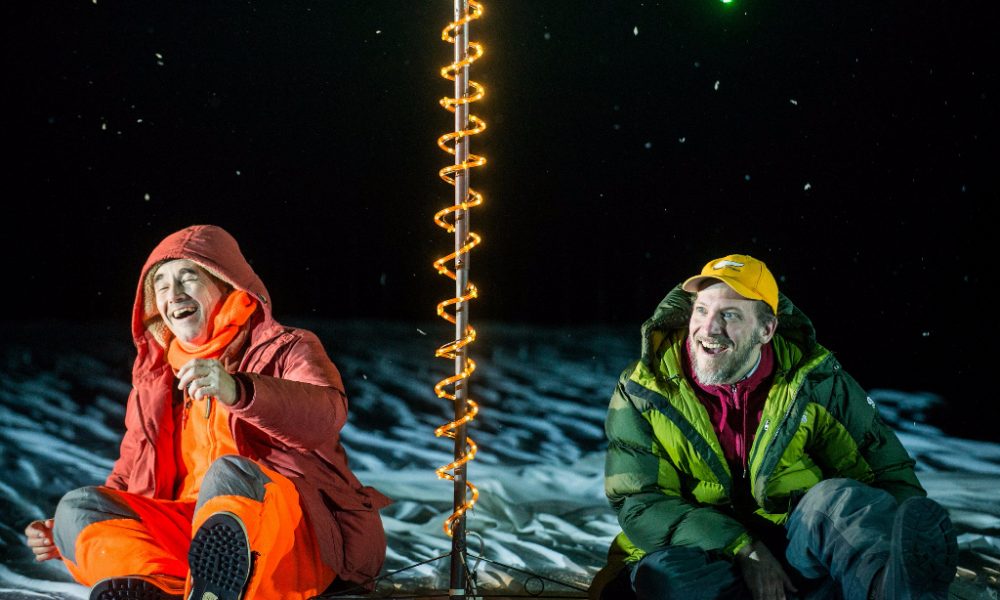 On a vast expanse of frozen lake, with nothing around them but unending horizon, two men sit and fish. They're red-nosed and bundled up in clothing, the wind howling around them. As they while away the hours with idle chatter, we witness the interplay of imagination and reality, childhood and adulthood, absurdity and mundanity.
The play is a collaboration between Mark Rylance and prose poet Louis Jenkins. Ordered into ever-lengthening vignettes, its fascinating, sometimes baffling dialogue is a stream of consciousness punctuated with jewels of poetry and sudden, disarming, philosophy. Beautiful lines such as, "At dusk the light chooses what it truly loves", sit alongside a deadpan recounting of family members' food allergies and instructions on making the perfect baloney sandwich. It's up to the audience to sift through to find meaning, if indeed there is any meaning to be found.
Mark Rylance is a riot as Ron: brash, excitable and goofy. Jim Lichtscheidl complements him perfectly as the melancholy Erik. His exasperation as Ron animates and voices the snowman he's just made ("I'm very concerned about global warming!") is a comic delight. Similarly, when old spear-fisher Wayne insists on giving Erik's fishing lure a heartfelt pep talk, Erik's polite incredulity is that of the perfect straight man.
Claire van Kampen's bold direction and Todd Rosenthal's set make Nice Fish an eye-widening spectacle. The action happens on an expansive sheet of ice against an ever-changing sky. In order to give a sense of perspective, the horizon is populated with tiny trees and the occasional miniscule passing train. A detailed puppet takes the place of a character who has travelled into the far background.
As Nice Fish courses to its finish, it takes a manic turn into metaphor and surrealism. Will they catch the giant fish they've waited so long for? Was it ever really about the fish? Are Ron and Erik the fish? What, in fact, is the point? Dizzying and often downright confusing, this is nevertheless a show that will stay with audiences long after the ice has melted.
Want to hook a free ticket? Turn up dressed as a fish or fisherman. There are four complimentary tickets per show to be earned, so arrive early.
Laura Foulger
Photos: Teddy Woolf
Nice Fish is at the Harold Pinter Theatre from 15th November 2016 until 11th February 2017. Book your tickets here.
Watch the trailer for Nice Fish here: