Culture
Music
Live music
<!— One of actual post titles —> Justin Bieber at British Summer Time Festival in Hyde Park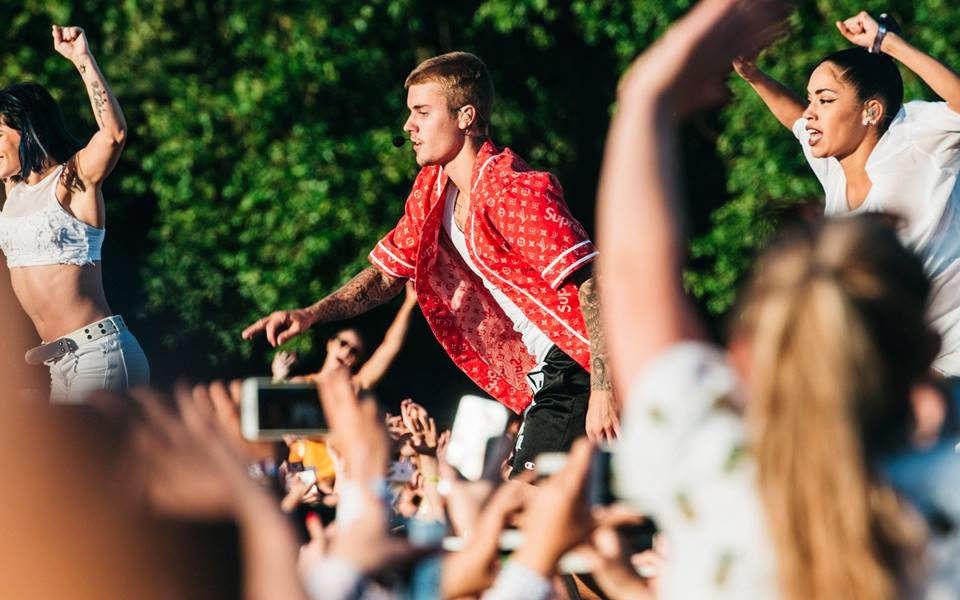 In the last precious hours of light, in front of 50,000 fans, Justin Bieber headlined at Hyde Park BST. Many Beliebers were already weeping when their hero, wearing his signature baseball socks, took to the stage 25 minutes early and worked it like a catwalk. Teenage boys looked resigned while their girlfriends sat on their shoulders, weeping and filming; sun-dazed 20-somethings in rave glasses screamed: "We love you Justin!"
The singer-songwriter came into our lives in 2008 after his YouTube videos were discovered by Scooter Braun. Since his first EP My World (2009) he has released four studio albums, including Believe (2012) and Purpose (2015). There have been many Biebers: the squeaky clean Timberlake-esque one; the crooner of ballads promising eternity; the bad-boy whose drunken antics make more headlines than his hits. Live, the artist was at his best solo, at sunset, just him and his guitar. He took his time over Love Yourself, teasing the crowd as they hurried to finish his sentences first.
Infused by the confident tricky beats of the massive blow-up of EDM in the US and through collaboration with other artists like Skrillex and Rick Rubin, Bieber has begun to appeal to a more mature audience. What Do You Mean? and Sorry had everybody dancing, Belieber and non-belieber alike. At points, though, the Canadian performer looked like his heart wasn't in it. There was a disconnect between him and his stellar backup dancers. Clad in spangly cat-suits, like preppier versions of Tina Turner's dancers, with lumberjack shirts slung around their waists, these dancers sustained their explosive energy levels and hip-hop break-dancing performance. Bieber snapped at them for talking in between songs: "Whatever you're talking about can't be more important than what I'm saying". He wasn't joking.
This is where the crowd divides between self-professed Beliebers and those of us who went to get a drink. More recent fans – attracted by his dalliance with EDM – find monologues like that in Purpose (''I wasn't necessarily put in the best position to make the best decisions…'') and tracks like Children (complete with break-dancing children) a little cloying. The Beliebers pick up the slack though. And though the singer complained of a cold, of having Vicks Vapour Rub stuck in his nose and professed to be "having a bad night", his fans certainly weren't.
Amber Medland
Photo: Jordan Curtis Hughes
For further information and future events visit the Justin Bieber website here.
Watch the video for Cold Water here: