Feature of the week
<!— One of actual post titles —> The blurry line that separates high and low culture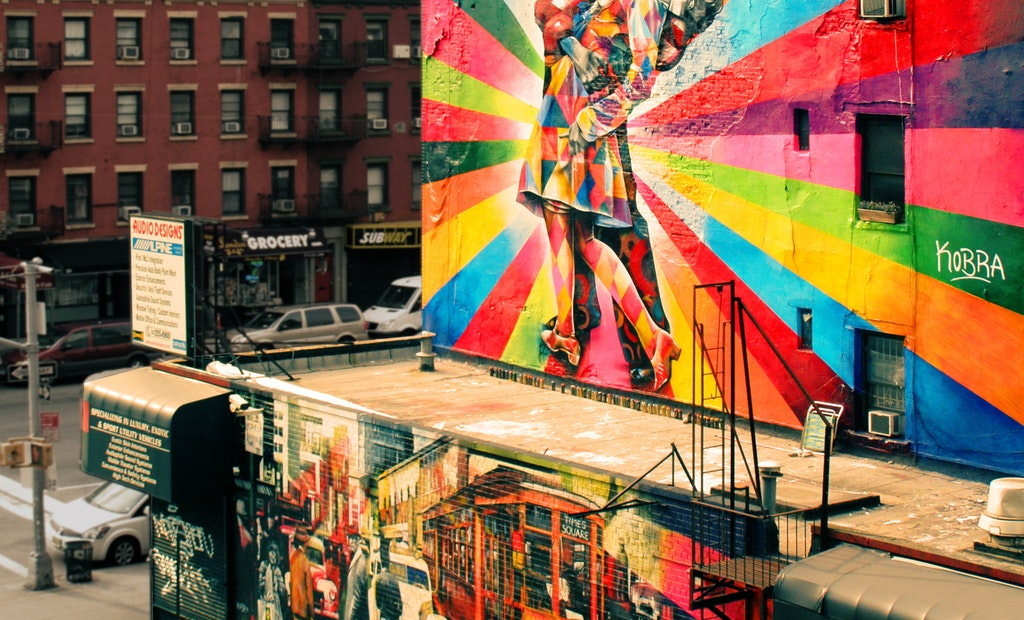 Once upon a time, there were two kind of cultures. The distinction between the two was based on quality and appeal. Apparently, as Tuchman & Fortin explain in their 1989 article in the American Historical Review, high culture is a "set of cultural products" held in the highest esteem by society. Who exactly was this society they refer to is unclear, but we can assume they had the critics in mind.
Still, whether we agree on the old-time distinction between high and low culture, there was a clear, distinct line separating the two: classical music was high, rock music was low; Picasso was high, Basquiat and Keith Haring were low; chess was high, Atari was low; nouvelle cuisine was high, burgers were low. Alas, those simpler times.
Times, they are changing
Just recently we witnessed the bizarre and charming event of a Banksy painting being auctioned in Sotheby's. The debate will continue whether Banksy destroyed or created a work of art live during the auction, but that's besides the point.
Banksy, a graffiti street artist, took a generic print of one his works, put it inside a fancy frame and from here to there it sold for $1.4M, shredder included. So Banksy, even to his own dismay, crossed that line from low to high culture, from spray painting concrete walls late at night to men with gloves handling his framed work.
He is not alone. The Met Gala, an annual fundraising event for the Metropolitan Museum of Art's Costume Institute that used to welcome America's high society, is now frequented by pop singers and social media celebrities. 
Before we look into the reasons behind the blurring of the line, let's skim through two more cultural building blocks: games and food.
The game and the burger
The cultural aspect of gaming is going through a rough patch. Ever since Deep Blue won in chess against Kasparov and GoAlpha did the same in Go to Ke Jie, the highest games in the land crumbled to an indistinguishable pile of ones and zeros. And that hurts, even for simpletons like us who would never even understand how a game of Go is played.
What's interesting in gaming at the moment is the artificial distinction between presumably "high" and "low" games in the online environment (we won't touch on offline games for an obvious reason – we couldn't find any.)
Basically, gamers (the Minecrafters and Fortniters of the world) claim to take the high ground against the no-skill-game players. And even among the no-skill players themselves, the ones engaged in "games" take their own high ground against those who play with money. And that's a really interesting point: you can play free games, like on Slotomania, and feel good about yourself. But if you play very similar games in an online casino UK you are immediately on the lower end of the cultural scale.
Why is that interesting? Because in those so-called "social games" players spent a whole lot of money on in-app purchases to unlock features and levels, to gift friends and to play as frequently as they wish. The joke is definitely on them, losing money without the chance of ever winning money while claiming the cultural high ground.
With food – excuse us, gastronomy – the line hasn't blurred, it was completely obliterated. Less apparent in the UK, but glowing in the US, these are the food trucks and neighbourhood joints that set the culinary tone of the now. You wouldn't find a single foodie in northern California that's not raving about the latest free-range wagyu burger he had in a place you've never been to by an obscure chef you've never heard of. Michelin critics would vehemently defend the dichotomy between fine-high-dining and the rest of food but hey, when's the last time you actually saw a Michelin guide?   
So why is this happening and is it good or bad?
We've definitely passed the good or bad stage; it's simply the way things are and trying to make such a subjective argument: is a nation's president good or bad? Is Brexit good or bad? Is following Berlusconi on Twitter good or bad? Only 45.1k followers, really? – doesn't hold water any more.
So we're left with why is this happening, or more accurately, why has this happened?
The mass availability of basically anything and almost-immediate copycatting has done us all in and blurred the line between high and low cultures. A Tom Ford new line of sunglasses will be instantly reproduced in China (sometimes even by the same factory) with lower-cost materials and be sold for a fraction of the price. Kathy Griffin performed at Carnegie Hall (watch it on YouTube). Jeff Koons is in museums all over the world (check it out on Instagram). Sir Ian McKellen is now just Gandalf or Magneto for most of the world (he appeared in a Scissor Sisters track from 2010).
So yes, or no, there are no high or low cultures anymore. There's only culture – or lack thereof, depends from which end of the spectrum you coming to this. And if we already mentioned Koons, Cicciolina – his muse, his life partner – was the original Trump. Elected to the Italian parliament in 1987, she offered to have sex with Saddam Hussein in return for peace in the region. Come to think it now, that very moment might have been when the lines started to blur.
The editorial unit