Culture
Music
Live music
<!— One of actual post titles —> Nada Surf showcase new album at the Koko and tell us the story behind the name of the new album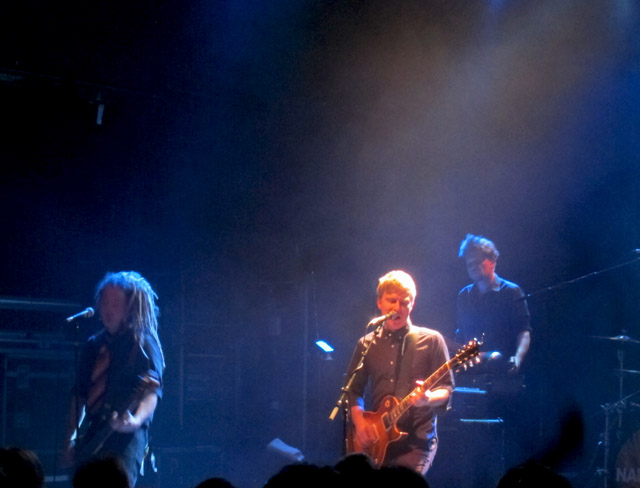 Nada Surf started their European tour and once again they chose the Koko to present their new album The Stars Are Indifferent to Astronomy in London.
For the first time with a line-up of five elements (one keyboard player and one guitarist on top of the core band), the New York indie pop veterans began with opening track Clear Eye Clouded Mind.
It followed the forthcoming single Waiting for Something which had a great hook on the overcrowded venue. Matthew Cows (frontman and songwriter) could not contain his happiness and smiled like a child just before playing fan favourite Happy Kid.
Whose Authority was the prelude to a mixture of classics and new songs including the delicious Jules and Jim, The Way You Wear Your Head and 80 Windows.
The band played lead single When I Was Young, then another fan favourite from their masterpiece album Let Go, Hi-Speed Soul, the super ballad Inside of Love, new upbeat track The Moon Is Calling and the intense See these Bones.
The sweet Blonde on Blonde was the beginning of the encore, with a touched Daniel Lorca (bassist) doing the backing vocals, then drummer Ira Eliot gave everything he had on the rocking Always Love.
Nada Surf kept Looking Through for last, the most representative song not only of the new album but of the band itself. Lyrics, melody, sounds: everything falls into place. A great concert from a group that plays quality unpretentious music that leaves its audience satisfied at every single gig.
Filippo L'Astorina, the Editor
We have interviewed frontman and songwriter Matthew Caws
How does it feel to have something out again, four years since Lucky?
It's great, it's been a while. It's always an exciting feeling, like turning in a big paper at school. It feels very good and it sounds more to what we sound like to me now. More natural than it has been in a while.
The title of the record is very particular, why did you choose it?
It's an expression of my father. He is a philosophy professor, he says it in his classes to make a point about our relative insignificance, people's insignificance.  A bird doesn't know it's called a bird, a dog a dog, stars and planet do not know about the names we give to them – but they are indifferent to that.
I wanted to use it not just because it sounds like a mysterious title, but because it makes me think of the climate, which is something I've been thinking about a lot. I have a seven year old boy, I can't get away considering the state of the world. People who don't believe in climate change won't be saved by it. Global warming is indifferent to your beliefs.
Tell us about the song Jules and Jim
I have never been in a love triangle, emotionally yes but not physically. I found myself simpathising with everybody: my position, her position, his position. I feel like I'm a pretty empathetic person, I empathise with people. Good thing in general, but in conflict you identify with the other side. It makes you inefficient and sad.
I understood that Looking Through was recorded the day before?
I wrote it one night and the next day I showed everybody how it went. A little bit, we didn't play it all the way through, just talked about it. We pressed record and it sounded exactly as it is on the record.
Did you have a delay with the publishing?
Yes, on purpose. We finished it by summer for fall release. And then we decided not to rush it. Let's not have a panic for art, videos, promotion. Let's not have a panic. We feel really good about this record, let's do everything right, have a life. See our families, it's gonna sound great next year. And in fact it does to me.
During that break, didn't you have the temptation to go back to it and change something?
No, we felt good about it and I still feel good about it now.
What did you add for this tour?
We have a second guitarist, Doug Gillard, he played most of our shows last year and he will be playing for the whole tour. There is also Martin Wenk on trumpet and keyboard. A five-piece for almost all European tour!
What's your favourite track on the album?
The Moon Is Calling is one of my favourite. I like it a lot because there are a lot of moments where I don't know what we are doing, why I'm singing what I'm singing. I was just making up words but in in a true way. A song I wrote without thinking, just wrote it, it's a good  feeling.
Will you do a video for it?
Well, who knows. We have already two: Waiting for Something and When I Was Young.
How about the artwork? It looks very intriguing
It is a work of a friend of mine, it seems to be a painting but he actually carved a yellow layer with a little knife. Every single little branch is individually carved: an incredibly meticulous job. I love it.