Hooded Fang rip apart Rough Trade East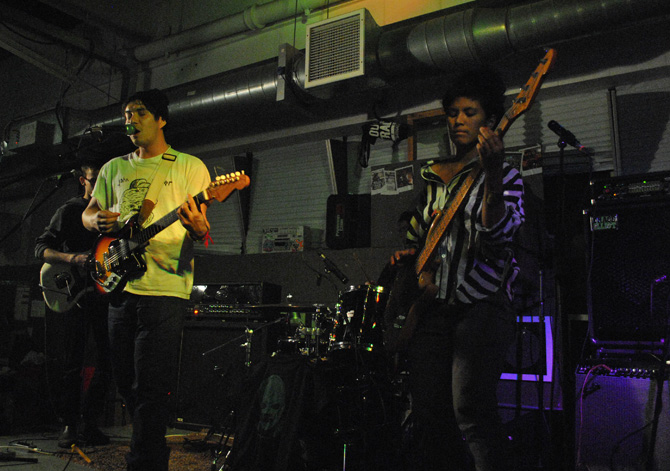 Canadian indie rock band Hooded Fang, ripped apart Rough Trade East last night as they performed songs from their UK debut album Tosta Mista.
The band formed in Toronto, Ontario back in 2007. Band members include Daniel Lee (lyricist, lead vocals, drums and guitar), Lane Halley (lead guitar and trumpet), April Aliermo (bass guitar, lyricist) and D. Alex Meeks (drums).
Tosta Mista, the UK debut album, by the Polaris prize nominated group, is filled with surf guitars, verbed-out vocals and danceable 1960s drum brakes: it's a true and authentic garage rock insurgence.
Although the album gives off the sound of patio parties and hot summer nights, the upbeat music successfully hides the secret message behind the album – Tosta Mista is an album all about heartbreak, telling the story of singer/guitarist Daniel Lee and bassist April Aliermo's break-up after five long years together. This collection of songs on love and heartbreak is definitely one for the fans of Iggy Pop, The Sonics, The Strokes and The Strange Boys.
The band's music is currently very popular on CBC Radio. Their debut recording EP was self-released on 15th September 2008. Their first full length album entitled Album was also self-released on 6th August 2010 and distributed by Outside Music. Both recordings have received critical acclaim from Exclaim! They have now landed in the UK with Tosta Mista.
Hooded Fang are known for staging gigs in houses, cross-pollinating side projects and being fiercely independent. "Our message is simple: do what you want, work hard, have fun. Put out good shit. Keep the community tight. Don't be an idiot," says the do-it-yourself band.
Follow the band on Facebook and Twitter. 
Here are the dates for their upcoming "Eurosylez" May UK/EU tour
May 10th: Leicester, UK – Soundhouse *
May 12th: Brighton, UK – Great Escape Festival
May 12th: London, UK –  The Blind Tiger Club
May 12th: Brighton, UK – The Fly at Hector's House
May 14th: Reading, UK – Sub 89 *
May 15th: Portsmouth, UK – Wedgewood Rooms *
May 16th: Bristol, UK – Fleece *
May 18th: Mannheim, Germany, Maifeld Derby Festival
May 19th: Amsterdam, Netherlands, London Calling Festival
May 20th: Hamburg, Germany – Molotow *
May 21st: Cologne, Germany – Gebaude 9 *
May 22nd: Munich, Germany – Atomic *
May 24th: Antwerp, Belgium – Trix *
May 25th: Ostend, Belgium – De Zwerver *
May 26th: Paris, France, Inrocks Indie Club – Fleche D'Or *
May 28th: Aarhus, Denmark – Voxhall *
May 29th: Copenhagen, Denmark – Vega *
May 30th: Gothenburg, Sweden – Pustervik *
May 31st: Stockholm, Sweden – Debaser *
*With Howler
For more tour dates, visit their official website.
Zanib Ashgar
Photos: Laramie Shubber
[slideshow]

Listen to their latest tracks here