Culture
Music
Live music
Arcade Fire at Earls Court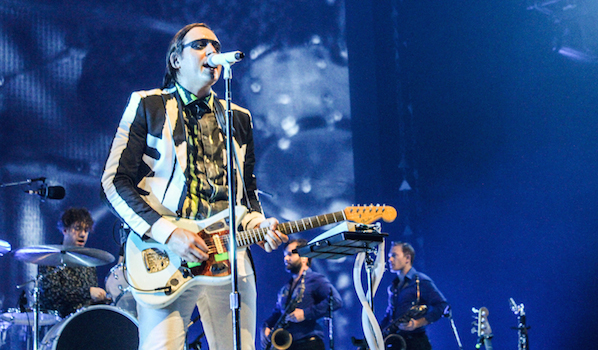 It's New Zealand sensation Lorde who opens the evening at Earls Court. Her stage is minimalistic, just like her record. She's there to sing, not to put on a show – that's what you get and that's all you need.
Arcade Fire are quite the opposite, they are known for their extravaganza and their fans' response to that: fancy dress and face paint can be seen everywhere tonight. Their concerts are events, their followers feel part of an exclusive club.
When they step onto the stage the audience is more than ready; Reflektor is just the prelude to a collective party. Mainstream clichés and dull setlists do not apply to the six-piece from Montreal. Their trademark instrument swaps and masks are just icing on the cake – the originality of their performance comes way before the stage, it's part of how they conceive music, write songs and produce them.
The real magic comes early with the combo Neighborhood #3 (Power Out) and Rebellion, two of the band's best tracks to date – played back-to-back. Month of May is the mother of all rock songs, with its straight cadence it keeps you on your toes from beginning to end.
New songs like We Exist simply don't do well; to make up for it, a group of dancers on a secondary stage in the middle of the hall guarantee entertainment. All of a sudden it's not very rock anymore.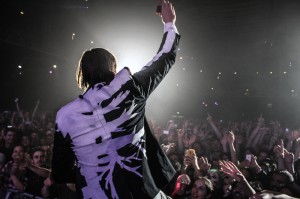 The set moves on with pearls such as The Suburbs, Ready to Start, Neighbourhood #1 (dedicated to Kanpe, the Haitian charity they support) and Intervention – pieces that defined the status of Arcade Fire as a global niche band.
The highlight of the night is No Cars Go, with Win singing at his best, his wife Regine inspired on the accordion, brother Will uncontainable on the guitar and the crowd singing along to every lyric and shout. Afterlife is lovely, still delivering some of that intangible feel-good they are appreciated for.
The encore reprises with Normal Person, hands down the greatest song off their latest album Reflektor. The grand finale is Wake Up.
Although Reflektor was a bit of a step back in their discography, failing to respond to the hype resulting from their Grammy award for Best Album, Arcade Fire are still one of the bands of our generation that everybody should see at least once in their lifetime.
Filippo L'Astorina, the Editor
Photos: Filippo L'Astorina