Culture
Music
Live music
Emilie Nicolas at the Hoxton Square Bar & Kitchen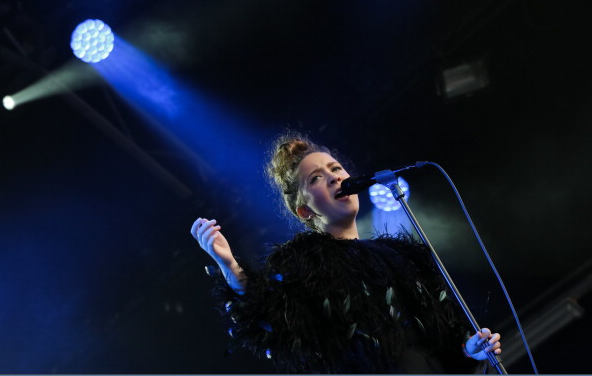 Of all the talented Nordic artists to emerge over the last couple of years, it is Emilie Nicolas who has caused particular stir recently. Her 2014 debut album Like I'm a Warrior, produced with the assistance of drummer Eivind Helgerød, won her Best Newcomer and Vocalist at Norway's 2014 Spelleman Awards. Anticipation for its release in the UK this June – along with the existing success of her breakthrough track Grown Up and a cover of Dum Dum Boys' Pstereo – added to the excited atmosphere inside the packed-out room at the Hoxton Square Bar and Kitchen.  
Back lit and shrouded by dry ice, Nicolas and her band appeared almost ghostly on stage. The music itself, a melancholic and dark brand of electro-pop, had a similar haunting power that was carried beautifully by Nicolas' soaring vocals. Clearly a very talented singer-songwriter with a style and range comparable to the likes of Norah Jones and Mazzy Star, and a brittleness similar to that of Beth Gibbons, Nicolas has a voice in which it is easy to become lost.
Assisted by a plethora of synthesised bass pulses and the very impressive Helgerød on drums, the set drifted seamlessly back and forth between lullabies and industrial sounds. All ten tracks from the album were showcased, plus two bonuses in Paulette and Cloudy. Without doubt, the best-known tracks drew the loudest reactions – Grown Up, Nobody Knows, Fail and Pstereo – however, every single song held the crowd's attention during the band's full hour on stage. 
This was an incredibly powerful and accomplished performance by a relatively new and unknown singer, one that is surely one to watch out for in the coming year. If it weren't for Nicolas' slightly shy demeanour when addressing the crowd, there would be nothing to suggest that she were anything other than a seasoned professional in the midst of a world tour. It was a hypnotic experience, highly recommended.  
Tom Halbert 

For further information about Emilie Nicolas and future events visit here. 
Watch the video for Nobody Knows here: