Culture
Music
Live music
<!— One of actual post titles —> Apple Music Festival 2015: Ellie Goulding at the Roundhouse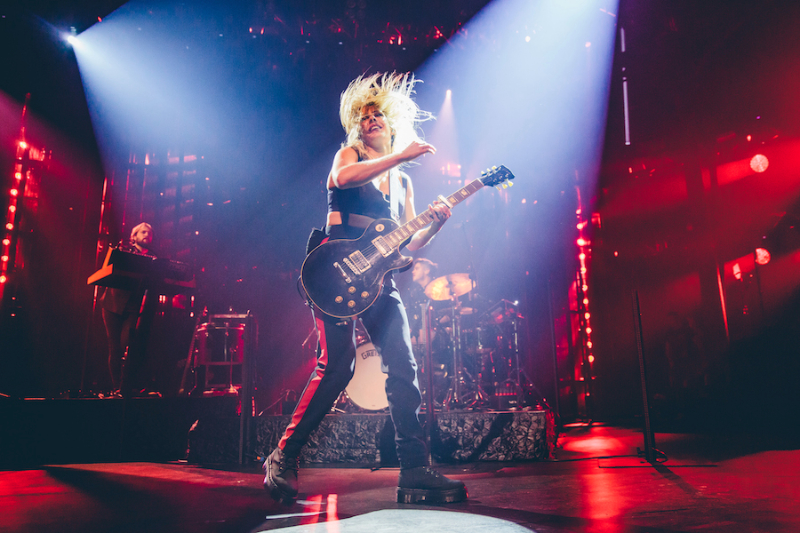 It's hard to believe that Ellie Goulding has already released 20 singles, six of them as a featured artist. Here, on the opening night of the Apple Music Festival in Camden's Roundhouse, hundreds of fans are waiting for the giant digital countdown on the screens to hit zero. Finally, zero appears, the band step out, begin playing, and still no Goulding. Eventually, appearing after probably only 15 seconds, it's enough of an anticlimax before a note's even been sung.
She is looking less like a popstar in black bottoms and thick boots than the stereotypically garish ones around. Five songs in and a lot of jumping around, she finally acknowledges people to let them know that it won't take her that long to get home as she only lives around the corner.
Beyond the sometimes distracting lasers and inventive visuals, her tunes, energetic at heart, meld together in the analogous way pop often does so that it's hard to tell them apart after a while. Modern concert candles, or mobile phones, rise up for a rare performance of the 2010 cover Your Song. It's a welcome breather for everyone to sing along to as Goulding cools down standing still in front of an onstage fan next to her trademark drums that she infrequently bashes during more upbeat moments of the set.
It's the fan that sums up the show. Goulding doesn't want to give too much of herself by breaking into a sweat, if she can help it. She asks if everyone in the room is with her, duly receiving the affirmative, but it feels as if she's the one not there, inexplicably running off stage for a few moments at one point and sounding timid when talking. Still, her singing is almost perfect and hits like Burn and I Need Your Love are popular.
It's possible that after being away from playing live so she could record her new album, a reconnection is needed on the stage.
Steven White
 For further information about Ellie Goulding and future events visit here. 
Apple Music Festival 2015 is on at the Roundhouse until 28th September 2015, for further information visit here.
Watch the video for Your Song here: