London Film Festival 2015
<!— One of actual post titles —> Rattle the Cage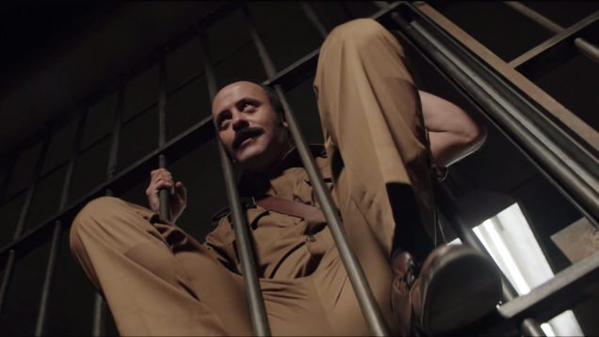 Since the United Arab Emirates' film industry is still in its early infancy, there are very few feature films by an Emirati director in existence. Rattle the Cage, directed by first-timer Majid Al Ansari, is the first of its kind from this part of the world; a dark and brutal thriller laden in farcical comedy. For those discerning viewers who can look past some of the more amateurish aspects, Rattle the Cage will prove a fun watch and an example of some pretty solid filmmaking that is sure to pique the world's interest in potential talent from the UAE.
Tamal (Saleh Bakri), a recovering alcoholic seeking to win back the favour of his wife and child, awakes to find himself locked in a cell at a run-down jail in a strange town. Arrested for starting a fight with a stranger, it's unclear whether Tamal was under the influence at the time. The drama begins with the arrival of a hypnotic police officer from another precinct, Al Dabaan (Ali Suliman), who swiftly and savagely murders the police chief. Locked away in his cell and an unwilling witness to the crime, Tamal becomes the plaything of the increasingly psychotic and erratic Dabaan, sucked into a cat-and-mouse battle of wills that threatens to endanger the lives of his family.
Perhaps the most impressive aspect of Rattle the Cage is the inventiveness of the cinematography, which utilises incredibly fluid camera work and a range of unusual angles to create the illusion of space within the small, one-room set remarkably well. Suliman is the undeniable star of the show and the camera loves him; his performance is as dynamic and vigorous as the cinematography and refuses to be contained, strutting and sweeping and dancing about the set in a constant whirlwind of activity. Suliman manages to be simultaneously ridiculous and menacing in his portrayal of Dabaan, most vividly in his dealings with police officer Aida; utterly demented Dabaan simpers and flirts with the easily manipulated Aida, who is often an inch from death yet totally oblivious. Her character is a ridiculous figure, and would benefit from more fleshing out. This is equally true of Tamal's wife, Wafa (Ahd), with both female characters deprived of the depth and motivation afforded to males.  
If we forgive the film its pitiful ending – which elicited a great many laughs, probably unintentionally – Rattle the Cage is an enjoyable and thrilling film destined to dismantle all preconceptions about the cinema of the UAE, as well as becoming a benchmark by which to measure future exports.
Harriet Clugston
Rattle the Cage does not have a UK release date yet.
For further information about the 59th London Film Festival visit here, and for more of our coverage visit here.
Watch the trailer for Rattle the Cage here: