Culture
Music
Live music
<!— One of actual post titles —> Oscar at the Lexington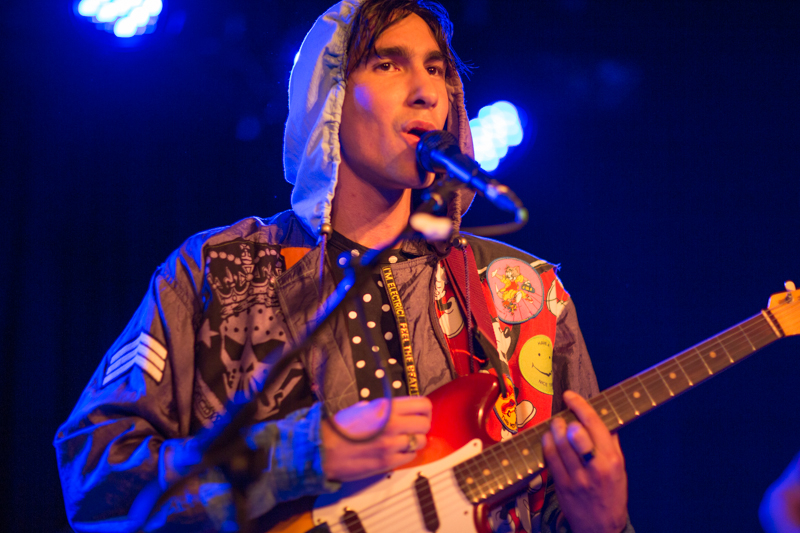 The Line of Best Fit's Five Day Forecast kicked off at the Lexington last night with a huge turnout and stunning success. This week-long residency is a celebration of new music and showcases the best young acts set to cause a stir in 2016. The Lexington provides the perfect backdrop with its raw, baroque décor featuring vintage lampshades and paint peeling off the walls.
The first two acts, Pleasure Beach and Pumarosa, are incredibly well received and it comes as a slight disappointment that a third of the audience file out following Pumarosa's epic finale single Priestess. However the atmosphere quickly regains momentum as Oscar and his band kick off their set with a lively Brit-pop number.
Oscar is immediately engaging and assumes an intense presence on stage that proves an interesting contrast with the infectious energy of his bopping backing group. His set has an exotic 90s Brit-pop feel, an eclectic mix of musical influences leading to a unique sound. Oscar's rich baritone voice, recalling Morrissey, along with his personal lyrics, add a certain depth to his music and take us on a journey through his past three years of songwriting.
An enthusiastic group of fans at the front of the crowd make it obvious which of Oscar's tracks are the most popular, and their enthusiasm soon spreads through the room. Beautiful Words and Breaking My Phone are particular favourites, as well as the closing song and upcoming single, Sometimes. These are the kind of tunes that stick in your head and stay with you on the journey home  – and even when you wake up the next morning.
All in all a refreshing performance that left the audience uplifted and inspired. Oscar is likeable and talented, and is definitely one to watch on the indie scene this year. Catch him again at Village Underground in Shoreditch on 25th January, or later at various other venues around the UK.
Michelle Keepence
Photos: Erol Birsen
For further information about Oscar and future events visit here.
Watch our interview with Oscar here.
Watch the video for Breaking My Phone here: