Culture
Music
Live music
<!— One of actual post titles —> Stiff Little Fingers at the Forum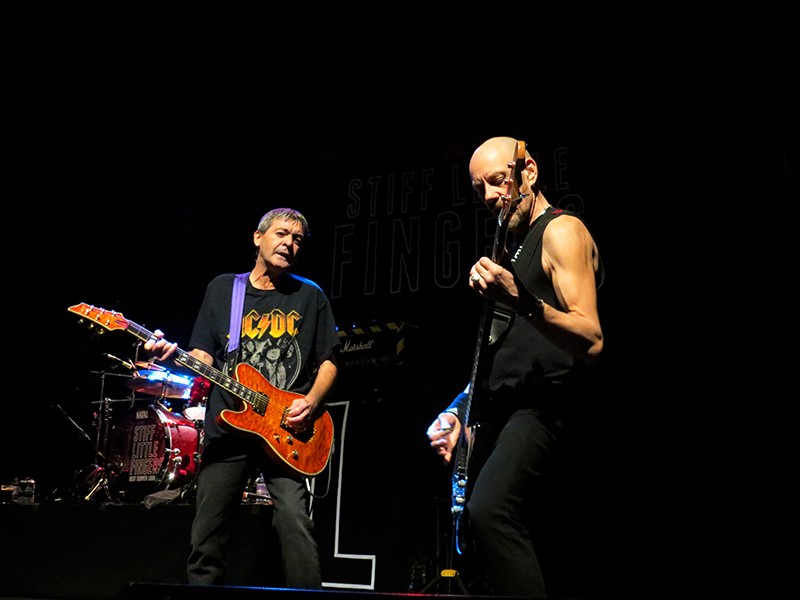 Belfast 70s punk rockers Stiff Little Fingers strode on stage to abundant cheers from loyal fans at the Forum on Friday night. In true vintage jackets, leather boots and band t-shirts, the crowd stood to attention, ready to surrender themselves to the anarchic sound, leaving their worries and responsibilities at the door to embrace a night of nostalgia.
Lead vocalist and guitarist Jake Burns gave a brief but well-received introduction, and within seconds of beginning Nobody's Hero the venue went wild; the fans formed an almighty, revolving mosh pit that confirmed the innate rebelliousness they once had was still very much alive. Bassist Ali McMordie leaped into the air to kick off Just Fade Away, and he continued to rock out through the entire set, no doubt feeding off the tremendous, untamed energy exuded by the crowd in front of him.
Burns took a quick moment to clarify the significance of each song, covering controversial and hard-hitting topics such as the abuse of power and failures of the church (namely in Silver Lining and Guilty of Sin), as well as matters of the heart: love song Barbed Wire elicited yet more crazed frenzy as the fans wandered down memory lane.
The bass was slightly masked by the lead and rhythm guitars, but the grand, art deco Forum is ideal for the overall sound. The audience enjoyed powerful drums alongside clarity in the lead and backing vocals and subtle vocal effects. This is a specific and authentic punk sound that arguably resonates better with those who experienced the era firsthand and will always be part of the revolution.
Ultimately, fans make the music, and Stiff Little Fingers are not short of them. However, it would have been great to see a wider range of audience in Kentish Town, as younger punk rock enthusiasts would appreciate the authenticity. Last year the band released their first studio album after a decade and, judging by the crowd response on Friday, this won't be the last London sees of them.
Aneequa Sameen
Photos: Sophie Bluestone
For further information about Stiff Little Fingers and future events visit here.
Watch the video for Nobody's Hero here: