Culture
Theatre
<!— One of actual post titles —> The Toxic Avenger at Southwark Playhouse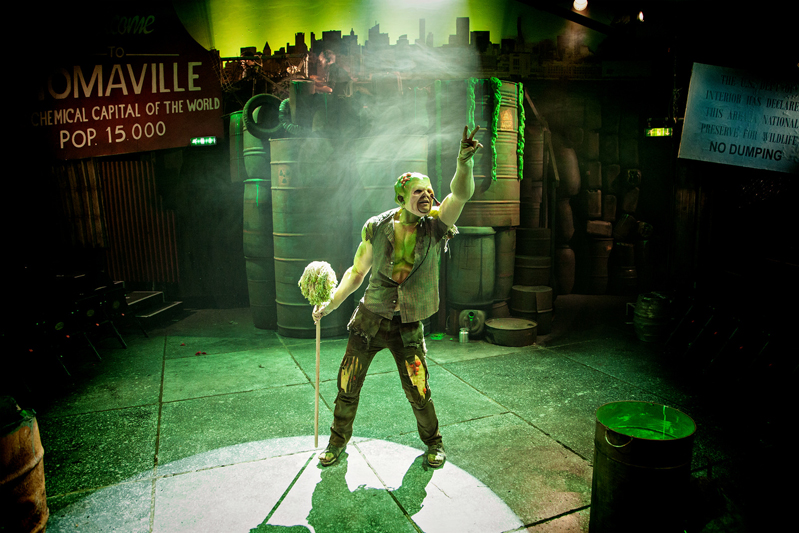 Based on the cult 1984 superhero film of the same name, The Toxic Avenger is a trashy, camp, wildly entertaining musical that mutates its soup of inspirations into something as grotesquely brilliant as its main character.
There isn't anything surprising in the basic structure of the narrative. Set in the perpetual punchline that is New Jersey, nerdy Melvin Ferd is an eco-conscious kid who pines for blind librarian Sarah in vain. Attempting to woo her by taking on the corrupt Mayor, Melvin ends up head first in a vat of toxic waste thanks to some state-sponsored bullies. From this sludge arises the Toxic Avenger, a violent monster with a heart of gold; in other words, the kind of origin story ten a penny in the vaults of Marvel and DC.
Yet from these rather familiar beginnings Joe DiPietro and David Bryan (book and music respectively, with both pulling lyrical duties) produce a winking comedy that zips about like a raunchy, bloody cartoon. It helps that the musical is so aware of its lineage, from The Rocky Horror Picture Show to The Phantom of the Opera to The Little Shop of Horrors, all of which get some kind of shout out as the show progresses. The latter is perhaps the musical's clearest influence, the black-hearted humour of Melvin and Sarah's love story echoing Seymour and Audrey's fatal romance.
Director Benji Sperring and his faultless cast more than do the off-Broadway musical justice, the witty and inventive staging matching, and the catchy-as-hell songs beat-for-beat. Mark Anderson as Melvin captures Peter Parker's parody perfectly; his transformation from meek geek to Shrek-by-the-way-of-Quasimodo is hilarious, with just enough hint of heart. He finds his match in Hannah Grover's manic Sarah, who shines in the lusty My Big French Boyfriend and her ode to TV's first lady Choose Me, Oprah!. Ashley Samuels and Marc Pickering, meanwhile, have the toughest job of the evening, playing everything from cops to old ladies without missing a beat. Yet the musical's MVP has to be Lizzii Hills, who steals the show in the dual role of the Mayor and Ma Ferd. She dominates and seduces in Evil Is Hot, bristles with power in Jersey Girl and, in the highlight of the night, plays both women at the same time in the masterpiece that is Bitch/Slut/Liar/Whore.
Veering between stupid and sly in the blink of an eye, The Toxic Avenger never lets its love of musicals prevent it from breaking the rules, the end result being something that is reverent and raucous in near equal measure.
Connor Campbell
The Toxic Avenger is on at the Southwark Playhouse from 22nd April until 21st May 2016. Book your tickets here.

Watch the trailer for The Toxic Avenger here: