Culture
Theatre
<!— One of actual post titles —> Sunset at the Villa Thalia at the National Theatre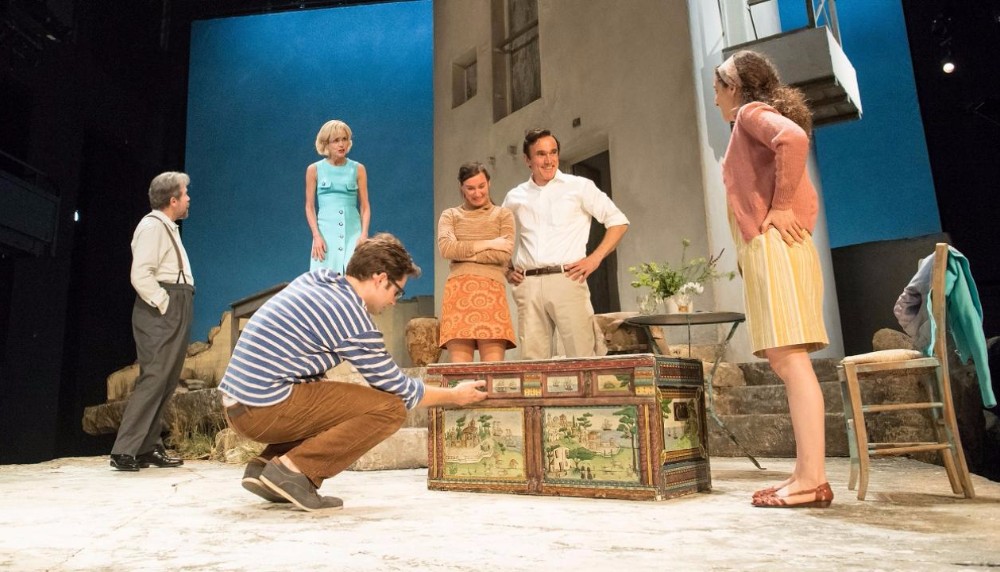 With Greece a constant source of consternation in Europe, Alexi Kaye Campbell's Sunset at the Villa Thalia could not be more timely. Set first in 1967 before jumping forward by nearly a decade, the play centres on two couples, the English playwright and actress duo of Theo and Charlotte, and the American "diplomat" Harvey and his wife June. Art and politics are discussed in the hazy Greek sun at the titular Villa Thalia, with too much booze giving way to a series of uncomfortable truths.
In one of the many instances of meta-commentary Harvey praises Theo for writing plays that are "quietly political" – something Theo argues is tantamount to an oxymoron. And there is nothing quiet about Sunset at the Villa Thalia: Campbell is out to make a point about the insidious legacy of US Cold War policy, the blind revisionism of America's self-appointed global position and the wide-reaching tendrils of the neo-liberal agenda. The sting comes from Campbell's chosen vessel – a fleet-footed comedy laced with anger that, bar a few moments of didacticism, wisely couches its message in a host of immediately recognisable archetypes.
Harvey goads and bullies, seduces then sabotages; he is a charmer in the George Clooney or Cary Grant mold, coupled with the menace of the American government abroad. In the wrong hands he would err towards a bundle of "Yank" clichés. However, Ben Miles gives a performance of such boorish ease and bruised bravado that Harvey becomes not only the US foreign policy personified, but a man who has seen and done things that he is ashamed of, yet doesn't quite regret. While Miles is purely magnetic, the rest of the cast isn't far behind. As Charlotte, Pippa Nixon has perhaps the toughest task, taking the more expositional passages of political protest and imbuing them with real passion. Sam Crane and Elizabeth Govern, meanwhile, do fine work as the flustered Theo and manically sad June, respectively.
Somewhat aptly, in a present where the IMF and the Eurogroup hold more sway over the Greek people than their own (twice-elected) government, the nation's inhabitants are given little to say. It is striking, then, to witness the breakdown of the young Maria (an excellent Glykeria Dimou) as her grandmother's house is sold to the English couple. Her tears, so expertly soothed by Harvey, represent the betrayal of a generation – the same generation who now riot in the streets of Athens as they are squeezed by austerity. With Sunset in the Villa Thalia, Campbell tries to do them justice by widening the narrative to include the outside forces that shaped their nation.
Connor Campbell
Sunset at the Villa Thalia is on at the Dorfman at the National Theatre from 1st June until 4th August 2016, for further information or to book visit here.
Watch the trailer for Sunset at the Villa Thalia here: