Cannes Film Festival 2017
<!— One of actual post titles —> Jeannette: L'Enfance de Jeanne D'Arc (Jeannette: The Childhood of Joan of Arc)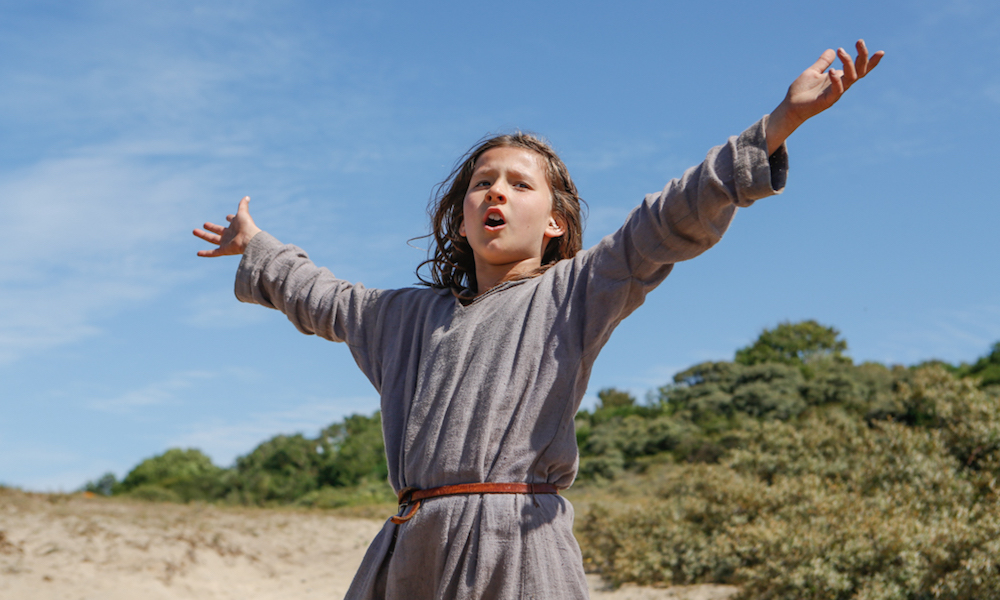 Bruno Dumont returns to Cannes with Jeannette, an extraordinary all-singing, all-dancing heavy metal tribute to Joan of Arc's patriotic and spiritual awakening. This critic didn't get on with Dumont's irritating competition entry from last year, Ma Loute, but this effort maintains the intriguing formal experimentation of that picture without the incessant infuriation.
An extended shot of adolescent Jeannette (Lise Leplat Prudhomme) opens the film. She wades through the water, singing partly in tune and serenading her future. It seems audacious, but the surreal combination of progressive metal – IGORRR provides the score – and a history lesson from the 15th century soon becomes normalised. From the first moment we see the young girl engage in a process of extended head-banging, our confidence rises in witnessing its repeat. There is a strange sincerity to these early scenes, despite the obvious oddness – the twinned Madame Gervaise (Aline and Elise Charles) offers the young girl life lessons through a frightening array of disco dance moves. Young Jeannette vigorously bangs her head in response. We quickly develop empathy for her, however, as she is wise and moral beyond her age. Halfway in and adolescent Jeannette becomes the teenage Joan (Jeanne Voisin), whose uncle (Nicholas Leclaire) reluctantly agrees to help take her to the Dauphin. She is now more strident and purposeful in her decisions; and of course, her uncle can only help in the form of impulsive rapping and awkward body distortions. It's undoubtedly funny.
This movie is self-consciously bizarre, but Dumont's usual setting of rural northern France anchors it within the canon of his previous work. As par for the course for the director, this is a beautifully shot film. And although Voisin is the more accomplished actor, the second section loses the pristine earnestness of Prudhomme's performance. It is rare to see child actors engage in long conversations with one another, and the novelty is beguiling here. By the second half, and with the adults taking centre stage, fatigue starts to wear in. But who can argue with such teasing, singular filmmaking?
Joseph Owen
Jeannette: L'Enfance de Jeanne D'Arc (Jeannette: The Childhood of Joan of Arc) does not have a UK release date yet.
Read more of our reviews and interviews from the festival here.
For further information about Cannes Film Festival 2017 visit here.
Watch some clips from Jeannette: L'Enfance de Jeanne D'Arc (Jeannette: The Childhood of Joan of Arc) here: