Culture
Food & Drinks
Restaurant & bar reviews
<!— One of actual post titles —> Bob Bob Ricard in Soho

Bob Bob Ricard (BBR) has quickly become a reference point for locals and businessmen in Soho. It's a very versatile restaurant that can satisfy on most occasions: from work dinners to celebrations, there are details for every taste.
We visited the newly opened private function room and experienced the deliciousness of the restaurant's English Russian menu to happily find out that this place is interesting for foodies too.
The room is cosy and high-end, there are bespoke David Collins-designed cubist chandeliers and intricate hand-printed Japanese bookbinding paper used as wallpaper. With a capacity for 16 guests, it also features the trademark "Press for champagne" button.

We began the meal with a bottle of Billecart-Salmon rosé – together with Ruinart the best choice from this price range if you don't know producers aside from Moët & Chandon, Taittinger and Veuve Clicquot – but with a Russian salad appetiser we couldn't not try a shot of premium vodka served at -18C.
The staters were an actual treat; firstly the signature cooked oysters carrying the name of two political leaders. Mitterrand's – my favourite – grilled with parsley and garlic butter (think classic Burgundy snails style) and Brezhnev's, baked with parmesan and black truffle – also good but as you can imagine the oyster's flavour ends to be covered.

Then we tried the delicious Salmon Tartare, a portion of refreshing Seabass Ceviche with Avocado, the Water Thin Beetroot & Goat's Cheese Salad and the mouthwatering aromas of the Crab Salad with Chilli Avocado Mayonnaise. We had this with a bottle of oaky and mineral chardonnay from the village of Puligny-Montrachet – very good bottle.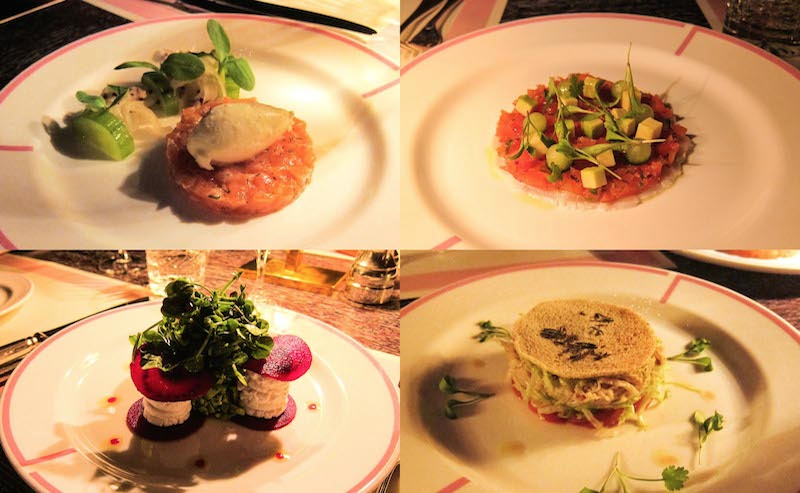 If that weren't enough, we put our hands on something even yummier; this is a half-Russian restaurant after all and we couldn't get away without trying two traditional dumplings: porcini vareniki and lobster pelmeni. Vareniki are served in a little pot with vegetable stock, filled with heavenly truffled potato and porcini – I hope you are not reading this if you are hungry – they literally melt in your mouth. Pelmeni were saucier, sweeter and more luxurious thanks to the salmon roe. Both a must-have.

We started to pour some right-bank (therefore mainly merlot) bordeaux wine from Saint-Émilion, vintage 2009: full-bodied and fruity, it maybe needed another couple of years in the cellar but surely a strong product. To conclude the savoury-side of the meal we opted for a 28-day-aged chateaubriand of Aberdeenshire Scotch beef and the lobster burger. Whereas the former wasn't entirely satisfying – not flavourful, a little dry and undercooked – the lobster burger was simply exquisite. A working combination of taste, tenderness and visual appeal. One of those dishes that makes you feel glad of your choice.

It was time for a little dessert: we had the chocolate fondant (I set a personal rule to order one every I find it on the menu) and the BBR Signature Chocolate Glory. Although I love fondants my eyes were all for the "glory" spectacle going on next to me (see the video below to understand); but what mine was lacking in appearance was certainly made up for in flavour.


Bob Bob Ricard is playing on all fronts: the quality is there, the prices are reasonable for fine food, and the ambiance is elegant. However the overall look may have an intimidating effect on some diners. It is not an easy balance to struck but with this new intimate room it is getting there.
★★★★★
Food
▮
▮
▮
▮
▮
▮
▮
▮
▮
▮
Drinks
▮
▮
▮
▮
▮
▮
▮
▮
▮
▮
Service
▮
▮
▮
▮
▮
▮
▮
▮
▮
▮
Filippo L'Astorina, the Editor
Photos: Laura Denti
To book a table or the private room at Bob Bob Ricard, 1 Upper James St London W1F 9DF, call 020 3145 1000 or visit here.
Watch BBR Signature Chocolate Glory melt here: