London Film Festival 2014
A Girl Walks Home at Night Alone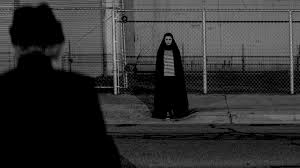 Oil plants draining the ground of its natural resources; a bullying pimp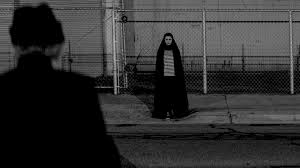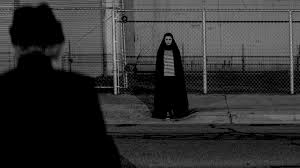 exploiting a prostitute; a widowed father trying to nullify his pain through heroin – recurring images and analogies that percolate through this bizarre and beguiling Iranian film that does its level best to defy satisfactory categorisation. "Vampire horror", "Western", "twisted love story": all labels that are promoted yet fail to aptly describe this gothic tale of romance and murder.
An eclectic soundtrack (think Ennio Morricone together with White Lies), and exquisite monochromatic cinematography enforce the film with a brooding and, at times, deeply sensual atmosphere that barely lifts throughout the full 100 minutes.
The eponymous girl is an enigmatic vampire who seemingly glides around the deserted streets of Bad City, a middle-of-nowhere Iranian town, exacting her dubious revenge on various victims. At times the lack of a coherent narrative appears to be elevating the undoubted style over any substance, yet the persistent sense of foreboding and lack of adherence to any conventional genre tropes prevent the film from treading water.
Whilst there is much in this film to admire, several liberties taken with contravening genre conventions mean that it surrenders any claim at being genuinely chilling. If the vampire shtick is now little more than a pale and drained corpse post-Twilight, then it is laudable that this attempt manages to yield as much mystery and intrigue as it does. Indeed, it is easy to envisage it going on to achieve cult status, and it would certainly make a successful double-bill pairing with Let the Right One In.
Michael John
A Girl Walks Home at Night Alone is released nationwide on 19th January 2015.
For further information about the BFI London Film Festival visit here.
Read more reviews from the festival here.
Watch the trailer for A Girl Walks Home at Night here: