Culture
Food & Drinks
Restaurant & bar reviews
<!— One of actual post titles —> Joe's Southern Kitchen & Bar in Kentish Town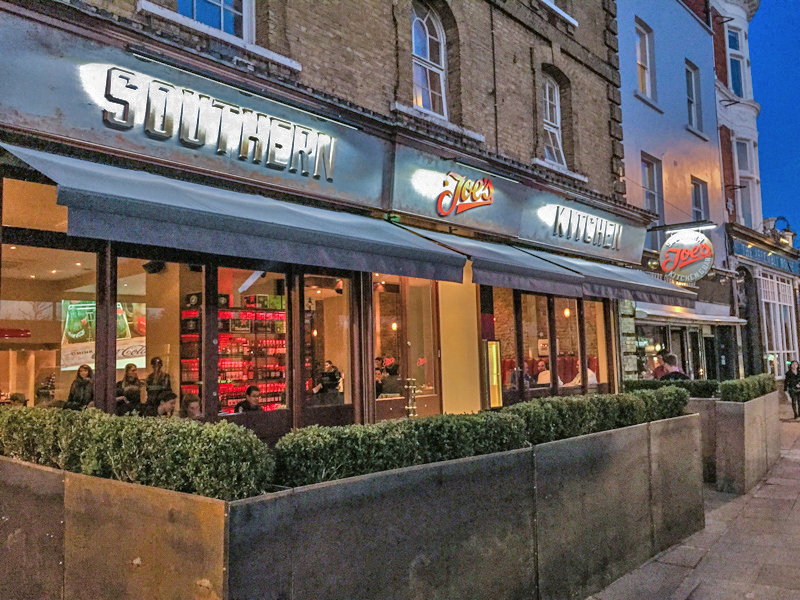 Riding the wave of Kentish Town's resurgence, Joe's Southern Kitchen & Bar chose the North London neighbourhood to open their second branch.
The restaurant-bar is set on two floors: a fifty-seat basement, dedicated to drinks and music, and the actual restaurant at street level. The Southern American theme transpires from the neon signs and exposed brick wall, and you can't help but feel pleased with the wide choice of drinks and dishes.
Our evening kicks off with two delicious signature cocktails from the Joe's Favourites selection: 1 Night in Jail – a mix of bourbons, fresh pineapple, lime juice, grenadine, gomme and bitters, served on fire – and Rumdog Millionaire N 2 – rum, lime juice, spicy mango syrup, fresh mint, ginger beer and creme de mure float. Both recommended.
The staff is knowledgeable and accommodating, and it's reassuring to hear that all the chickens come from a specific Yorkshire farm where they are free range and air chilled. I wouldn't give up eating meat but I have ethics: the animals have to be treated with care and respect.
We try the Buttermilk Marinated Chicken Wings and the Popcorn Shrimps. All the courses come with rich Southern American homemade sauces – even the more common ketchup is prepared in house – which make everything a little more special. The coating of the deep fried wings is surprisingly not greasy and the inside is still juicy: this is clearly fresh meat properly cooked, forget the white dry flesh of frozen chickens. The popcorn shrimps are fun, one of those nibbles that you are going to enjoy as long as you don't have too many.
Although cutlery helps, most of the courses require eating with your own hands, and that's why you'll be given refreshing wet lemony tissues in between courses.
Our mains are the Southern Fried Bird – a large course made of a 24-hour sweet tea-brined chicken, two waffles and chilled watermelon (a bit random? not in Southern America!) – and the 8-Hour Slow Roast Beef Short Rib – succulent meat covered with spices. The portions are abundant, therefore expect to leave some in the plate, especially if you order sides like we did: their signature Mac'n'cheese with a Biscuit Crust and Fries with Chicken Salt.
All in all, Joe's Southern Kitchen & Bar could easily become your guilty pleasure, a must-do monthly visit to add to your calendar.
★★★★★
Food
▮
▮
▮
▮
▮
▮
▮
▮
▮
▮
Drinks
▮
▮
▮
▮
▮
▮
▮
▮
▮
▮
Service
▮
▮
▮
▮
▮
▮
▮
▮
▮
▮
Filippo L'Astorina, the Editor
Photos: Laura Denti
To book a table at Joe's Southern Kitchen & Bar, 300 Kentish Town Road, London NW5 2TG, call 020 7485 7331 or enquire here.