London Film Festival 2015
<!— One of actual post titles —> Los Exiliados Románticos (The Romantic Exiles)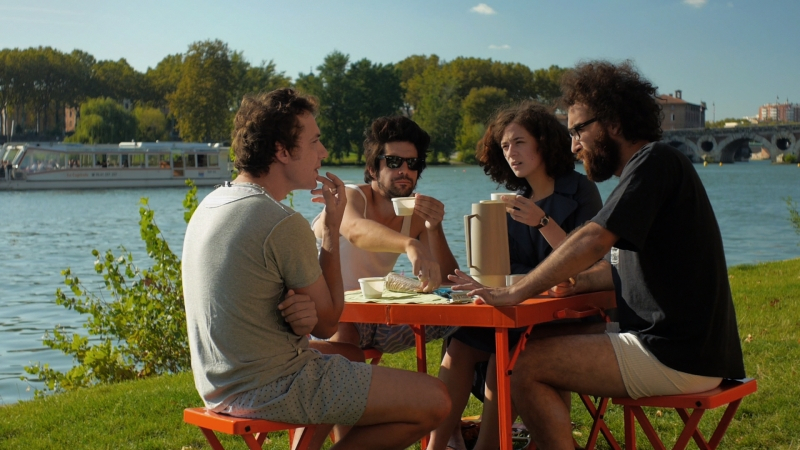 Los Exiliados Románticos (The Romantic Exiles) is not a groundbreaking revelation in any sense. But then, that's only to be expected from a story that's about the past. In a film with a span of merely 70 minutes, where a small group of Spanish twenty-somethings trek across France to relive their younger years one final time, there's unlikely to be anything overly progressive or forward-thinking.
That's not to say that the production is lacking in style – right from the start, it's easy to tell it has been shot and presented by a film-maker who's already got a great deal of experience. Every location is presented lovingly, with its own character, and ample opportunity to appreciate it in wide shots with an expert sense of symmetry. The grandeur of the Pyrenees and the vibrancy of the streets of Toulouse are both depicted with care, and without any real regard for the more touristic parts of these locales. And yet, simultaneously, the same camera succeeds in capturing the most delicate of interpersonal moments with visceral honesty, capturing the three easy-going main characters at their most vulnerable. It's clear that no amateur could have made this film.
Sadly, Los Exiliados Románticos does fall short in other areas. The script, if there is one, isn't quite up to par with the visuals it accompanies. Though the film presents skilfully the moments when Francesco, Luis and Vito are simply hanging out, the dialogue becomes clumsy and somewhat stagey when any kind of plot progression is required. Inevitably, the characters attempt to broach high concepts of science and film theory without them really adding any value to the narrative, and the purpose of a certain musical number towards the end of the film is equally unclear. But those elements can hardly detract from what is: at heart, a sensitive and well-presented story of friends going on an adventure.
James Ager
Los Exiliados Románticos (The Romantic Exiles) does not have a UK release date yet.
For further information about the 59th London Film Festival visit here, and for more of our coverage visit here.
Watch the trailer for Los Exiliados Románticos here: