Culture
Music
Live music
<!— One of actual post titles —> Mika at Adelphi Theatre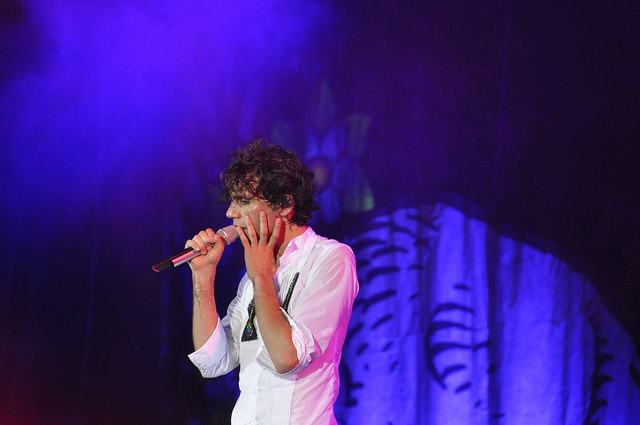 Mika is a little jittery on stage tonight at the Adelphi Theatre. He confesses that he's seen Sunset Boulevard here five times and being on the same planks is making him nervous. Whatever he says he feels, his hyperactive gyrations and jolts in between a backing band, all clad in white shirt and braces (Mika sparkles alone in diamond-studded jeans and shoes), show otherwise.
The Mika-mania surrounding 2007's single Grace Kelly might have punctured somewhat since then, but with a career made up of theatrics, shameless pop melodies and downright glamorous fun, the audience is absorbed by his every note – and they are high – and move. His piano playing is at times big and emotive but he can't keep still long enough before he gets too twitchy and has to jump up, leaving his keyboardist to do the rest because he's more at ease singing, expressing with his body. Eccentric as his music may be, though, the stage is a fairly subdued one — an arcing HEAVEN sign surrounded by flashing bulbs the only flamboyance on display. 
Mika is the best of 80s pop rolled into one. Pilfering Belinda Carlisle on We Are Golden and Cutting Crew on Relax, Take It Easy, the latter of which erupts the room into a frenzy, it's hard to see any backsides on seats as the set goes on. He lets the crowd into his world often, asking the three tiers to sing along to Underwater, and exposing himself at one point by losing the microphone and singing unaided – a vulnerability that reveals his strength as a singer (he resonates mellifluously around the compact venue) and performing artist.
The encore sees a curious costume change (even more twinkling) considering it's only for one song, but the cheers and audience sing-a-long to Love Today will surely leave Mika feeling that his fans love him tonight, tomorrow and for as long as he keeps hitting those bewitching high notes. 
Steven White
Photos: Gaétan Picault

For further information about Mika and future events visit here.
Watch the video for Relax, Take It Easy here: