Culture
Food & Drinks
Restaurant & bar reviews
<!— One of actual post titles —> Céleste at The Lanesborough in Knightsbridge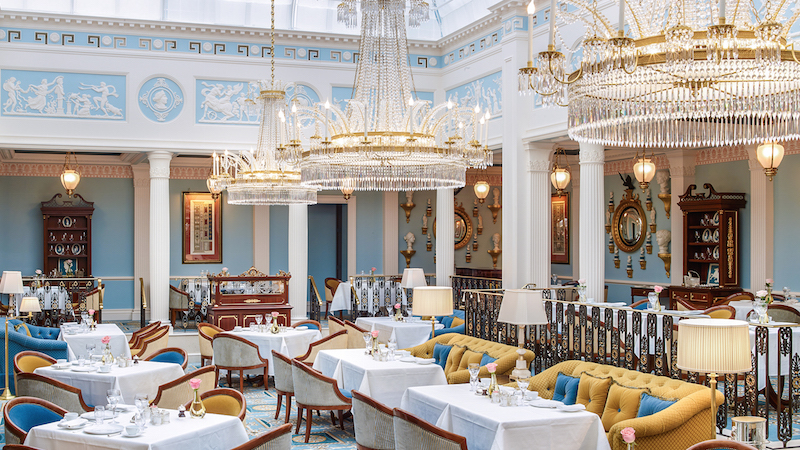 Céleste is the new restaurant concept by the illustrious French chef Eric Frechon. Set in the main dining area of Knightsbridge luxury hotel The Lanesborough, which reopened in July 2015 after a spectacular renovation, it aims at joining London's elite fine-dining scene with a low-profile, quality-driven approach.
I had the pleasure of dining at Frechon's Epicure at Le Bristol in Paris; it was March 2008, the restaurant had two Michelin stars at that time (now three) – they were pursuing the third star, which many consider to be the peak of a chef's creativity and flair – and the food was so good that I couldn't welcome the news of their London opening with anything but excitement.
The revamped dining room boasts stucco Greek-style columns and bas-reliefs, majestic crystal chandeliers hanging from the glass dome and antique-looking furniture.
Our meal choices are preceded by homemade bread and butter, a delicious amuse-bouche of mushrooms, olives and game pie respectively, and a refreshing glass of Taittinger champagne non-vintage.
What we are embarking on is a tasting journey through the á la carte menu, and our first starter is Grilled Leeks. Served with a tartare of Cornish oysters and warm brown vinagrette, the leeks are surprisingly tender and crunchy at the same time: it nails the balance. It's only when a French restaurant is truly good that I desire to try the most classic dishes from the other side of the Channel; the presentation of the French Onion Soup says a lot about the flair and artistry coming from the kitchen: a see-through tea pot is used to pour beef and ox tail broth over a confit onion with bone marrow. The broth is rich and spicy, without being heavy, and there's crispy flatbread covered with 24-month Comté cheese to enjoy it with.
In restaurants where quality and technique are the number one priority, the Foie Gras is a firm classic must-try. Whether cooked, prepared in a terrine or parfait, its taste is unmistakable. Coated with black truffle, this ball of foie gras parfait is presented lying on an imitation forest-floor section; it then gets transferred to a warm brioche that simply begs you to spread it on.
Hats off to the truly classy service, with great attention to detail: fresh cutlery is brought to the table as soon as my partner and I swap dishes, something that happens seldom if ever – even at this level of dining. The young sommelier is a bit too academic but smart and well prepared for her age.
The mains offering is fairly divided in three sections: vegetables, fish and meat. Frechon and his protégé Florian Favario, who is in charge of the London outpost, rely heavily on British seasonal ingredients and game. Before receiving our Blue Lobster and Venison, we are presented with a surprise dish: an oven-baked celeriac (what I consider to be the most underrated vegetable), covered with fragments of black truffle.
The Blue Lobster, roasted with salted butter and served with celeriac tagliatelle and chestnut purée, is a delight although not mind-blowing – and also unexpectedly filling. The Venison is more complex, its flavours are well defined and intense; the juniper utilised to smoke the meat pervades every bite and the confit crapaudine beetroot adds further substance.
A fresh, fruity palate cleanser paves the way to the puddings. My clearest memory of my meal at Epicure was the abundant use of gold in the luxurious desserts, which at that time wasn't yet a trend; the hand of pastry master Nicolas Rouzaud is clear at Céleste as well. Both the Guanaja Chocolate, with caramelised cashew nuts praline, chocolate mousse and roasted coffee beans ice cream, and the Pear, with chestnuts, sorbet and walnut croustillant, are works of art.
Céleste has entered London's fine-dining scene quietly, but it will inevitably achieve acclaim, diner by diner.
★
★
★
★
★
Food
▮
▮
▮
▮
▮
▮
▮
▮
▮
▮
Drinks
▮
▮
▮
▮
▮
▮
▮
▮
▮
▮
Service
▮
▮
▮
▮
▮
▮
▮
▮
▮
▮
Filippo L'Astorina, the Editor
To book a table at Céleste, The Lanesborough, Hyde Park Corner London SW1X 7TA, call 020 7259 5599 or visit here.