Culture
Music
Live music
<!— One of actual post titles —> Marina and the Diamonds at the Roundhouse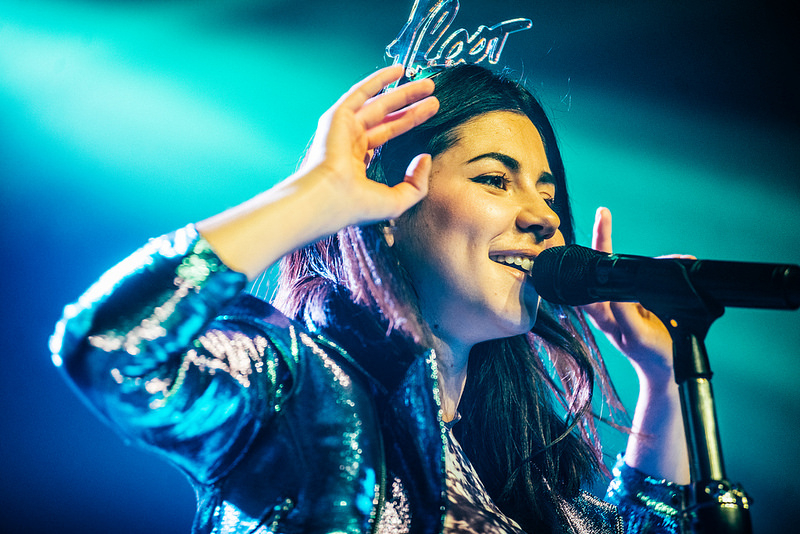 "Cuckoo!" Marina bounds on stage for the Froot Sundae Finale Party looking every inch the quirky pop princess, to the delight of a packed room of fans. She begins with some older favourites from her first album The Family Jewels and progresses through songs from Electra Heart and Froot, resulting in a tasty mixture of sounds. All in all, the set is jam-packed full of crowd-pleasers and the atmosphere in the room buzzes from start to finish.
Marina is a glittering ball of energy as she belts out hit after hit, swapping between an array of shiny retro outfits. The stage is a bomb of colourful lights and cartoon art backing videos, and the enthusiastic audience is encouraged to jump and sing and bat giant inflatable fruit above their heads. But none of this takes away from the quality and force of Marina's vocals. Her voice is enchanting and utterly faultless throughout, complemented by the impressive acoustics of Camden's Roundhouse, as she guides us through a personal and humorous musical narrative.
In an emotional end to the night, Marina closes her Neon Nature tour by thanking her fans for sticking by her on her musical journey thus far. It is true that this tour presents a marked difference to the style in which she played smaller gigs towards the start of her career: simple acoustic sets swapped for a truly polished spectacle.
Her presence is electric and her voice perfection. Marina is a pleasure to watch and shouldn't be missed on her return to the UK – fingers crossed we won't be waiting too long!
Michelle Keepence
Photo: @Kmeron

For further information about Marina and the Diamonds and future events visit here.
Watch the video for Froot here: