Culture
Food & Drinks
News & features
<!— One of actual post titles —> Bellavita Expo returns to London to showcase fine Italian produce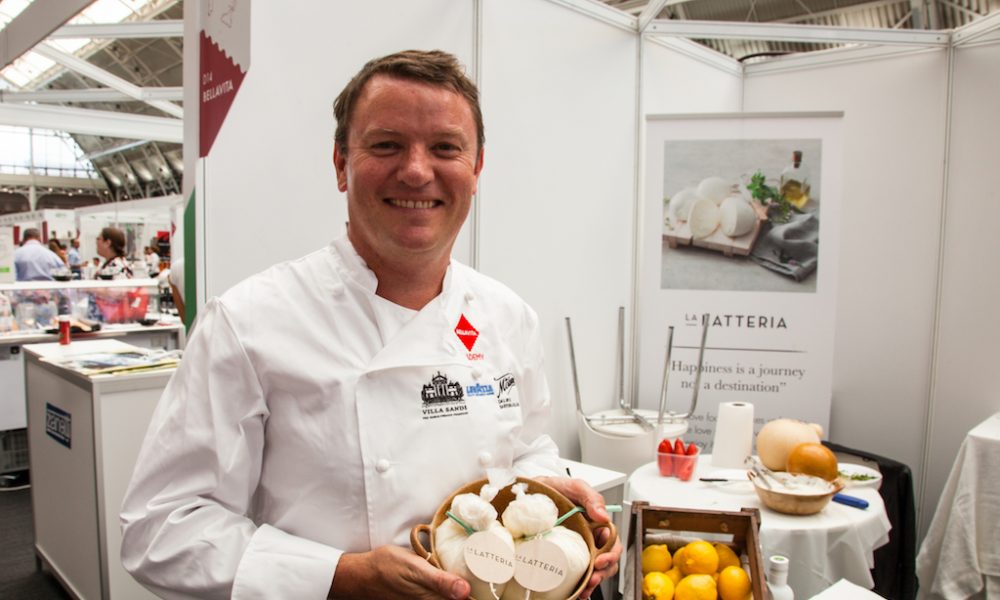 La bella vita, the beautiful life: there are few words more fitting for a celebration of the Italian culinary culture. From Piedmont to Sicily, the country is steeped in a tradition of exceptional produce and dishes that stretches back centuries. Every year the Bellavita Expo brings a slice of that culture to London, and every year the crowds flock to Islington to lap it up with enthusiasm.
The cheese is always a highlight, but this year two particular brands stand out. Acclaimed chef Theo Randall is seen browsing La Latteria's stall, and it's no wonder: they're working with traditional Italian methods, right here in the capital, and that authenticity pays off. Their fresh mozzarella is simply gorgeous, its wonderfully milky taste streaked with just a hint of tanginess. La Casearia Carpenedo's blue cheese topped with cranberries is velvet-smooth and creamy, the candied fruit cutting through all that richness with gusto. Sweet, savoury and sour all at once, it would make a beautiful pairing with fresh figs or a glass of dry marsala. Or Lovison's salsiccia, an excellent bit of charcuterie that blends three types of mince together in a surprisingly robust texture. The same company also makes a delicious lardo, which we eat sliced into thin ribbons, the sweet fat tinged with just a hint of spice and something akin to wet grass.
But the expo isn't all traditional produce. Staibano is keen to challenge some of the negative stereotypes generally associated with limoncello with their rather mellow drink: an Amalfi lemon liqueur made with a touch of cream. It takes the sharp edge of the traditional drink and tones it down into an altogether more silky offering. Paired simply with ice and basil, it's immensely easy-going and would work well either as a cocktail ingredient or on its own. The same can be said for Cafe Biscardi's Blue Potion cold-brew coffee. Cold-brew has well and truly hit the mainstream now, but this particular mix is rather unique, using coconut water as its base. It might sound like some sort of hipster mishmash, but the sweetness of the coconut does wonders to offset the bitterness of the coffee.
Their 50/50 arabica and robusta espresso blend is also remarkably smooth, though the real standout espresso of the show is Il Caffè Italiano. Offering both beans and capsules, they're one of the many "artisan" coffee producers who turned to the accessible capsule format in an effort to bring good coffee to the masses. Not only are they cheaper than Nespresso, but their coffee also retains the depth of character so often missing in the mainstream brands.
It's this blend between old and new that makes Bellavita such an interesting prospect. It keeps people coming back year after year, and you're just as likely to find something innovative as you are to tuck into the perfect, traditional sopressa. This time though, it's a perfectly executed classic that really steals the show for us: La Latteria's wonderfully creamy burrata is well worth a try, and can be ordered directly from their webstore. Pair it with fresh cherry tomatoes and a touch of a fruity extra virgin olive oil for an unmistakably Italian summer treat.
Daniel Masters
Photos: Daniel Masters and Filippo L'Astorina
Videos: Filippo L'Astorina
Bellavita Expo is on at Angel's Business Design Centre from 17th until 19th of July 2016, for further information visit here. 
Watch our interview with chef Ollie Dabbous of restaurant Dabbous here:
Watch our interview with chef Phil Howard here: