Toronto Film Festival 2016
<!— One of actual post titles —> Souvenir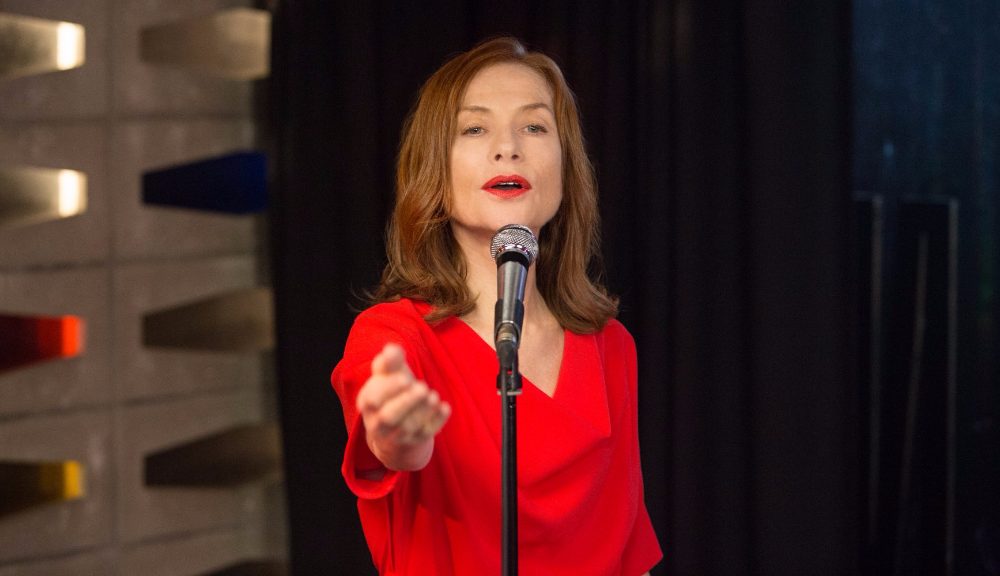 Isabelle Huppert is formidable as usual in Bavo Defurne's Souvenir. An outrageous and pleasingly awkward drama-comedy that revisits an improbable array of Eurovision clichés – bound to make those familiar with the iconic singing competition smile with either self-irony or just old school enjoyment.
The premise is hesitantly credible: a once-upon-a-time contestant of the European Song Contest turned pâté factory worker Liliane (Huppert) befriends one of her young coworkers, Jean (Kévin Azaïs). When the young boxer discovers her secret – fascinated by her past and in the cougar fever – he decides to plan his new partner's comeback on stage and screen.
Huppert, who often prides herself on "discovering" new directorial talents, is definitely the star, in character and in real life, of Souvenir. Liliane's cringeworthy choreographies and (not fully convinced) defeatism make a wonderful juxtaposition with young Jean's bubbly optimism. Both strikingly naive and full of ridiculous pipe-dreams, Defurne's film has a taste for light-hearted tragedy in mundane situations, a gusto for the not-so-elegant decadence of starts that gives Souvenir a particularly bittersweet taste. Azais's counterpart performance fits perfectly into the grotesque romantic dynamic.
Crafted with admirable filmmaking talent, interesting frames and a few winks at the tacky decor of sentimental songwriters, the film pays an unapologetic homage to Eurovision and to the reasons we all still love the kitsch of one of the longest-running and most-watched (non-sports) television events in history.
Huppert proves again that an actress's career, by no means, goes downhill with age: still a charm at 63, she stars in several high-profile films only this year (among these, Paul Verhoeven's Elle and Pascal Bonitzer's Tout de Suite Maintenant definitely not to miss). Defurne, after the success of his first feature North Sea Texas in 2011, presents an oddly charming film, full to the brim of the ungainly, the tacky, and the sweet – but, like Eurovision, we like it because it's tacky.
Jasmin Valjas
Souvenir does not have a UK release yet.
Read more of our reviews and interviews from the festival here.
For further information about TIFF 2016 visit here.
Watch an excerpt from Souvenir here: