London Film Festival 2016
<!— One of actual post titles —> Sky Ladder: The Art of Cai Guo-Qiang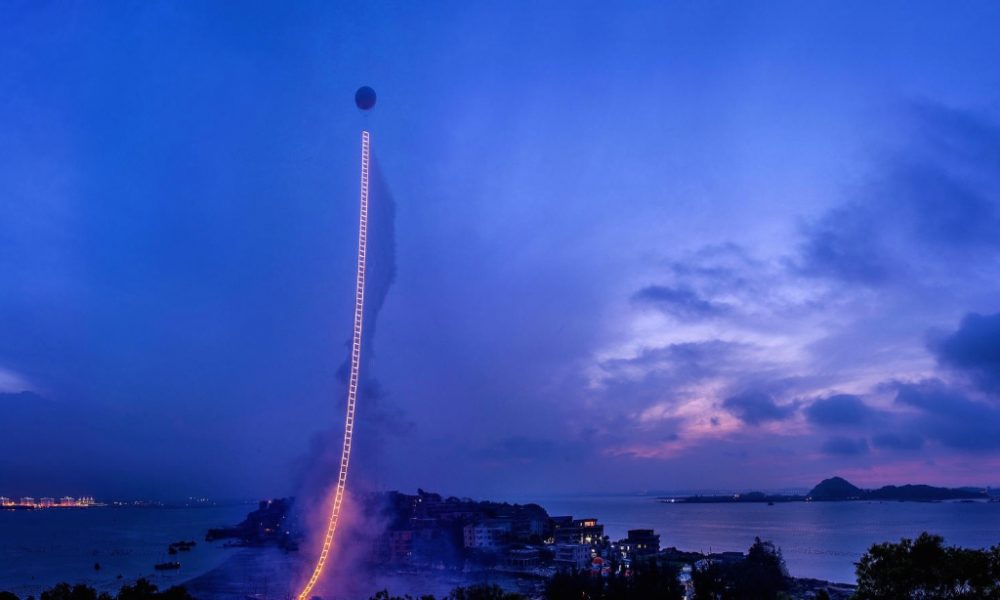 By Kevin Macdonald, the documentary Sky Ladder: The Art of Cai Guo-Qiang profiles an extraordinary conceptual artist whose flamboyant creations include firework "paintings" – incredible works of art that light up the sky as enormous, gorgeous, colourful abstractions. Centred around the making of his unprecedented Sky Ladder, the feature profiles the artist's career while chronicling preparations for his nearly impossible-to-achieve performance artwork in China's Fujian province: the erecting of a ladder one kilometre into the sky and lighting it with fireworks. The expense was enormous, as his wife complains "Making Sky Ladder is just like burning money."
Not only very experimental and cutting edge, Cai's work in its entirety is seamlessly beautiful, visually exceptional and joyfully surprising, with techniques never before used, such as painting with exploding gunpowder. Partly influenced by his father, a calligrapher, inspiration from traditional Chinese art is apparent in his pieces – a paradox within a style that is highly experimental and avant-garde.
Recounting his experiences in China and the political changes therein, with repression during his childhood and the burning of his father's beloved books, Cai describes the 1980s as more liberal than today's China – a time when he was able to be artistically free. In contemporary China, however, he has had issues dealing with government repression of his aesthetic freedom and aspects of his art. Having put together the spectacular fireworks display for the Beijing Olympics, some questioned why he agreed to take this on, as his creativity was considerably restricted by Communist Chinese regulations.
Macdonald's camera work is quite inconspicuous here, and is simply a witness to Cai's virtuosity. The film's construction highlights well the life of the artist in China and New York City, his changing environment, and the brilliance of his creations. Above all in focus is a mounting tension in the making of Sky Ladder culminating in an exhilarating conclusion: a spectacular, never before achieved ladder of fireworks shooting vertically into space, as far as the eye can see.
Catherine Sedgwick
Sky Ladder: The Art of Cai Guo-Qiang is released via Netflix on 14th October 2016.
For further information about the 60th London Film Festival visit here.
Read more reviews from the festival here.
Watch the trailer for Sky Ladder: The Art of Cai Guo-Qiang here: