Culture
Cinema
Movie reviews
<!— One of actual post titles —> Kong: Skull Island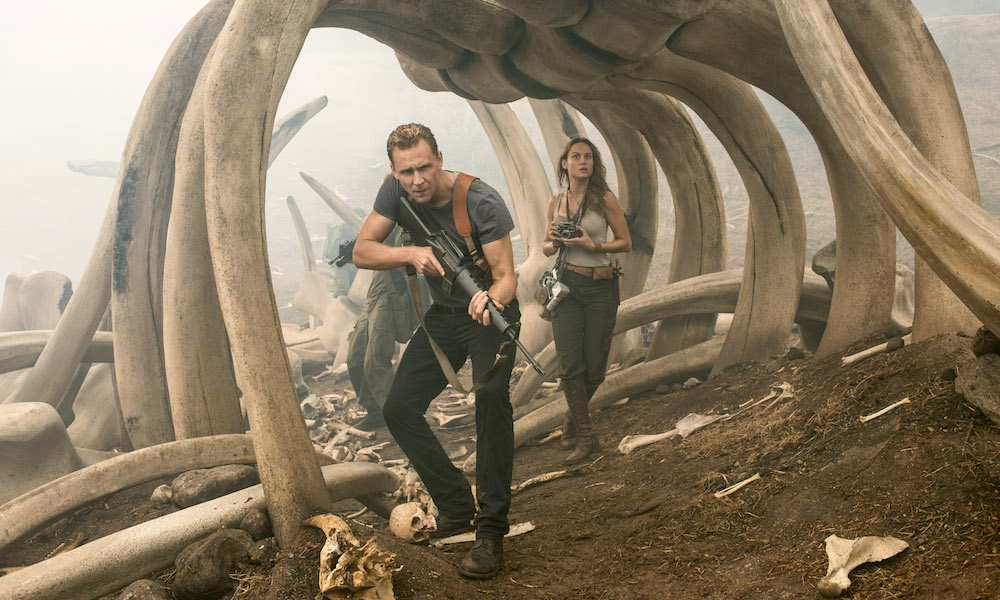 After the success of Marvel's Iron Man 3, Guardians of the Galaxy, Captain America: The Winter Soldier, Sony's The Amazing Spider-man and Universal's Jurassic World, Warner have decided to follow the same path for their brand new monsters franchise: handing huge budgets to directors with limited experience – mostly indie – hoping for the best. For Godzilla they picked Gareth Edwards, and even though he comes from a low-budget background, he is a pioneer of homemade CGI; to some extent, it made sense. For Kong: Skull Island, they hired Jordan Vogt-Roberts. His only feature film is 2013's coming-of-age-drama The Kings of Summer, a $1.5m production. He never handled a two-figure budget, let alone a three-figure one. As random as this choice sounds (I picture dark rooms with execs in front of a long list of indie directors, one of them wears a blindfold and casually points at a name), Vogt-Roberts did a hell of a job with $190m.
The plot is a safe one: a team of scientists and militars embark on an expedition to study a mysterious island spotted by US government secret agency Monarch. Lieutenant colonel Preston (Samuel L Jackson) is in charge of escorting hunter-on-hire James Conrad (Tom Hiddleston), Monarch's official Bill Randa (John Goodman), war photographer Mason Weaver (Brie Larson) and the rest of the team in what seems to be an ordinary mission.
Kong is unlike anything you have seen before: it's essentially a Vietnam war movie – the references to Apocalypse Now are more than obvious – but instead of Vietnamese soldiers the threat is the local fauna: dinosaur-size monsters. If Francis Ford Coppola's masterpiece is the main source of inspiration, Jurassic Park comes right after that. For two hours, the audience is transported to a different world where giant buffalos, spiders, octopuses and "skull crawlers" (monsters that move and look in a way reminiscent of Miyazaki's Spirited Away) are the norm.
Contrary to Godzilla, it's more than a modern version of a classic kaiju film; Gareth Edwards' picture is concrete, focused on showing our modern society being wrecked by the irruption of gargantuan beasts. This is a mad, visually daring 120-minute epic providing edge-of-your-seat thrills on a monstrous scale.
Apart from the breathtaking stunts and CGI sequences, there are highlights worth mentioning: John C Reilly, who is brilliant as a WWII lieutenant who crashed on the island 28 years before; the silent closeups on the native islanders that offer shelter to the expedition's survivors; the sword-wielding action scene with Hiddleston wearing a gas mask in a cloud of coloured smokes.
There are disappointing sides of Kong, too. While I don't believe that entertainment-centred films need to show off Woody Allen-level dialogues or philosophical lines, the script does not match the quality of the images. In particular, the militaries' descent into madness is too superficial. It's also disappointing that Henry Jackman, one of Britain's most talented composers, failed to deliver emotional peaks with his score – he nailed the 70s vibe though. Finally, the main battle between monsters is becoming a bit redundant: the similarity with the one of Godzilla and Jurassic World is undeniable.
Still, this is probably the best Kong movie of all time, or anyway the most fun.
Filippo L'Astorina
Kong: Skull Island is released nationwide on 9th March 2017.
Watch the trailer for Kong: Skull Island here:
Watch an interview with Tom Hiddleston and Brie Larson here: