Culture
Food & Drinks
Top chefs at the top of the Thames: Electrolux Cube brings spectacular fine dining experience to London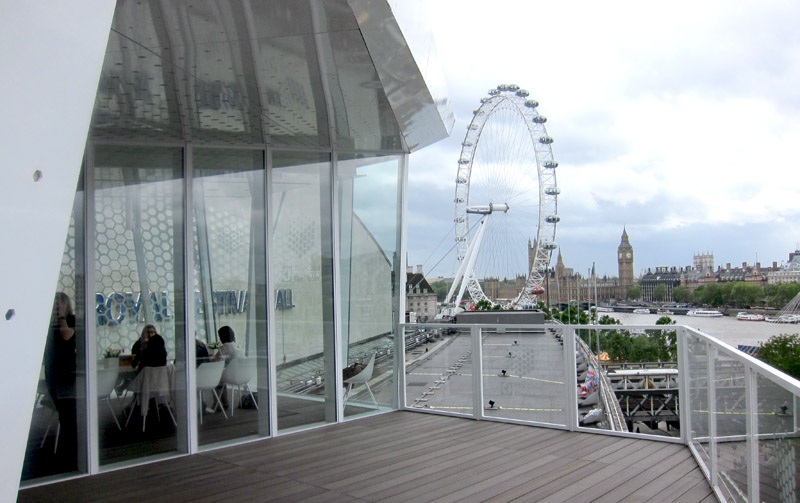 The global kitchen brand Electrolux, that supplies its cookware products to almost 50% of European Michelin starred chefs, delivers a beautiful food experience in central London: for the eyes and for the palate.
Obviously there is a strong marketing element in this operation, but also a care for quality, as all the chefs cooking in this pop-up restaurant are credible professionals – not media stars.
Sat Bains is not only a great chef and food connoisseur, but also a fabulous entertainer. He is presenting a seven-course menu based on British history and sustainability (Sat works closely with the University of Nottingham to reach this goal), seven iconic dishes influenced by the colonial countries.
The setting is stunning: a contemporary art box on top of the Royal Festival Hall, overlooking the Thames and the city of London.

The amuse-bouche NG7 2SA contains flavours foraged on Nottingham Lane near their restaurant, as indicated by the postcode. The "sandwich and soup" is based on horseradish and wild garlic; its strong taste reflects the British countryside.
It follows Scallop, a dish made of scallops – religiously cooked only on one side to preserve the texture, but release the caramelised flavour – with strawberry, tomatoes, floral mayonnaise and vanilla and is deliciously combined with a fresh glass of Provencal rosé blend Domaine Gavoty Rose 2011.

Sometimes pairings are a little forced; a good wine can take you through some dishes, relaxing the palate and enhancing the shades of taste.
The subsequent dish, Jersey royals, brings more substance and country feelings: Jersey potatoes with onions, ramson flowers and Parma ham laying on an intense dashi (sauce of katsuobushi and kombu) at the bottom. A game of freshness and acidity. The pairing is too delicate but helps shift the focus on the dish's light side: a gavi by La Zerba.
The outstanding course of the meal was Spring lamb, with ragout and fennel: rich in flavours and sophistication, this is a 16th century classic. Here it was necessary to move to a more appropriate wine, and the smoky 2009 Moss Wood Mornington Australian pinot noir was just perfect.

A little Banbury cake with beauvale blue cheese and port syrup on the top was served as a step in between the main courses and the desserts, paired with a delicious Smith Woodhouse 10 year port.
The first of puddings, Chocolate, is a little chocolate fondant with yoghurt panna cotta, cumin, lime and coriander. The chocolate was intense and the tannic and fruity Sagrantino wine it was served with made it quite light – and yummy.

The second dessert was Treacle sponge: a vanilla sponge apparently too big for this stage of the lunch. It was all appearance; the sponge was actually light and very milky, also containing apple purée infused with lemon and pine. Revelatory, the Suzuki Shuzouten Brewery Hideyoshi "La Chamte" sparkling sake we had with this dessert, is something that even a gourmand has hardly ever tasted.

Sat Bains knows how to cook good food and his dishes, at times, totally reflect his entertaining personality: the substitute for the petit four is a beetroot, rose and raspberry candy parfait covered with dry raspberry – a child's fantasy.

Chef Bains is back at The Cube from 20th August for two weeks. Before then, you can experience the kitchen of the duo Jonray and Peter Sanchez-Iglesias (two weeks from 6th August), and after Sat's session also Claude Bosi (two weeks from 3rd September) and Daniel Clifford (two weeks from 17th September).
Filippo L'Astorina, The Editor