Culture
Music
Live music
Lorde at Shepherd's Bush Empire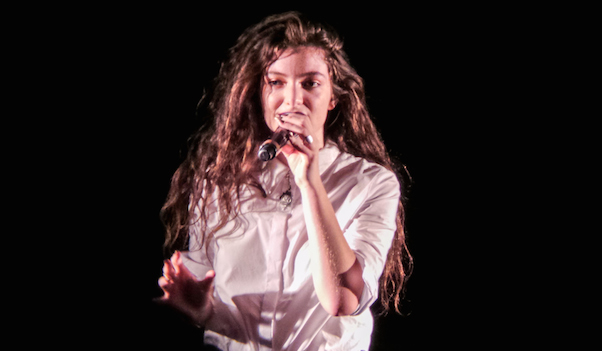 Lorde drops the sophistication of her debut record in favour of a visceral, possessed attitude, driven by the groove of her own music. "It fucking feels good to be back," she tells her crowd of 2,000, whose age range spans five decades – from 12 to 60 (parents excluded).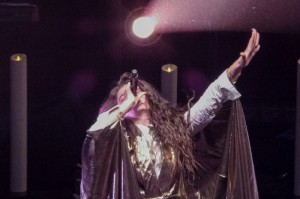 Singing is secondary to the performance during these very first minutes – at 17 it's hard to do both perfectly. The stage is simple, band members stand at the very back. There are three huge antique-looking frames hung on red curtains and a giant chandelier. She opens with Glory and Gore and right away we all feel we are witnessing the birth of an icon. She looks different, she acts different, she conveys a genuinely good message.
Tennis Court is the first real thrill of the night and we hear a timid singalong from the crowd. Song by song she gains confidence, her spellbound moves a protective shell she is getting rid of, owning the stage and the audience. "I still can't believe it, it's Shepherd's Bush," says Lorde before launching in The Replacements's cover of Swingin' Party. That's when we hear her full, deep voice for the first time, now in the absence of cumbersome pre-recorded backing tracks. That's when we really get goosebumps. And the sensation amplifies with the intensity of Still Sane.
The concert has now gained that "wow" status, where everyone is captivated by the voice of the 17-year-old wonder from New Zealand. What better song than 400 Lux to keep the bliss going? "This is an old one," says Lorde to introduce Bravado – hard to consider it "old" in perspective, but still it features more raw elements than her album tracks.
It's hits-time with Royals, her Grammy award-winning song (yes, at 17, a Grammy) and the club-friendly – and very pop – Team. The latter is the highlight of the night, and here she sings and moves perfectly. The music scene will soon see a new queen, and she's not just pop.
Filippo L'Astorina, the Editor
Photos: Laura Denti

For further information about Lorde and future events visit here.
Watch the video for Team here: