Culture
Food & Drinks
Paramount launches High Spirits afternoon tea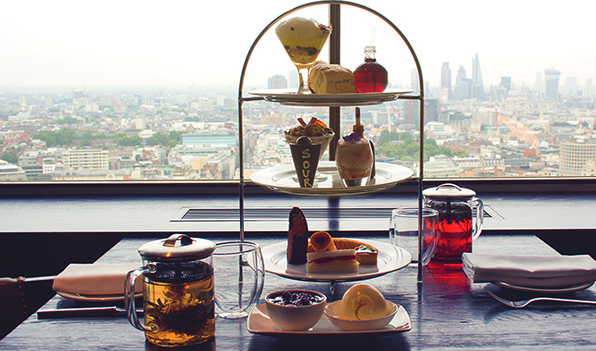 Quality should always be the main aim for a restaurateur, sourcing the best products at the cost you want to offer them.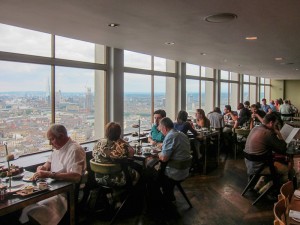 Ideas comes next on the list: it's fundamental to come up with something different, credible and entertaining.
Set at the top of the Centre Point skyscraper, Paramount launches High Spirits, a new afternoon tea concept: high is not only the 32nd floor but also the alcoholic content of each element of the tea. The result is just brilliant and it's the perfect stop after a morning of shopping – although if you drove to Oxford Street you'd better call a cab to return home.
The restaurant's view cries out for champagne, and there's a nice selection of champagne-made cocktails to satisfy this obvious and uncontrollable need.

From the plates to the tiered stand, there are 12 delicious nibbles to enjoy; the selection starts from more traditional finger sandwiches, all coming with a tipsy twist: Gin and Orange Cured Salmon, Lemon Butter on Lemon Bread; Whisky Oak Smoked Ham, Wholegrain Mustard on Tomato Bread; Mature Cheddar & Port Jelly on Rye Bread; and Bloody Mary on Wholegrain Bread.
The next tier gets more intriguing: Coffee Baileys and Cream (Baileys mousse, chocolate mousse, crunchy caramel and coffee crumble) is a delight for those who love Baileys and chocolate, and Raspberry Cranachan (whisky crème fraîche, raspberry and Chambord purée and crunchy oats) gives you that fruity taste you were waiting for.

The third level is where things start to be a little crazy: Porn Star Martini (passion fruit bavarois, lime shortbread and prosecco cloud) steals the show, it's the more complex and enjoyable of all the nibbles; Amaretto Sour (amaretto tiramisu and lime mascarpone) is just fun to eat, and you have it with the equally fun Brandy & Cherry Cola (rich cherry and brandy compote, cola jelly, cola granita and sherbet).
We conclude the food with Rum-Soaked Dried Fruit Scones (with Cointreau and orange marmalade, and clotted cream), a more traditional touch to remind us it's an afternoon tea after all.

Speaking of teas, the selection of blends from China and India is quite amusing. The Altitude Afternoon, mixing Sri Lankan Uva tea, Indian Darjeeling and Nepalese Ilam, is a well-balanced and solid choice; however if you are looking for something spicier the increasingly popular Chocolate Chai is what you should go for. It's infused with cinnamon, ginger, cocoa shells, cloves and calendula petals – very particular but also very strong, it can become difficult to drink after a while.

Whether you are a fan of afternoon teas or planning a celebration with champagne cocktails, the new High Spirits will intrigue you, and the marvellous view from the Paramount's windows won't ever disappoint. Although the panorama is enjoyable from every table, don't forget to ask for one by the window when you book.
Filippo L'Astorina, the Editor
Photos: Laura Denti
High Spirits afternoon tea is available every day between 2.30-4.30pm at £28 per person (£42 with a cocktail). To book a table at Paramount, Centre Point, 101-103 New Oxford St, London WC1A 1DD, call 020 7420 2900 or enquire here.
Read our review of Paramount's restaurant offer here.