Culture
Food & Drinks
Restaurant & bar reviews
Paramount: a new pin on London's foodie hotspots map

If you are a Londoner, how many times did you stop and stare at the 60s skyscraper Centre Point above Tottenham Court Road station? Child of that brutalism that filled the city with unattractive concrete (think Barbican skyscrapers, National Theatre, Trellick tower…), on its top there are two things that should be seen: a very good restaurant and a hell of a view.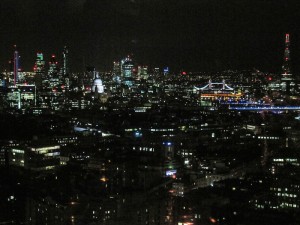 We shall start with a precious tip: when you book, ask for a table by the window. As you wait to be seated, walk to the floor above to experience the viewing gallery, a 360 degrees area with a bar. No, it's not one of those bars where they pester you to order, you can simply walk around and enjoy the amazing view from the heart of London.
Once you are seated, overlooking the City, you understand the reason for the tip and can finally get down to the menu, a menu that is "modern European" therefore a bit French, Italian and also British. With no unnecessary creams of the classic French cuisine, more variety than the beloved Italian cuisine, and trends coming from Spain and Germany. It's a creation of Polish chef Krzysztof Zachwieja, recently appointed (September 2013) to bring Paramount to a higher level – metaphorically, unless there are planning permissions I'm not aware of.
It's a Monday night and the restaurant is full, the clientele is smart but not snob (pretty much the opposite of what you can find at Chiltern Firehouse) and the atmosphere is very pleasant. It's a high-end place, drinks shift between £12 and £15 but if you fancy champagne you can get a delicious glass of Larmandier-Bernier for a very decent £13.
On a trendy black lacquer wood table, you'll be served a classic portion of bread and butter as you wait for your mains.

We opted for the Pan Seared Foie Gras, Shallots, William Pear & Smoked Onion and Scottish Lobster, Island of Wight Tomato, Piquillo Pepper Emulsion & Tomato Consommé. The foie gras is a joy for your mouth (try not to think about how the duck was force-fed), a little too thinly cut but very tasty and perfectly cooked. The pear purée it comes with and the two different onions (shallot and smoked onion) create a perfect balance.  The lobster looks great and it's very refreshing – it's a cold course and I didn't expect that. Every ingredient carries a distinct aroma but it lacks that x-factor that should result from combining them. The glass of Sauvignon Blanc, Marlborough 2012 by Momo, from New Zealand, is a good pairing for it.


Some people are more interested in starters. Chefs feel free to experiment further and be bold, starters are also less expensive so we are unconsciously more inclined to take a risk. It's true, there's more room for fun with the menu in hand, but at the end of the day the most exciting moment is still the main course.
On the meat side there is duck, lamb, pork, veal and beef; they all look interesting but none of them stand out from the description. On the fish and veggie side we have skate, cod and risotto. There's a bit of an imbalance there but I love meat therefore it's not a problem and we choose to try the Challans Duck, Celeriac, Spring Carrots & Griottines Cherries and Trio of Aberdeen Angus Beef, Parsnip, Cipollini Onion, Sprouting Broccoli & Bordelaise Sauce. We also add a portion of Duck Fat Fried Chips: doesn't it sound great? Unfortunately the taste doesn't meet the expectations at all.
The courses are both very good, especially the duck: the exquisite medium-rare effect that offers you a well caramelised coating and pink centre. All the vegetables in the dish are where you want them to be and create that x-factor when combined in your mouth. Especially when you are also sipping a glass of Pinot Noir, Marlborough & Henderson 2011 by Babich East Coast (again from New Zealand). The highlight of the trio of beef cuts is the super-soft braised short rib (I guess it's cooked for at least twelve hours), although the rib eye and bone marrow are good as well. I love to use purple sprouting broccoli with meat so that's another plus; on the other hand the parsnip purée is not mind-blowing.

Dessert moment can be risky but luckily the chef played it safe offering only the classics. Without a doubt, I go with the Warm Valhrona Chocolate Fondant, White Chocolate Ice Cream & White Chocolate Sauce and we also try the Tahitian Vanilla Crème Brulée & Cinnamon Tuile. Both solid desserts, no excitement and no disappointment.
Paramount is a place to try, if you have never been it's time to go and experience a pleasant and unpretentious fine-dining evening. If you have been in the past, forget that, it's totally different now and is becoming another pin on London's foodie hotspots map.
Filippo L'Astorina, the Editor
Photos: Laura Denti
★★★★★
Food
▮
▮
▮
▮
▮
▮
▮
▮
▮
▮
Drinks
▮
▮
▮
▮
▮
▮
▮
▮
▮
▮
Service
▮
▮
▮
▮
▮
▮
▮
▮
▮
▮
To book a table at Paramount, Centre Point, 101-103 New Oxford St, London WC1A 1DD, call 020 7420 2900 or enquire here.