Culture
Cinema
Movie reviews
<!— One of actual post titles —> The Fall of the Krays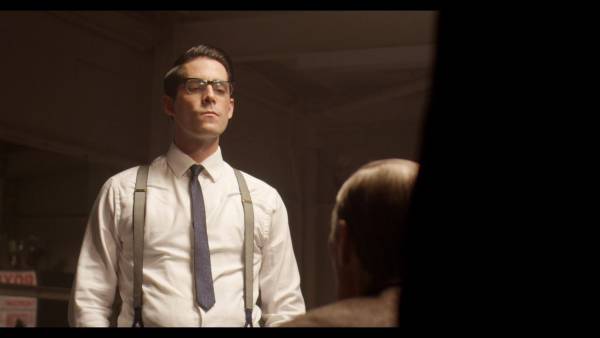 It's slightly odd that two films about the infamous Kray twins have been released over the course of just a few months. Legend, featuring Tom Hardy as both of the outlaw brothers, came out earlier this year and left gangster flick fans licking their lips – finally a true British mobster story that could contest with those of its American counterparts. Surely then, with such a juicy, shock-inducing tale, a second film, The Fall of the Krays, is a real stroke of luck. It would be nice if this smaller budget, independent film could hold a candle to its star-studded, blockbuster brother, but it can't.
The key for making a biopic is attention to detail. The story has already been written for you, so there is really no excuse for the inaccuracies which, unfortunately, are littered throughout The Fall of the Krays. The joy in watching any film is believing that you are watching actual events unfurl before your eyes, but this one is scarcely credible, with no apparent consideration given to the time and place in which the film is set. Pop music plays from radios at all hours of the day, regardless of the fact that, in the 60s, the BBC only devoted one hour a week to the genre; the name of The Lion pub, a former drinking spot for the Kray twins, is so evidently painted over that of the current proprietors. Even the most basic of details seem to have been glossed over without care: of course, employing two actors who look the same to play the film's identical protagonists is a tough ask, but at least attempt to cast two people of the same height. Perhaps it is nitpicking, but there isn't really anything to make up for the carelessness.
While the style is good – Luke Palmer's brilliant use of traditional camera techniques in an immensely effective way does its best to carry the film – the performances are unconvincing and, in fact, a little clichéd. It's as though the actors had done little research aside from reading Gangsters for Dummies and watching a couple of episodes of Eastenders. The gravelly, intimidatingly quiet voice that both twins employ just comes out sounding like Batman from Bethnal Green, as opposed to the terrifying Kray twins, and attempts at humour are laughable in entirely the wrong way.
While elements of The Fall of the Krays do save the film from complete disaster, it is overridingly sloppy and inconsistent. It is a film about life, as opposed to a life on film as biopics should be; simple errors and careless mistakes put it on the verge of unbearable and, with such a brilliant storyline to play with, it really is inexcusable.
Luke Barber
The Fall of the Krays is released nationwide on 1st January 2015.
Watch the trailer for The Fall of the Krays here: