Culture
Food & Drinks
Shows, on demand & home video
Berlin Film Festival 2017
Interviews & Recipes
<!— One of actual post titles —> Chef's Table Season 3: An interview with Jeong Kwan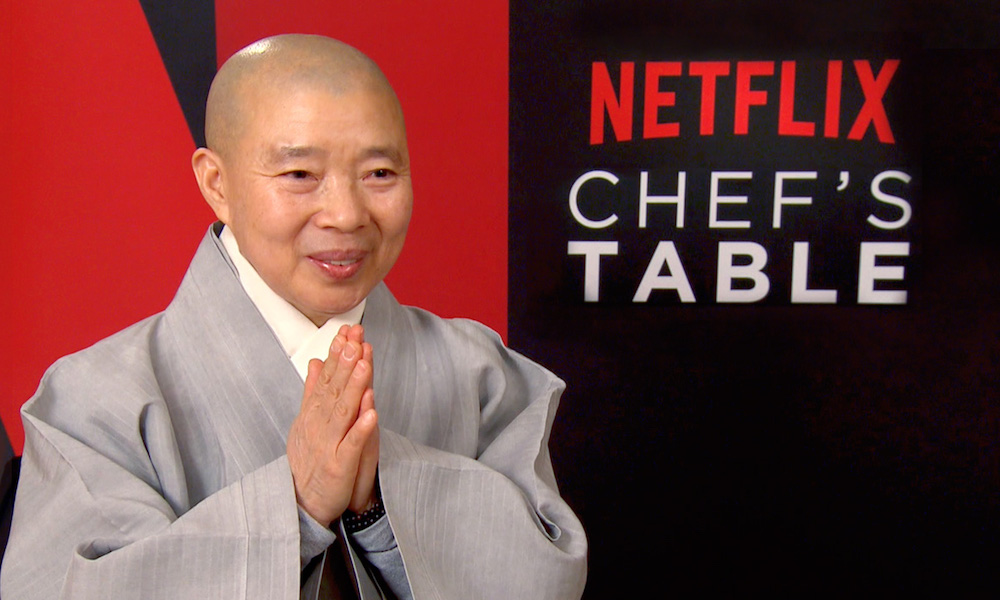 A sense of holiness swiftly permeates the space as Jeong Kwan enters the room. The petite, soft-spoken nun doesn't quite fit the archetype of a world-renowned chef but rest assured, she is a force of nature. As a Zen Buddhist, she lacks the ego of most high-calibre chefs and creates food that is deeply infused with nourishment for the mind, body and soul. We sat down with Jeong Kwan at the 67th Berlin Film Festival to talk about her time on Chef's Table Season 3, temple food, and her newfound fame.
Hello, it's a honour to meet you. We loved your episode. What made you decide to participate in this series?
It's been ten years since the world has known about temple food. There was a chef from America who visited me, Eric Ripert. Together, we shared our energy through my food and afterwards he invited me to New York where I cooked a dinner for about 20 people. It was sharing passion with each other and we could communicate with each other. Temple food is not only vegetarian food, it's energy food where you can share your minds together. I prepared about 20 different dishes that day.
Living such a quiet life for so many years at the temple, how does it feel now to be in the public eye as a trending chef?
Well, first of all, I'm not a chef. I'm a practicer of Buddhism. For me, making food is a kind of meditation. So being a trendy chef or an honoured chef, it makes me happy but moreover it makes me happy that I'm able to communicate and to share with a lot of people.
Do you feel like your food and your cooking and the work you do has brought you closer to enlightenment?
Enlightenment is something of one's own mind. It's not something that goes outside, it's not external. If you eat something and it makes you feel calm, it's one step closer to enlightenment.
Do you feel like the episode truly shows who you are and reflects you as a whole? Is there anything that was missing?
I was very moved when I saw the episode because it reminded me of something I forgot, parts of me that I forgot. When I saw it on the screen, I thought: this really does describe myself. I could see my inner self, which is normally not shown.
One part that I think resonates with a lot of people is when you stood up to your father when he said that a woman should be able to cook seven great dishes for her husband. Do you consider yourself a feminist in that sense?
Yes. I think what my father wanted to tell me when I was very little is that you have to go through certain stages. He was talking about the perfection of mankind or of a human being and how you can develop your own inner self. Nowadays I kind of understand what he meant at those times.
All of your temple food is vegan. How do people regard vegan food and vegan eating on your side of the world versus the Western world.
I think the difference between Western vegan and Asian vegan-style food is that in Asia, if you're vegan and you eat a radish, you eat the radish as a whole. It's a radish itself. But in Western style it's more like you transform it into something else.
That's really interesting. I know your mother was a very big influence on your life and on how you decided to take this path. I remember you speaking about how you cooked her noodles one time and that was maybe the beginning of everything. What's something that she used to cook for you that you loved?
In the winter times she used to cook red bean porridge. You cook the red bean and add rice powder so it's a kind of red-bean-rice-powder-porridge. And in the summertime she used to steam whole potatoes and we'd eat it just with salt. It was like a meal and a snack at the same time. And of course kimchi and soy bean paste.
Do you feel like you make your kimchi just as well today.
Yes. I'm good at it.
Zoe Tamara
Chef's Table Season 3 is available exclusively on Netflix from 17th February 2017. Read our review here.

For further information about the 67th Berlin Film Festival visit here.
Read more reviews from the festival here.
Watch the trailer for Chef's Table Season 3 here: